---
교회 소식 (Church News) 01/27/2019
오늘 주일 예배는 선교 헌신 연합예배(11:00am)로 드립니다. 오늘 드린 선교 헌금은 우리가 지원하는
선교사들이 제 23차 세계 선교사 대회에 참석할 수 있도록 사용되어질 예정입니다.
교회 설립 23주년을 맞이하는 장로, 권사, 안수집사 임직예배가 다음 주일(2월 3일) 오후 6시
본당에서 진행됩니다. 한마음 교회의 새로운 역사를 시작하는 축복된 임직식이 되길 기도해주시기 바랍니다.
오늘 모임
(1) 임직식을 위한 피택 중직자 훈련 & 리허설: 1pm, 본당
*피택될 중직자들(장로, 권사, 안수집사)과 현직 장로들은 반드시 참석하시기 바랍니다
주간 모임
(1) 화요일 실버아카데미 문화교실: 9am, 본교회
(2) 사역자 훈련 및 수요 캠프: 10pm, 도서실
(3) 수요 예배: 8pm, 본당
(4) 금요 기도: 8pm, 본당
(5) 토요 영어권 양육 & 치유 수업: 10am, 도서실
2019년 세금 공제를 위한 헌금 증명서(Tax Deduction Report)를 다음 주일부터(3일) 재정부에서
신청을 받습니다.
2019년 북미주 탑 램넌트 CVDIP 캠프 신청이 시작됐습니다. 자세한 정보는 사무실 게시판을 참고해주시기 바랍니다.
(1) 목적: 전문 분야별로 렘넌트와 멘토들의 인생포럼 및 CVDIP확인, 개별 멘토링과 교제
(2) 분야: 의료분야(의학/치의학/약학/간호학), 미술/디자인/건축분야, 법조분야, 비즈니스분야(금융/회계/세무),
컴퓨터공학, 자연과학(생물학/화학), 사회과학(정치), 음악/공연예술분야
(3) 마감일: 2월 15일(금)
교우 소식
(1) 중국 방문: Hannah He
이번 주 친교 & 봉사: 1구역 다음 주: 3구역 강단 헌화: 김영빈 권사
We have Mission Devotional Unity Service today. Special offering for Missionary will be used
for supporting missionaries to attend the 23rd World Missionary Conference.
The celebration of 23rd year of church establishment and lay leader ordination will be held
Next Sunday(3rd). May you pray
Today's Meeting
(1) Ordination lay leader training & rehearsal: 1pm, Sanctuary
* Elected Lay Leaders(Elders, Encouragers, Ordained Deacons) and Current Elders must participate.
Weekly Meetings
(1) Tuesday Culture Class: 9am, Church
(2) Wednesday Minister & Evangelism Camp: 10am, Library
(3) Wednesday Night Service: 8pm, Sanctuary
(4) Friday Night Worship: 8pm, Sanctuary
(5) Saturday English Ministry Nurture & Healing Class: 10am, Library
2019 Tax Deduction Report registration will be next Sunday(3rd), at church office bulletin.
2019 Top Remnant America DVDIP Camp registration is now available.
Please see church office bulletin for more information.
(1) Purpose: Life forum and CVDIP forum, & individual mentoring
(2) Specialty Area: Healthcare, Finance/Banking, Law, Accounting/Tax, Computer Science, Fine
Art/Design/ Art Planning, Natural Science & Engineering, Social Science,
Music/Performing Arts
(3) Deadline: February 15th(Fri)
Church News
(1) Hannah He(Visit China)
Fellowship – This Week: 1st Region Next Week: 3rd Region.
Flower: Encourager Young Bin Kim
Recommended Posts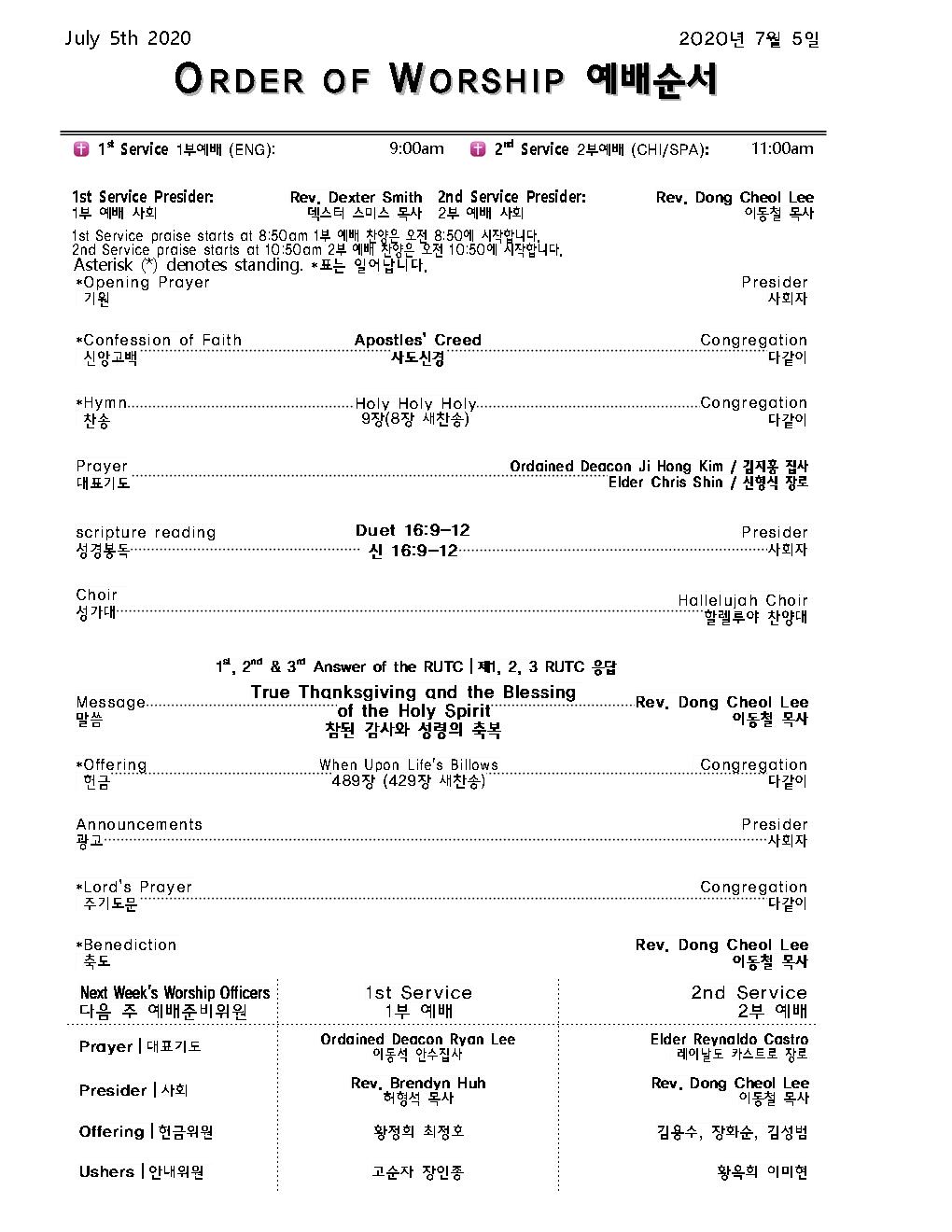 July 04, 2020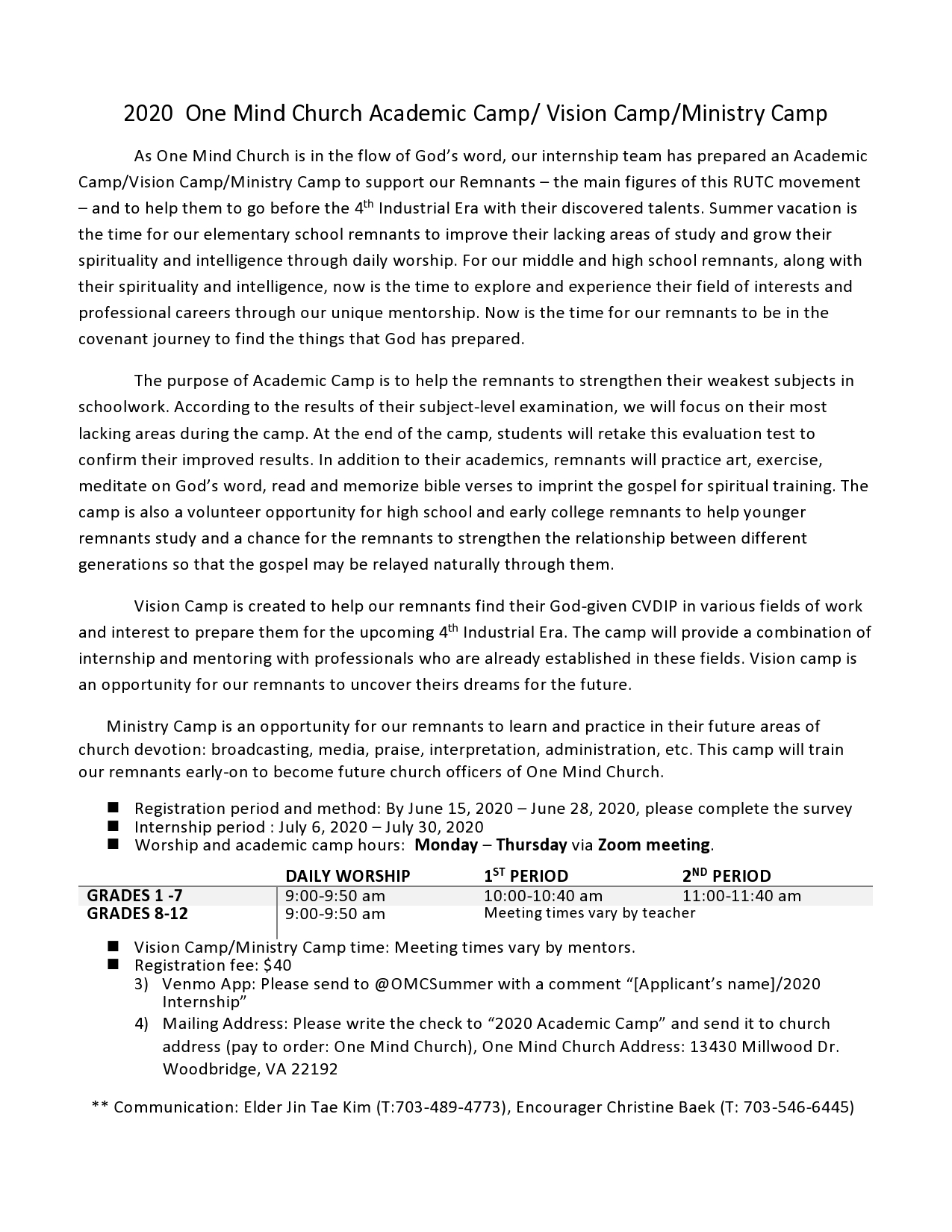 June 28, 2020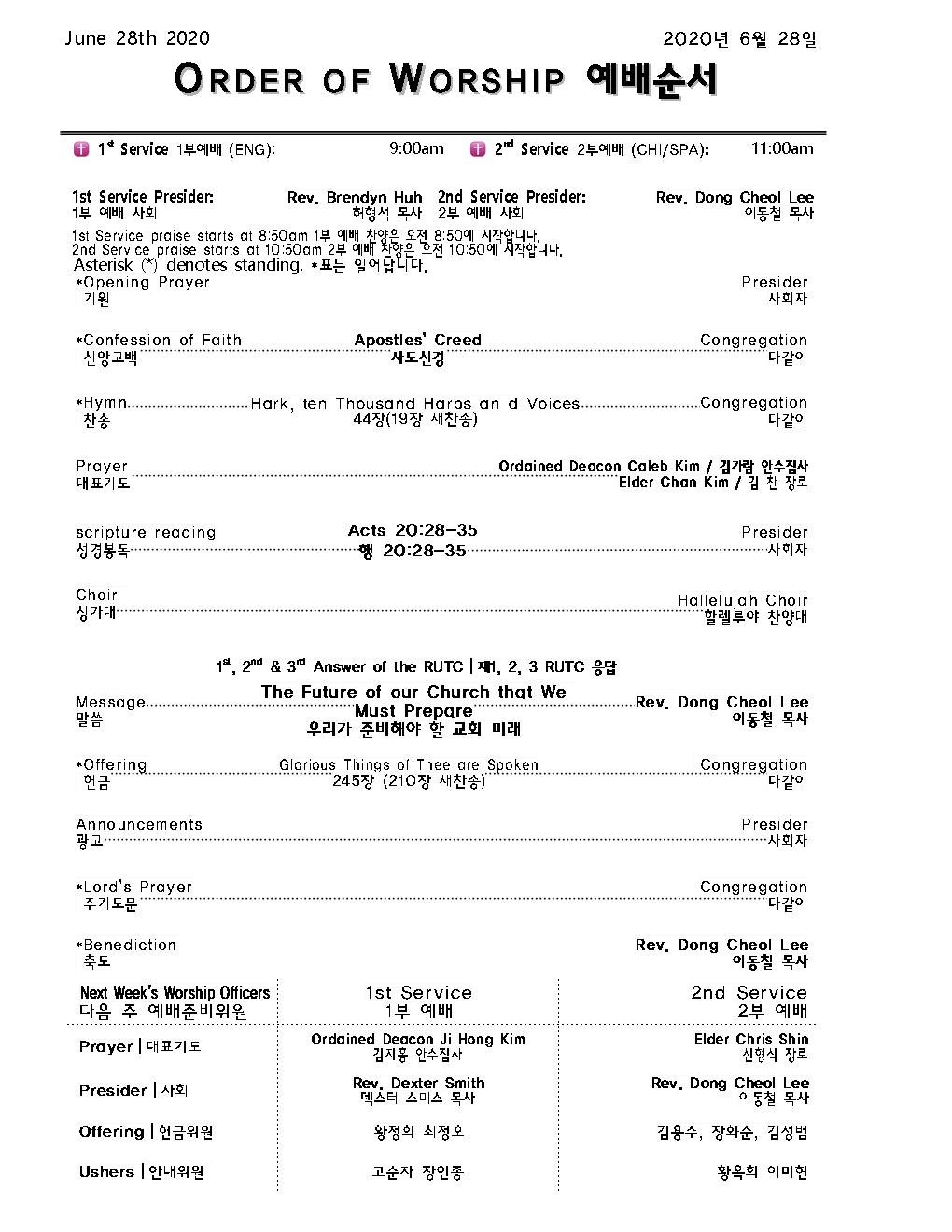 June 27, 2020