---
Church News (교회 소식) 11/17/2019
1. There will be thanksgiving Joint Service(11am) for Next Sunday(24th). May it be a blessed
day and a chance to evangelize others. Please prepare a special thanksgiving offering to
prepare this year settlement.
2. There will be baptism ceremony during Thanksgiving service. Baptism class will be next
Saturday(17th) 11am and 3pm. You only need to receive the class once.
3. There will be Spanish Evangelism Festival on December 1st(Sunday) at our church.
Missionaries from Mexico and Colombia will be joining us as special guests. Please use
the invitation cards to invite your neighbors and friend for evangelism opportunity.
4. Today's Meeting
(1) Lay Leader Graduate School Training 5&6 lecture: 2pm, Sanctuary
(2) Session Meeting: 3:30pm, Session Room
5. Weekly Meetings
(1) Wednesday Night Service: 8pm, Sanctuary (Prayer: Encourager He Sook Park)
(2) Friday Night Worship: 8pm, Sanctuary(English Ministry Department Choir)
* We are watching live worship of Business & Core message to be with the flow of world
evangelism. May you also join with us.
(3) Saturday Deep Breathing Exercise class: 9am, Library
(4) Saturday English Ministry Nurture & Healing Class: 10am, Library
6. 2020 Men & Women Department officers are chosen as below.
*Men's Department
(1)President: Deacon SungBum Kim (2)Eng. Ministry V.P: Deacon Reginald Brown (3)Kor Ministry V.P: Deacon Bruce Lee (4)Chi. Ministry V.P: Deacon Zhang Chao
(5)Spanish Minsitry V.P: Deacon Armando (6)Secretary / Treasurer: Deacon Ryan Lee
*Women's Department
(1)President: 이미경 권사 (2)Vice President: 이주영 권사 (3)Treasurer: 주정민 권사
(4)Secretary: 신진옥 권사 (5)Historian: 이예성 권사
7. 2019 East-Cost Joint Winter Retreat will be held as below.
(1) Date: Dec 26th(Thurs) – 28th(Sat)
(2) Location: National 4-H Youth Conference Center (7100 Connecticut Ave, Chevy Chase MD, 20815)
(3) Fee: $140(1st Deadline: Nov 17th)
* You can find the application form in office bulletin and submit to RT Junyeong Yang with the fee.
8. HQ Conference & Training
(1) 2019 Remnant Conference in America (RCA, Chicago) is scheduled as below.
*Leader's Conference: Nov 26th(Tues) – 27th(Wed), Main Conference: 28th(Thurs) – 30th(Sat)
9. Rev. Dong Cheol Lee will be going to Hawaii this week for RU Lecture.
10. Fellowship – This Week: 5th region Next Week: Thanksgiving Flower: Enc. Miran Kang
1. 다음 주일(24일)은 한해를 결산하여 감사하는 추수감사 연합에배(11am)을 드립니다. 축복과 전도의 기회로 삼고,
한해동안 주신 응답을 감사하며 감사 예물을 준비하시기 바랍니다.
2. 추수감사 주일 예배에 세례식이 있습니다. 세례교육은 금주 토요일(23일) 오전 11시 & 오후 2시, 본교회에서
있습니다. 교육은 한번만 받으면 됩니다.
3. 12월 1일(주일은) 본교회에서 스페니쉬 전도 축제가 있는 날입니다. 특별히 멕시코 & 콜럼비아 현지 선교사들이
같이 참여합니다. 오늘 받은 초청장은 이웃들과 스피니쉬권 지인들을 전도할 수 있는 기회로 삼기를 바랍니다.
4. 오늘 모임
(1) 중직자 대학원 5강 & 6강: 오후 2시, 본당 (2) 정기 당회: 오후 3:30, 당회실
5. 주간 모임
(1) 수요 예배: 오후 8시, 본당, 대표기도: 박해숙 권사 (2) 금요기도: 오후 8시, 본당 (영어권 사역 주관)
(3) 토요 호흡 운동: 오전 9시, 도서실 (4) 토요 영어권 전도학교: 오전 10시, 도서실
6. 2020년 수고할 남선교 & 여선교 임원들이 아래와 같이 세워졌습니다.
*남선교
(1)회장: 김성범 집사 (2)영어권 부회장: Reginald Brown 집사 (3)한어권 부회장: 이당로 집사
(4)중어권 부회장: Zhang Chao 집사 (5)스페니쉬권 부회장: Armando 집사 (6)총무/ 서기: 이동석 집사
*여선교
(1)회장: 이미경 권사 (2)부회장: 이주영 권사 (3)회계: 주정민 권사 (4)총무: 신진옥 권사 (5)서기: 이예성 권사
7. 2019년 미동부 렘넌트 연합 동계 수련회가 아래와 같이 진행됩니다.
(1) 일정: 12월 26일(목) – 28일(토)
(2) 장소: National 4-H Youth Conference Center (7100 Connecticut Ave, Chevy Chase)
(3) 등록비: $140 (1차 마감일: 11월 17일)
*신청서는 사무실 게시판에 배치되어있고 등록비와 함께 양준영 RT한테 제출해주시기 바랍니다.
8. 본부 집회 및 훈련
(1) 2019년 미주 렘넌트 대회(RCA, 시카코)가 다음과 같은 일정으로 진행됩니다.
*리더 훈련 집회: 11월 26일(화) – 27일(수), 본 집회: 28일(목) – 30일(토)
9. 담임목사 동정: 주간에 하와이 RU 강의
10. 이번 주 친교 & 봉사: 5구역 , 다음 주: 추수감사절 연합 꽃꽂이: 강미란 권사
Recommended Posts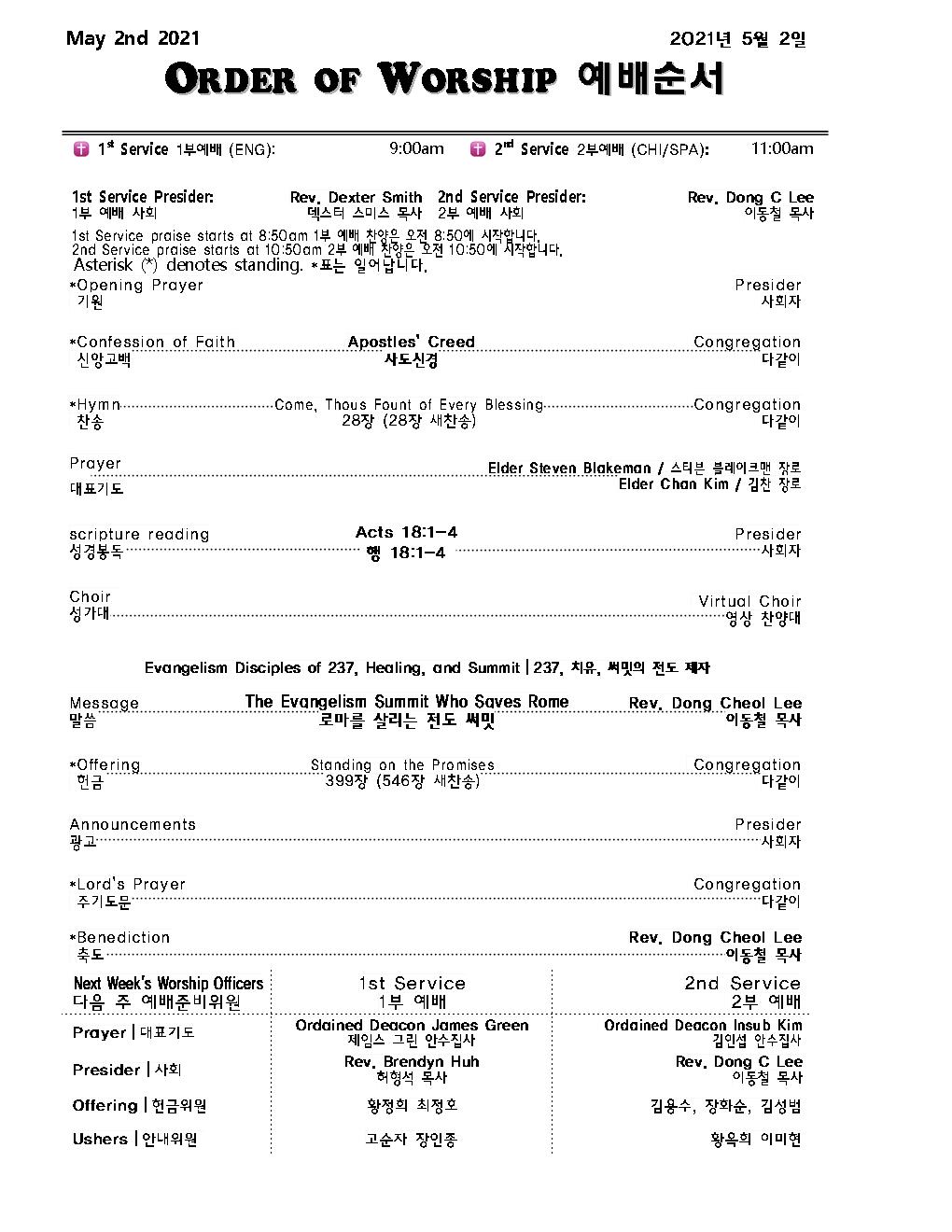 May 01, 2021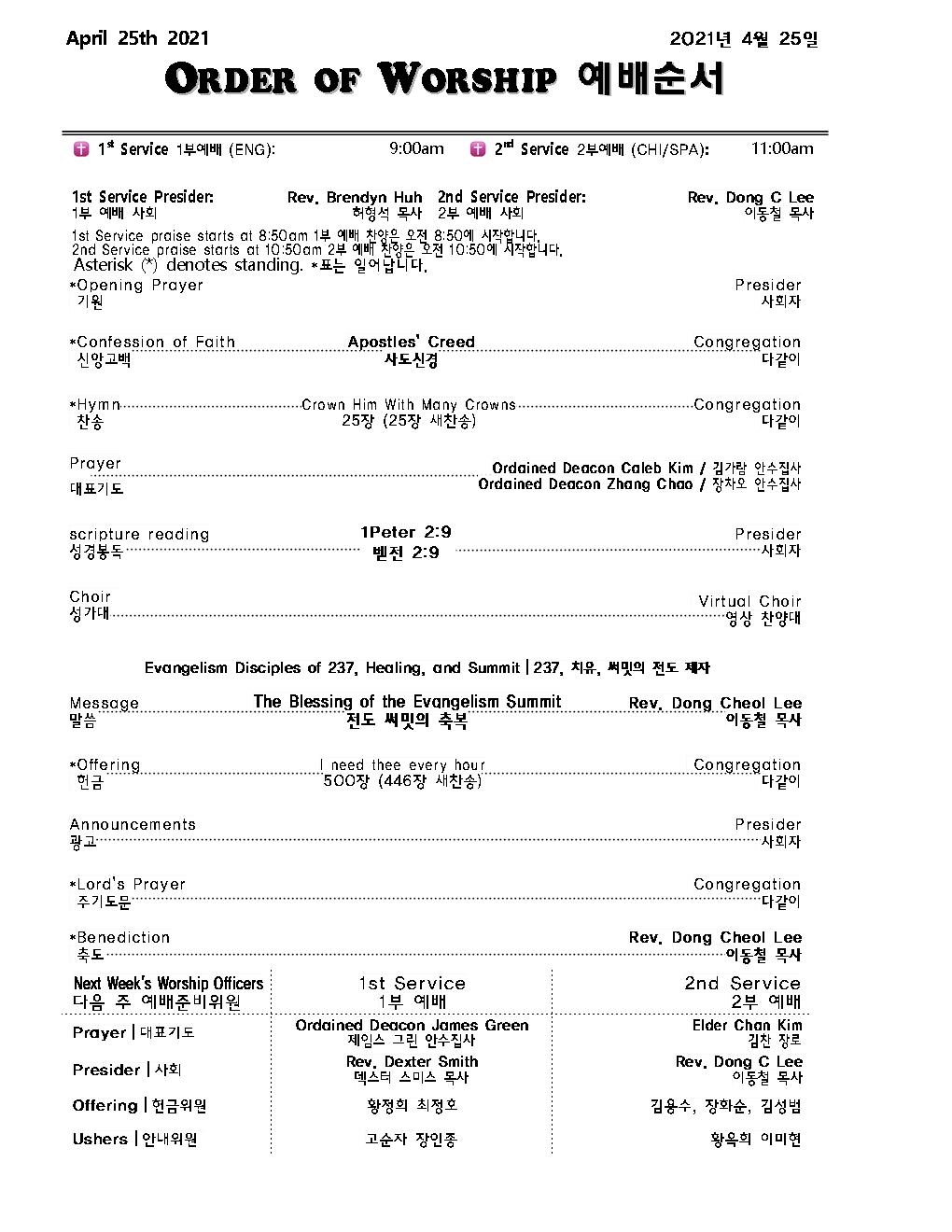 April 24, 2021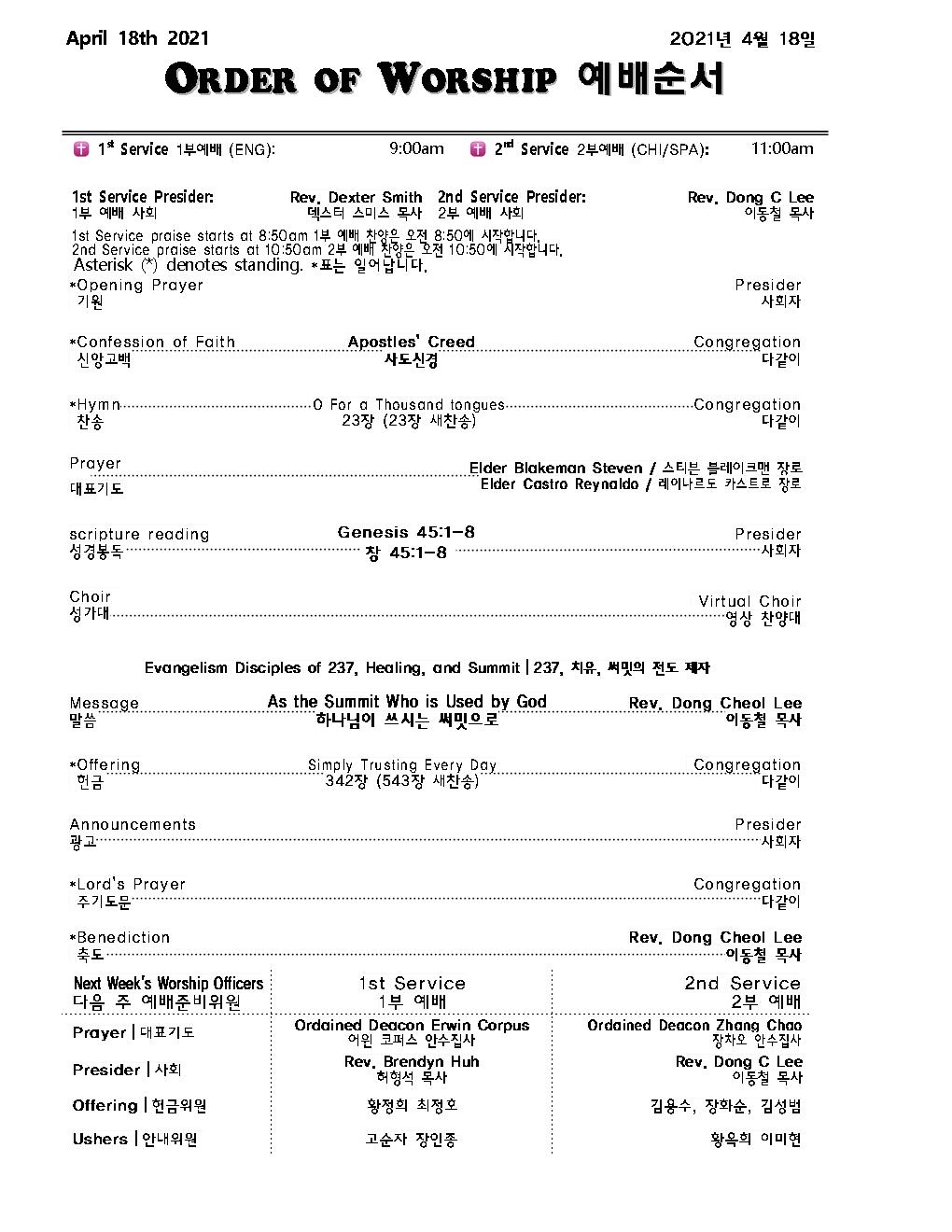 April 17, 2021