---
교회 소식(Church News)
1. 오늘 모임
(1) 태영아 가이오 기도 모임: 12:50pm 새신자실(#202)
(2) 캄보디아, 칠레 의료 선교팀 & 준비팀 모임: 3:00pm, 도서실(#215)
2. 주간 모임
(1) 중국인 전도 학교: 매주 화요일 11:00am, 애난데일 지교회
(2) Annandale, Fairfax 캠프, 매주 목요일 1:00pm, 새신자실(#202)
(3) 수요 캠프: 조지 워싱턴 대학교, 9:30am, 도서실
(4) 수요 예배: 7:30pm, 이번주 특송( 12구역 Centreville)
(5) 금요 찬양 기도회: 매주 금요일 8;00pm 본당
(6) 영어권 사역자 훈련: 매주 토요일 10:00am – 11:15am 도서실
3. 캄보디아 단기 의료 선교 팀이 이번주간 선교지로 출발합니다. 첨부한 40일 아침 금식 기도표대로 동참하셔서
이번 선교가 전 교회의 응답이 되는 것을 체험하기 바랍니다.
(1) 일시: 6월 23일(목) – 27일(월)
(2) 선교 대원: 이동철 목사, 김선현 집사, 유성경 집사, 신형웅 집사, Jeremiah Blakeman, Erwin Corpus
4. 교육부 여름 수련회 스케줄이 아래와 같습니다.
(1) 태영아부 (8월 27일) (2) 유치부 (8월19-20일) (3) 초등부 (6월26-29일)
(4) 중고등부 (8월 7-10일) (5) 대청부 (7월7-9일)
5. WRC 동부 연합 수련회 (한국 세계렘넌트 대회 중심으로 자체 수련회)가 아래와 같이 진행됩니다.
(1) 일시: 8월3-5일
(2) 주소: 뉴저지 크리스찬 아카데미 (73 Holmes Mill Rd, Cram Ridge, NJ 08514)
(3) 회비: $120 (7월10일 마감; 당일 $140; 청강 $50)
(4) 등록 문의: 사언약(703-475-8941)
6. 워싱턴 지역 렘넌트 데이가 이번주 토요일(25일) 9:50am 워싱턴 임마누엘 교회에서 진행됩니다.
7. 주일 학교 졸업예배가 7월 3일(주일) 9:00am 1부 예배에 있습니다.
8. 교우 소식
(1) 질병 치료를 위한 중보 기도 요청: 장화순 집사(수술후 회복중), 김써니 집사, Arno Fontillas, 송경주 권사,
Paul Morse 집사,
(2) 새신자: 이현아(Woodridge), James King
(3) 한국 방문: Joanna Nishimoto (한국어 수업, 방송 인턴십 중)
9. 다음주 친교 봉사: 9구역
1. Today's Meeting
(1) Infant Father's prayer meeting: 12:50pm, New comer's room(#202)
(2) Cambodia and Chile Medical team & staff team meeting: 3:00pm, Library(#215)
2.Weekly Meetings
(1) Chinese Evangelism Camp: Every Tuesday 11:00am, Annandale Regional Church
(2) Annandale, Fairfax Camp, Thursday 10:00am, New Comer's Room(#202)
(3) Wednesday Camp: George Washington University, 10:00am Library
(4) Wednesday Night Service: 7:30pm(Praise: Centreville)
(5) Friday Night Praise Worship Service: Every Friday, 8:00pm, Sanctuary
(6) English Minister's Evangelism training: Saturday 10:00am, – 11:15am, Library
3.Cambodia medical mission team will be ministering starting this week.
* Please join us in the 40 days breakfast fasting prayer charts given. We pray for the whole
church to experience the answer of God through our mission.
(1) Time: June 23rd(Thurs) – 27th(Mon)
(2) Mission Members: Rev. Dong C. Lee, Deacon Sunny Kim, Deaconess Song Kyung Yu,
Deacon Peter Shin, Jeremiah Blakeman, Ewrin Corpus
4. Education Department summer retreat schedules are as below
(1) Infant Ministry (8:27) (2) Kindergarten (8/19-20)
(3) Elementary (6/26-29) (4) Youth (8/7-10) (5) College/Young Adult (7/7-9)
5. WRC East Coast Retreat (to ride flow of World Remnant Conference in Korea) while be held as below.
(1) Date: August 3rd-5th
(2) Address: New Jersey Christian Academy (73 Holmes Mill Rd, Cram Ridge, NJ 08514)
(3) Fee: $120 if paid by 7/10; afterwards $140; commuter $50
(4) Registration: form in church office (return with payment by 7/10)
*Questionary: Paul Sa(703-475-8941)
6. Washington Regional Remnant Day will be held at 9:50am Washington Immanuel Church
7. Sunday School graduation service will be held on July 3rd(Sunday) 9:00am Morning Service.
8. Church News
(1) Special prayer for healing
Ordained Deacon Hwa Soon Jang(Recovering), Deaconess Sunny Kim(Surgery)
Encourager Kyoungju Song(Stroke), Arno Fontillas, Deacon Paul Morse
(2) New Comers: Hyun A Lee(Woodbridge), James King
(3) Korea Visit: Joanna Nishimoto(Learning Korean, Boardcast internship)
9. Fellowship – Next Week: 9th Region
Recommended Posts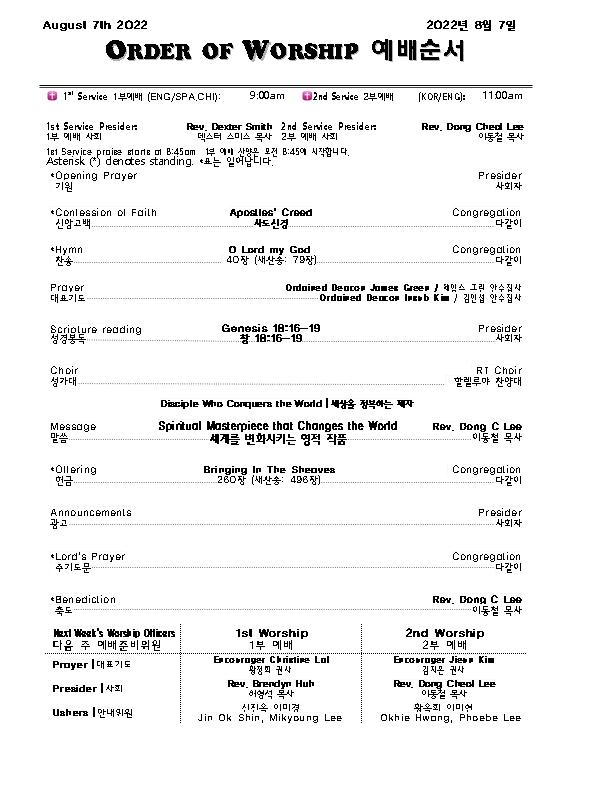 August 06, 2022