---
교회 소식 (Church News) 10/15/2017
Today's Meeting
(1) Ordained Deacon's meeting: 1pm, Library
(2) English Ministry Video Core Message: 1pm, Sanctuary
(3) RCA Opening ceremony practice: 1pm, library
Spanish Ministry member's meeting will be held at elder Jose's house today at 3pm.
Weekly Meetings
(1) Wednesday Service: 8:00pm, (8th Region)
(2) Saturday English Evangelism Camp: 10am, Library
(3) Saturday Silver Academy Line Dance: 1pm, Youth Ministry Room
Informations for Regional Evangelism Camp held by the Headquarter before RCA are as below.
(1) Date: 2017 October 16th(Thurs) – 18th(Sat)
(2) Place: Immanuel Church
(3) Participants: Anyone can attend
Preliminary regional church minister & 8 Mission Team intentive training prior to RCA will be held as below.
(1) Date: 2017 October 21st(Tues) 1pm – 22nd(Weds) 1pm
(2) Place: Chodae Church
(3) Director: Rev. Sangbum Kim(Director of Evangelism specialist center)
(4) Participants: Future Ministers, 8 Mission Teams, Senior Pastors, Regional Church Ministers
*Application is at the office
Church News
(1) Special prayer for healing
Deaconess Sunny Kim(Surgery), Encourager Kyoungju Song(Stroke), Deacon Paul Morse.
Fellowship – This Week: 11th Region(Next Week: 1st Region)
Cleaning- This Week: Joint Team (Next Week: 3)
오늘 모임
(1) 안수 집사 정기 모임: 1pm, 도서실 (2)영어권 핵심영상 메시지:1pm, 본당
(3) RCA 개막식 공연 준비: 1pm, 영어권 실
스페니쉬권 성도들의 모임이 오늘 오후 3시 호세 장로 가정에서 진행됩니다.
주간 모임
(1) 수요 예배: 8:00pm, 이번주 특송(8구역) (2) 토요일 영어권 전도훈련 및 캠프: 10am, 도서실
(3) 토요일 실버아카데미 라인 댄스: 1pm, 중고등부 실
RCA 집회 전에 본부에서 진행하는 지역전도캠프가 아래와 같이 진행됩니다.
(1)일정: 2017 11월 16일(목) – 18일(토)
(2)장소: 임마누엘 교회
(3)참석 대상자: 누구든지 참여할 수 있습니다.
미주 RCA 기간 예비지교회 사역자 및 8미션팀 집중훈련이 아래와 같이 진행됩니다.
(1)일정 : 2017년 11월 21일 (화) 13:00 – 22일 (수) 13:00
(2)장소 : 워싱턴 초대 교회
(3)진행자 : 김상범 목 사 (전도전문훈련원 훈련국장)
(4)참석 대상자 : 미주 예비 지교회 사역자, 8미션팀, 담임 목회자, 지교회 사역자
* 신청서는 사무실에 배치되어있습니다.
교우 소식
(1) 질병 치료를 위한 기도 요청: 김써니 집사, 송경주 권사, Paul Morse 집사,
이번 주 친교 봉사: 11구역 다음주: 1구역 청소: Team 연합 다음주: 3
Recommended Posts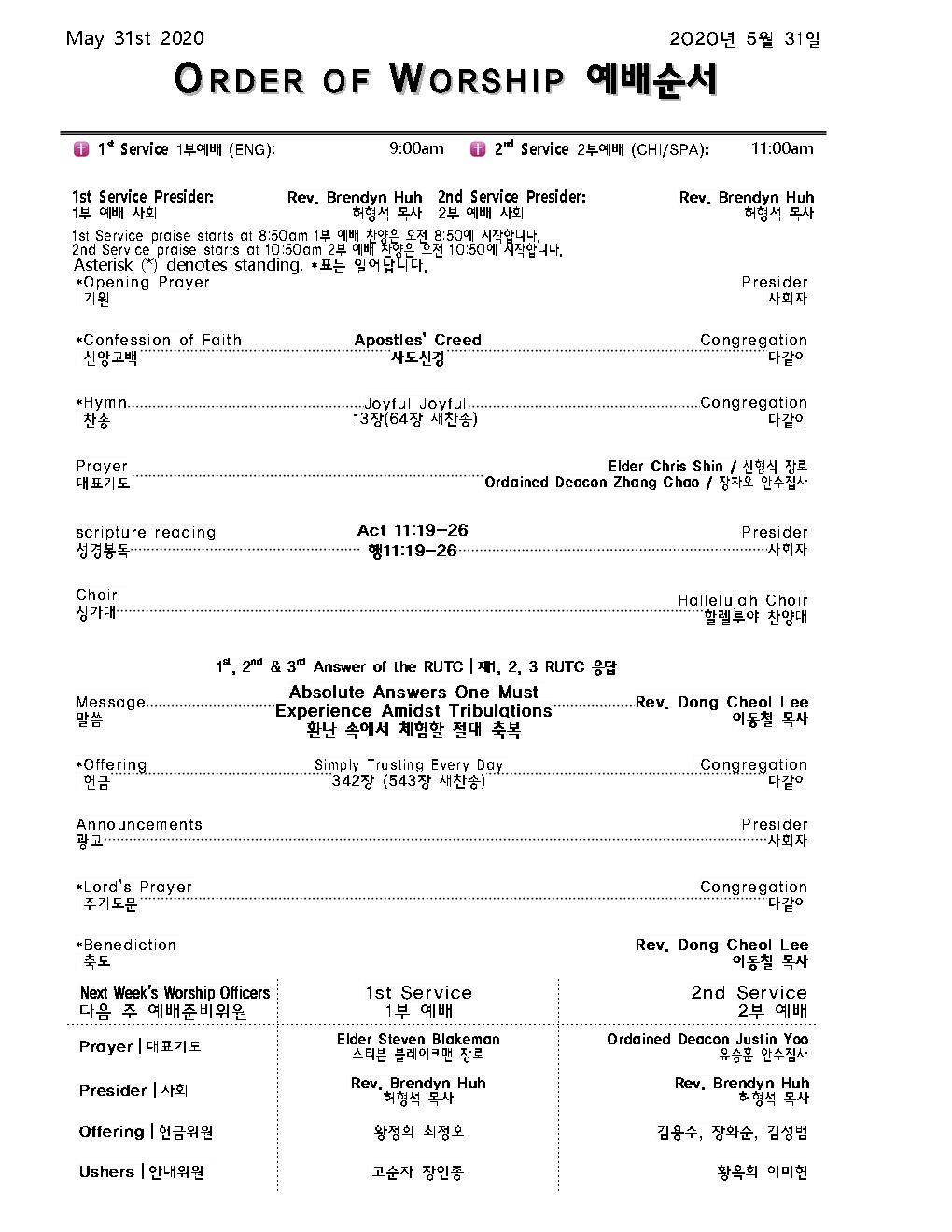 May 30, 2020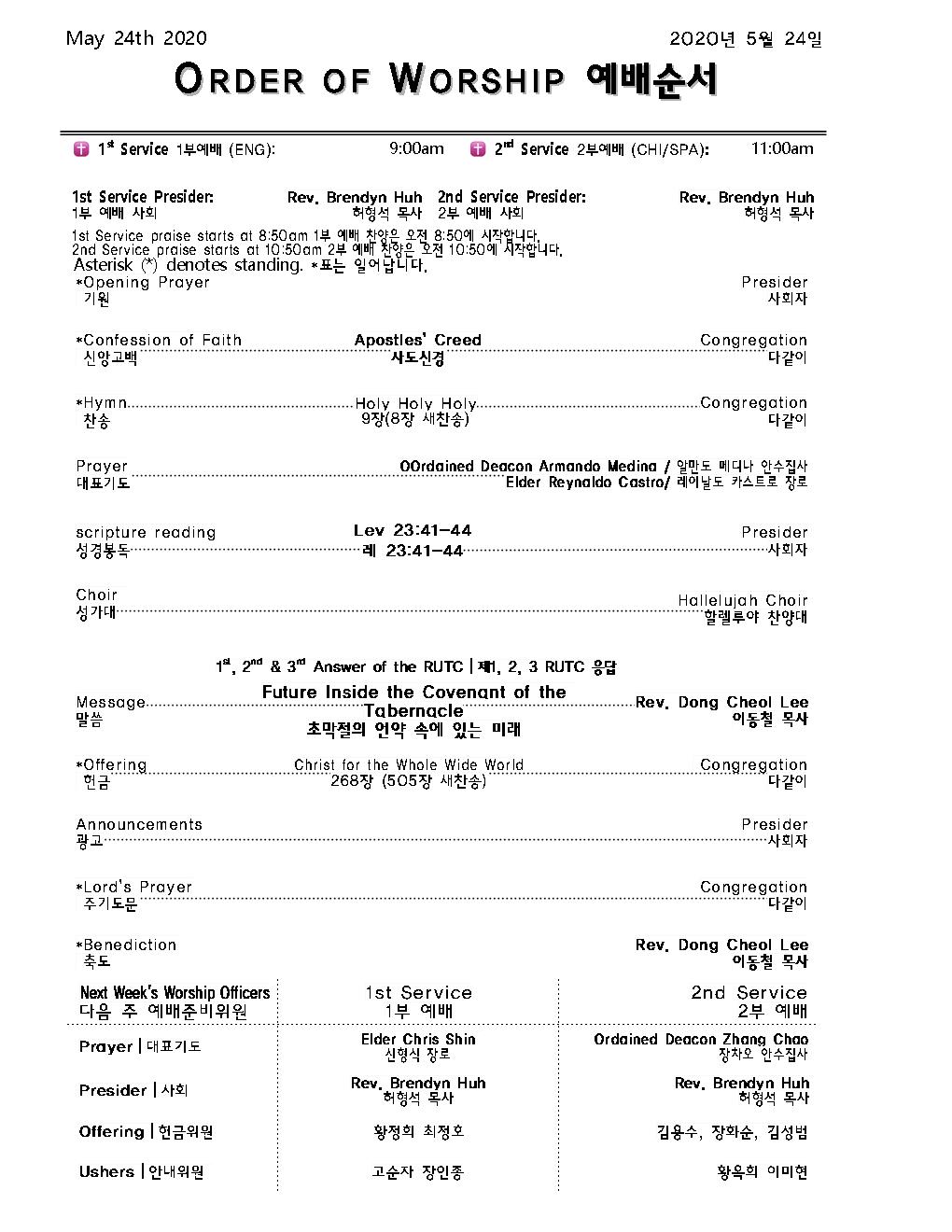 May 24, 2020