---
교회 소식(Church News) 11/05/2017
오늘 모임
(1) 새가족 가을 환영회: 12:30pm: 성가대실 (2) 영어권 핵심영상 메시지:1pm, 본당
(3) RCA 개막식 공연 준비: 12:30pm, 영어권 실 (4) 크리스마스 전야제 준비 모임: 1pm, 도서실
주간 모임
(1) 수요 예배: 금주부터 수요 예배가 오후 7시 반부터 번경됩니다. 이번주 특송(9구역)
(2) 토요일 영어권 전도훈련 및 캠프: 10am, 도서실 (3) 토요일 실버아카데미 수업: 토요일
RUTC 보수를 위한 특별 헌금에 계속 동참해주시기 바랍니다.
다음 주일(12일)부터 스패니쉬 예배를 주일 오전 10시로 변경합니다.
금주 토요일(11일) 영어권 사역자 모임 이후 교회에서 군선교 Veteran's Day 바비큐가 있습니다.
안수집사 정기모임 & 남선교 총회 및 임원단 선출이 다음 주일(12일) 오후 1시 도서실에서 진행됩니다.
RCA 개막식에 공연할 중직자 합장단 연습이 있습니다. 동참할 중직자는 다음 주일(12일) 오후 6시 초대교회 RUTC로
모이기를 바랍니다.
RCA 집회 전에 본부에서 진행하는 지역전도캠프가 아래와 같이 진행됩니다.
(1)일정: 11월 16일(목) – 18일(토) (2)장소: 임마누엘 교회 (3)참석 대상자: 누구든지 참여할 수 있습니다.
미주 RCA 기간 예비지교회 사역자 및 8미션팀 집중훈련이 아래와 같이 진행됩니다.
(1) 일정 : 11월 21일 (화) 오후 1시 – 22일 (수) 오후 1시 (2)장소 : 워싱턴 초대 교회
(3) 참석 대상자 : 미주 예비 지교회 사역자, 8미션팀, 담임 목회자, 지교회 사역자
2017 미동부 렘넌트 연합 동계 수련회가 아래와 같이 진행됩니다.
*일정: 12월 27일(수) – 29일(금), 장소: National 4-H Youth Center, 등록비: $125, 마감일: 11월 19일(주일)
-신청서는 사무실 게시판에 배치되어 있으니 미리 등록해주시기 바랍니다.
교우 소식
(1) 한국 방문: 김혜란 권사, 바비 이시모토 집사, 김혜민 집사,
(2) 질병 치료를 위한 기도 요청: 송경주 권사, 김써니 집사, Paul Morse 집사, 김수복 집사, 최미혜 집사, Manfred Ochs집사
이번 주 친교 봉사: 3구역 다음주: 4구역 청소: Team 연합 다음주: 1
Today's Meeting
(1) English Ministry Video Core Message: 1pm, Sanctuary
(2) New Comer's Welcome Party, 12:30pm, Choir Room
(3) Christmas Eve Meeting: 1pm, Library
(4) RCA Opening ceremony practice: 12:30pm, English Ministry Room
Weekly Meetings
(1) Wednesday Night Service will be held on 7:30pm (10th Region)
(2) Saturday English Evangelism Camp: 10am, Library
(3) Saturday Silver Academy classes: Saturday
Please continue to participate for RUTC repair offering.S
panish Worship will begin at 10am starting next Sunday(12th).
There will be Veteran Day Barbecue from Military Mission Team on Saturday after English Worker's Meeting.
Ordained Deacon's Meeting & Men's Department Officer election will be held next Sunday(12th),
1pm at the Library.
Lay leader choir practice for RCA opening ceremony will be held next Sunday(12th), 6pm at Chodae RUTC.
Informations for Regional Evangelism Camp held by the Headquarter before RCA are as below.
(1) Date: 2017 November 16th(Thurs) – 18th(Sat)
(2) Place: Immanuel Church
(3) Participants: Anyone can attend
Preliminary regional church minister & 8 Mission Team intentive training prior to RCA will be held as below.
(1) Date: 2017 November 21st(Tues) 1pm – 22nd(Weds) 1pm
(2) Place: Chodae Church
(3) Director: Rev. Sangbum Kim(Director of Evangelism specialist center)
(4) Participants: Future Ministers, 8 Mission Teams, Senior Pastors, Regional Church Ministers
*Application is at the office so please register in advance.
2017 Eastern Remnant Joint Winter Retreat is held as below.
*Date: Dec 27th(Wed) – 29th(Fri), Place: National 4-H Youth Center, Fee: $125, Deadline: Nov 19th(Sun)
–
Church News
(1) korea Visit: Haeran Kim, Bobbi Ishimoto, Hyemin Kim,
(2) Special prayer for healing
Encourager Kyoun Joo Song, Deacon Sunny Kim, Deacon Paul Morse, Deacon Soo B. Kim,
Deacon Mi Hae Chae, Deacon Manfred Ochs
Fellowship – This Week: 4th Region(Next Week: 5th Region)
Cleaning- This Week: Joint Team (Next Week: 1st)
Recommended Posts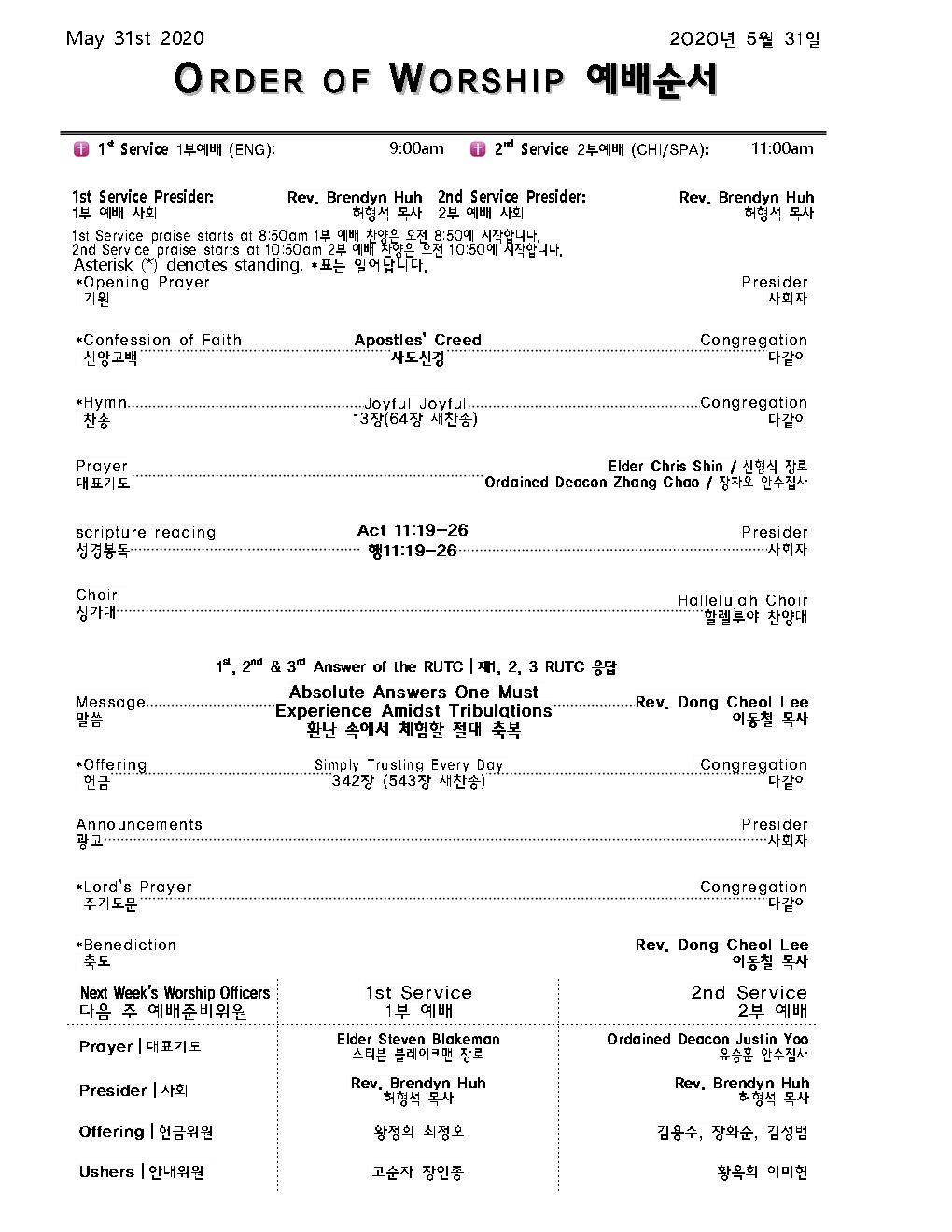 May 30, 2020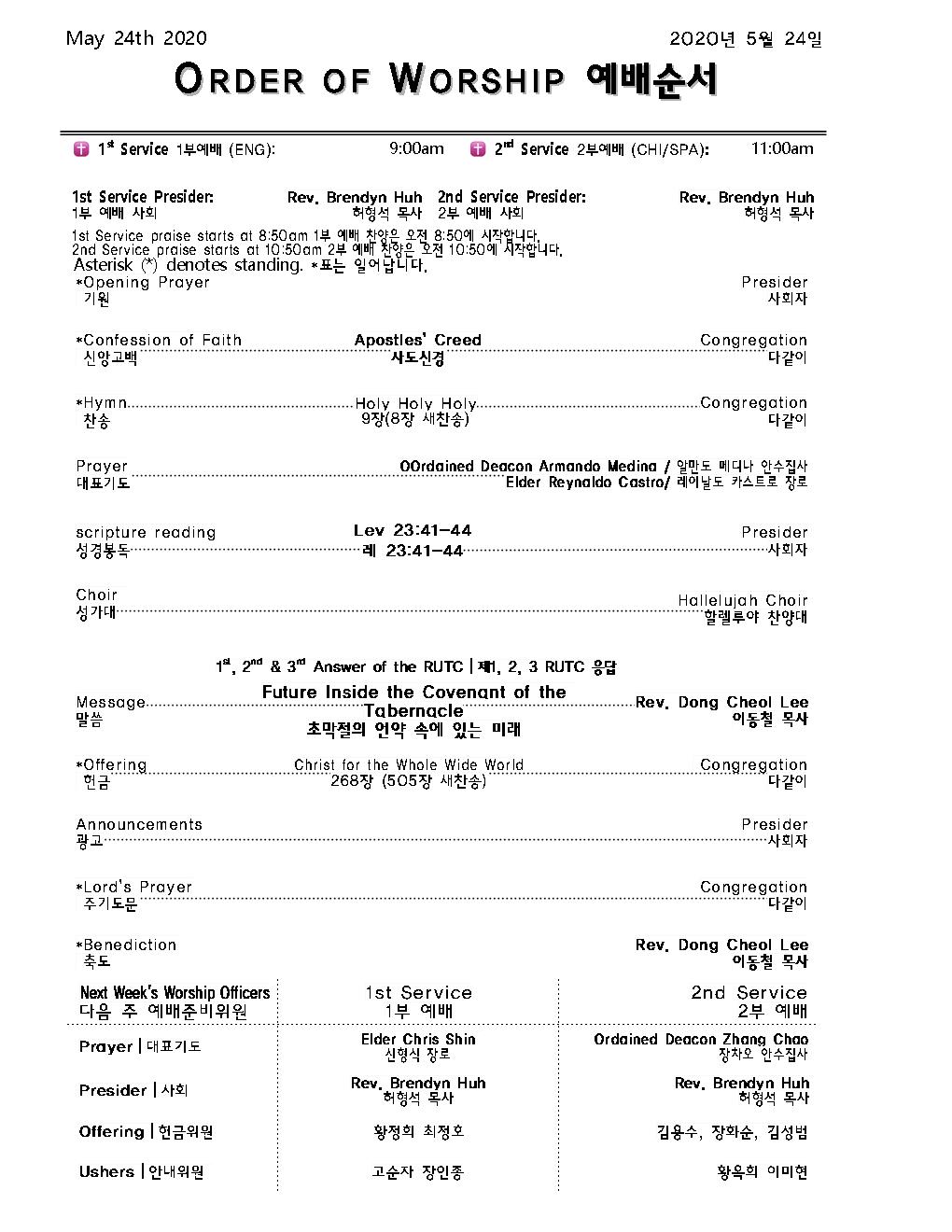 May 24, 2020