---
교회 소식 Church News(12/17/2017)
There will be Christmas Joint Service next Sunday(24th) on 11am. May this be an opportunity
for you to invite and evangelize your neighbours.
Christmas Eve Sunday School Performance will be held next Sunday(24th), 6pm at the sanctuary.
Today's Meeting
(1) Christmas eve departmental practice rehearsal: 1pm, Sanctuary
(2) Ordained Deacon's meeting: 1:20pm, library
(3) End Year Elder's Meeting: Elder' Jin G. Lee's House: 4pm
Weekly Meetings
(1) Wednesday Camp: 10am, Library (2) Wednesday Worship: 7:30pm, Sanctuary
(3) Friday Night Worship: 8pm
Congregational meeting for year budget report will be held next Sunday(24th), after the joint service.
Practice for Handel's 'Messiah' on Christmas Joint Service is held on Saturday(23rd), 6pm at the church.
Christmas Eve Department(Sunday School, Multi-Ethenic) stage rehearsal will be held on
24th(Sun) after the congregational Meeting.
We ask for all staff members (Media, stage, lightening) to participate the rehearsal.
2017 Eastern Remnant Joint Winter Retreat is held as below.
*Date: Dec 27th(Wed) – 29th(Fri), Place: National 4-H Youth Center, Fee: $140
Participants: Anyone *Only on-site registration available.
Church News
(1) korea Visit: Enc. Mia Kim
Fellowship – This Week: 9th Region(Next Week: 10th Region)
Cleaning- This Week: 3rd Team (Next Week: 3st Team)
다음 주일(24일) 예배는 성탄 연합예배(11:00am)로 드립니다. 주변 이웃을 초대하여 전도하는 기회가 되기를 바랍니다.
크리스마스 전야를 위한 주일학교 공연이 다음 주일(24일) 오후 6시에 본당에서 진행됩니다.
오늘 모임
(1) 크리스마스 전야제 부서별 리허설: 1pm, 본당
(2) 안수 집사 정기 모임: 1:20pm, 도서실
(3) 연말 당회: 4pm, 이진곤 장로 가정
주간 모임
(1) 수요 캠프: 10:00am, 도서실 (2) 수요 예배: 7:30pm, 본당 (3) 금요 철야예배: 8:00pm
다음 주일(24일) 연합예배 후 결산과 예산을 위한 연말 공동의화가 본당에서 진행됩니다.
성탄 연합예배(24일)에 찬양드릴 헨델의 메시야 중 "할렐루야" 연주 연습이 금주 토요일(23일) 오후 6시에 있습니다.
크리스마스 전야제 각 부서별(주일 학교 및 다민족) 스테이지 리허설이 다음 주일(24일) 공동의회 이후에 있습니다.
해당되는 모든 스텝들(미디어, 스테이지, 조명)은 모두 참여하시기 바랍니다.
2017 미동부 렘넌트 연합 동계 수련회가 아래와 같이 진행됩니다.
*일시: 12월 27일(수) – 29일(금), 장소: National 4-H Youth Center, 등록비: $140, 대상자: 누구나 참여할수 있습니다.
*당일 등록만 가능합니다.
교우 소식
(1) 한국 방문: 김미아 권사
이번 주 친교 봉사: 9구역, 다음 주: 10구역 이번 주 청소: 3팀 다음주: 1팀
Recommended Posts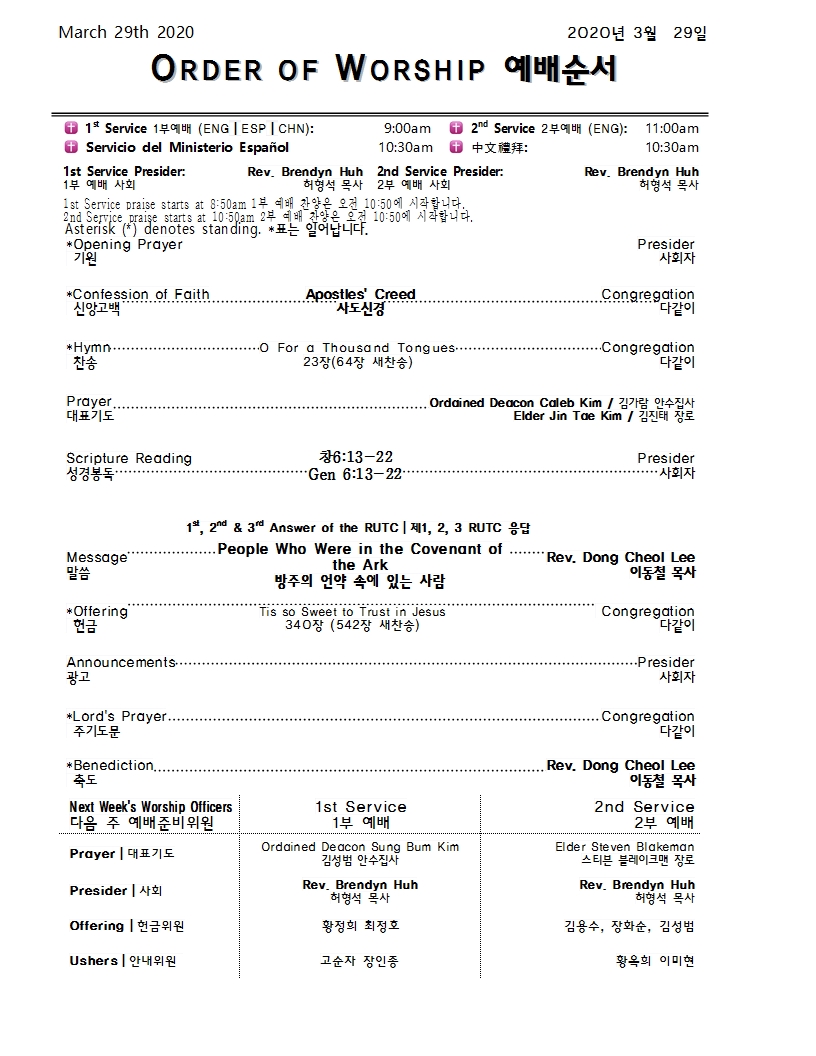 March 28, 2020