---
교회 소식(Church News) 03/11/2018
오늘 모임
(1) 핵심 영상 메시지: 1pm, 본당
주간 모임
(1) 화요일 실버아카데미 문화교실: 11am, 본교회 (2) 수요 캠프: 10am, 도서실
(3) 수요 예배: 7:30pm (4) 금요 철야예배: 8:00pm
(5) 토요일 실버아카데미 문화교실: 10:30am, 본교회 (6) 한글학교: 9:30am – 1:00pm
올해 부활주일(4월 1일)에 세례식이 진행됩니다(유아세례: 만 3세 미만, 세례: 만 13세 이상). 신청서는
사무실에 배치되어있습니다.
*세례교육은 3월 24일(토), 31일(토) 오후 2시 교회에서 있습니다. 교육은 한번만 받으시면 됩니다.
미주 동부지역 초등부 영성합숙이 아래와 같이 진행됩니다.
(1) 날짜: 3월 29일(목) – 31일(토) (2) 장소: 뉴저지 크리스챤 아카데미
(3) 회비 : $170 (4) 신청마감 : 3월 11일까지*신청서는 사무실에 있습니다.
미주 대학 선교국 캠프가 아래와 같이 진행됩니다.
(1) 날짜: 3월 12일(월)-15일(목) (2) 장소: Maryland
(3) 캠프인도: 송민규 목사 (4) 문의: 허형석 목사 (703-667-0346)
2018년 미주 대학 집회 신청이 3월 19일(월)부터 시작됩니다. 미국의 대학 영적흐름이 바뀌는 새로운
시작이 되길 기도해주시기 바랍니다. 자세한 정보는 사무실 게시판을 참조하시기 바랍니다.
2018년 북 미주 1차 & 2차 합숙이 5월 23일(수) ~ 26일(토)까지 뉴저지 크리스챤 아카데미에서
진행됩니다.
이번 주 친교 & 봉사: 9구역, 다음 주: 스페니쉬 구역 이번 주 청소: 2팀 다음주: 3팀 이번주 강단 꽃꽂이: 고순자 권사
Today's Meeting
(1) Core Message: 1pm, Sanctuary
Weekly Meetings
(1) Tuesday Culture Class: 11am, Church
(2) Wednesday Camp: 10am, Library
(3) Wednesday Worship: 7:30pm, Sanctuary
(4) Friday Night Worship: 8pm
(5) Saturday Silver Academy Culture Class: 10:30am, Church
(6) Korean School: 9:30am – 100pm
There will be baptism ceremony for this year Easter Sunday(April 1st).
*Infant Baptism: Age 3 or under *Baptism: Age 13 or over
-Baptismal Class will take place on the 2nd(Sat and 9th(Sat). You only need to take one class.
America Eastern region Elementary spirituality training is held as below.
(1) Date: March 29th(Thurs) – 31st(Sat)
(2) Location: New Jersey Christian Academy (3) Fee: $170
(4) Registration deadline: March 11th(No on-site registration). Form provided at the office.
America University Mission Department Camp is held as below.
(1) Date: March 12th(Mon) – 15th(Thurs) (2) Location: Maryland
(3) Camp leader: Rev. Min Gu Song (4) Questionaries: Rev. Brendyn Huh(703.667.0346)
2018 North America College Retreat early registration begins from March 19th(Mon).
May this be a retreat that begins the change of spiritual flow of colleges in America.
Please see the church office bulletin for more information.
2018 North America 1st & 2nd Level training will be held on May 23rd(Wed) – May 26th(Sat)
Fellowship – This Week: 8th Region (Next Week: Spanish Ministry)
Cleaning – This Week: 2nd Team (Next Week: 3rd Team)
Flower Devotion – This Week: Enc. Sun Ornelas
Recommended Posts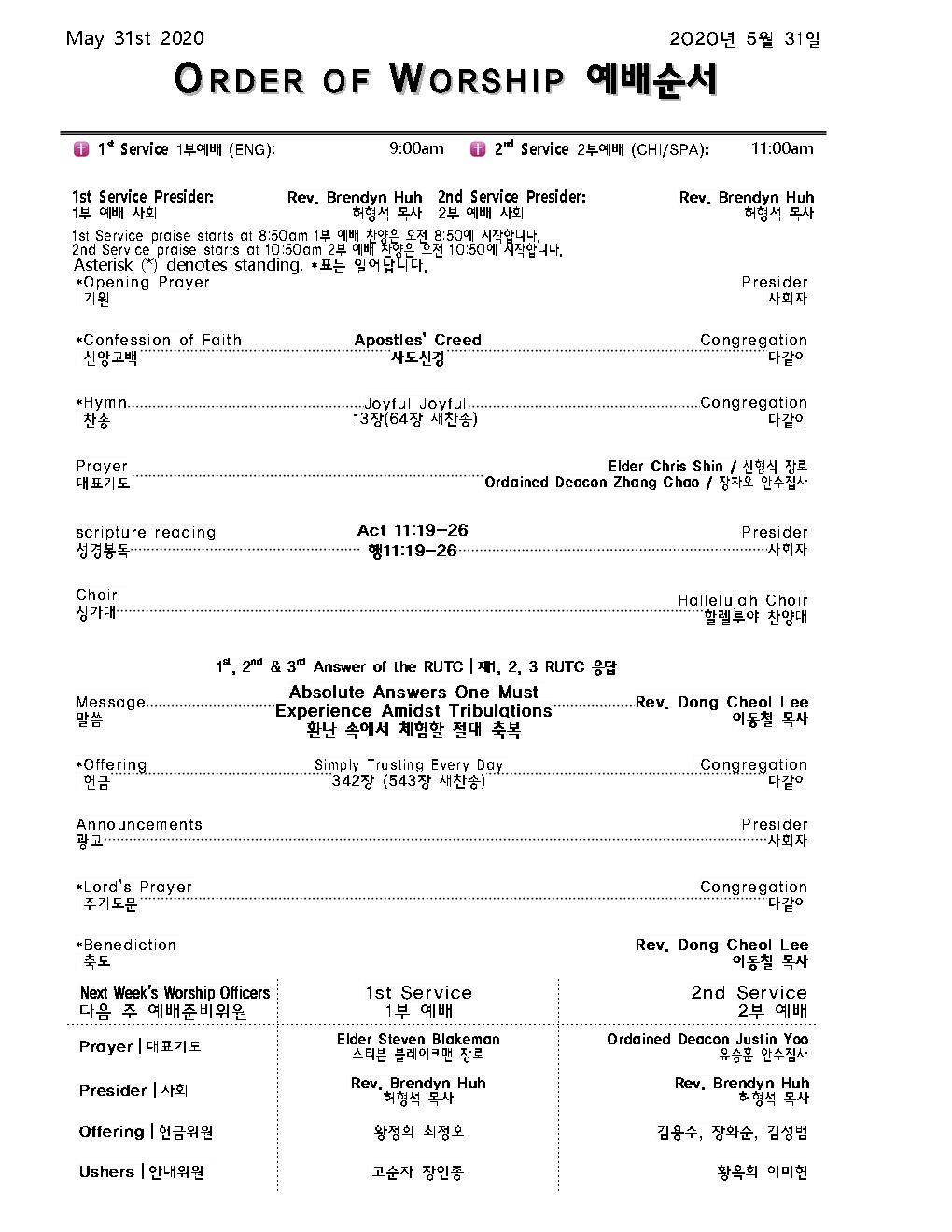 May 30, 2020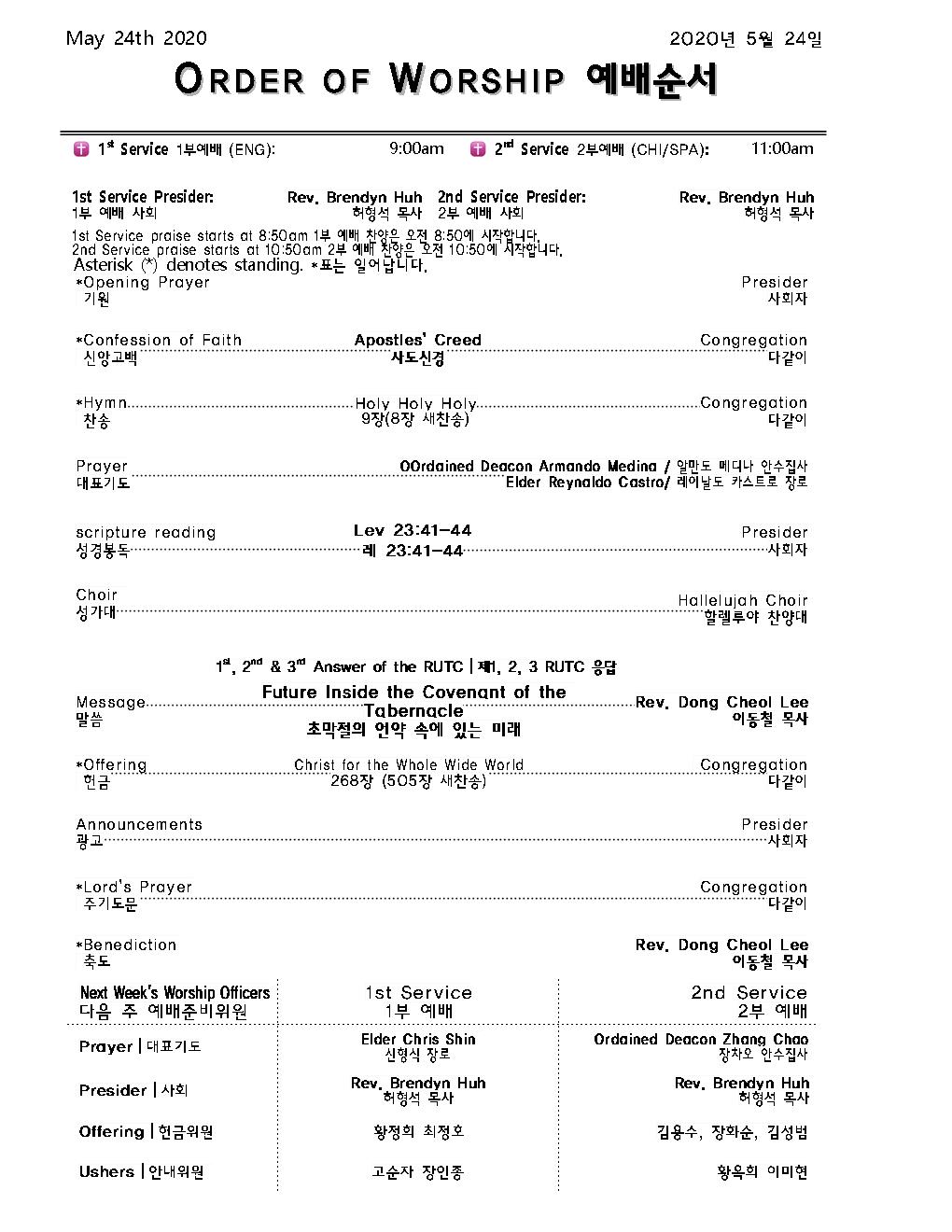 May 24, 2020