---
교회 소식 (Church News) 05/13/2018
다음 주일(20일)은 야외 연합예배로 오전 11시에 Veterans Memorial Park에서 있습니다. 직장인들을 위해 오전 9시에
본당애서 1부 예배를 드립니다. *14300 Featherstone Road, Woodbridge, VA 22191.
오늘 모임
(1) 의료 단기선교(케냐 나이로비, 멕시코시티) 준비모임: 2pm, 도서실
주간 모임
(1) 화요일 실버아카데미 문화교실: 11am, 본교회 (2) 수요 예배: 8pm
(3) 수요 캠프: 10am, 도서실 *이번 주 현장 '조지 메이슨 대학' (4) 금요 철야예배: 8pm
(5) 토요일 실버아카데미 문화교실: 10:30am, 본교회 (6) 한글학교: 9:30am – 1:00pm
오늘 남녀선교회 주관으로 렘넌트와 선교비 후원을 위한 OMC 티셔츠를 판매합니다.
*다음 주일(20일) 야외예배때 착용해주시기 바랍니다.
본교회가 속한 아메리카 개혁 총회가 금주 월요일(14일)부터 수요일(16일)까지 LA에서 진행됩니다. 참석하는
목회자들을 위해 기도해주시기 바랍니다.
본 교회에 있는 RUTC의 리모델링 공사가 계속 진행 중입니다. (공사비 예산 : $200,000)
후대를 살릴 언약을 붙잡고 계속 기도와 건축 헌금으로 동참해주시기 바랍니다.
금주 토요일(19일) 오후 10시 50분에 본교회에서 워싱턴 지역 연합 렘넌트 데이가 진행됩니다.
2018년 미동부 1차 & 2차 본부 합숙훈련이 5월 23일(수) 오후 3시 ~ 26일(토)오후 12시 까지 뉴저지
크리스챤 아카데미에서 진행됩니다. 교회에서 차량을 준비했습니다. (문의: 허형석 목사 *703.667.0346)
5월 메모리얼 연휴기간에 본교회에서 모든 성도와 중직자들을 위한 집중훈련이 아래와 같이 진행됩니다.
*5월 26일(토) 오후 6-9시, 27일(주일) 오후 2-6시 (한국어 및 영어, 스페니쉬 통역)
*5월 28일(월) 오전 10시 – 오후 5시 중국어권 성도 (중국어로 강의)
*회비: $50
미주 대학 집회(5월 30일 – 6월 2일)에 차량으로 가길 원하는 분들은 김형진 집사(571.232.3564)에게
문의 바랍니다.
이번 주 친교 & 봉사: 7구역(오늘은 어머니날을 기념하여 중고등부 렘넌트들이 서빙을 합니다) 다음 주: 8구역
There will be outdoor joint service next Sunday(20th) 11am at Veterans Memorial Parks.
There will be 9am service at the church for Sunday working members.
*14300 Featherstone Road, Woodbridge, VA 22191
Today's Meeting
(1) Medical Short Term Mission(Kenya Nairobi, Mexico City) Preparation meeting:
2:30pm, Library
Weekly Meetings
(1) Tuesday Culture Class: 11am, Church
(2) Wednesday Camp: 10am, Library * This Week's Field "George Maison University"
(3) Wednesday Worship: 8pm, Sanctuary
(4) Friday Night Worship: 8pm
(5) Saturday Silver Academy Culture Class: 10:30am, Church
(6) Korean School: 9:30am – 100pm
Men & Women Depart will be selling OMC t-shirt today to support remnants and
Mission fund. *Please wear them for next Sunday Outdoor Service.
There will be American Reformed General Assembly at LA from this
Monday to Wednesday (14th-16th). Please pray for attending Pastors.
The Church RUTC remodeling continues.
*Construction budget: $200,000. Please participate with prayer and special
construction offering as you hold on to the covenant of saving the next generation.
Washington Regional Remnant Day will be held with Saturday(19), 10:50am at our
Church.
2018 North America 1st & 2nd Level training will be held on
May 23rd (Wed)3pm – May 26th(Sat) 12pm at New Jersey Christian Academy.
Please call Rev. Brendyn Huh(703.667.0346) for transportation inquiries.
The Church is providing a transportation for Remnant College Retreat
(May 30 – June 2). Please call Deacon Hyung Kim(571.232.3564) for any questions.
The intensive training for the congregation in our church during the
Memorial holiday(May) will be held as below.
* May 26(Sat) 6pm-9pm, 27th(Sun) 2pm-6pm (Korean, English, Spanish translated)
* May 28(Mon) 10am – 5pm, Chinese Member lecture(Chinese translation)
* Fee: $50
Fellowship – This Week: 7th Region (Next Week: 8th Region)
(Youth Group Remnants will be serving lunch today for Mothers day).
Recommended Posts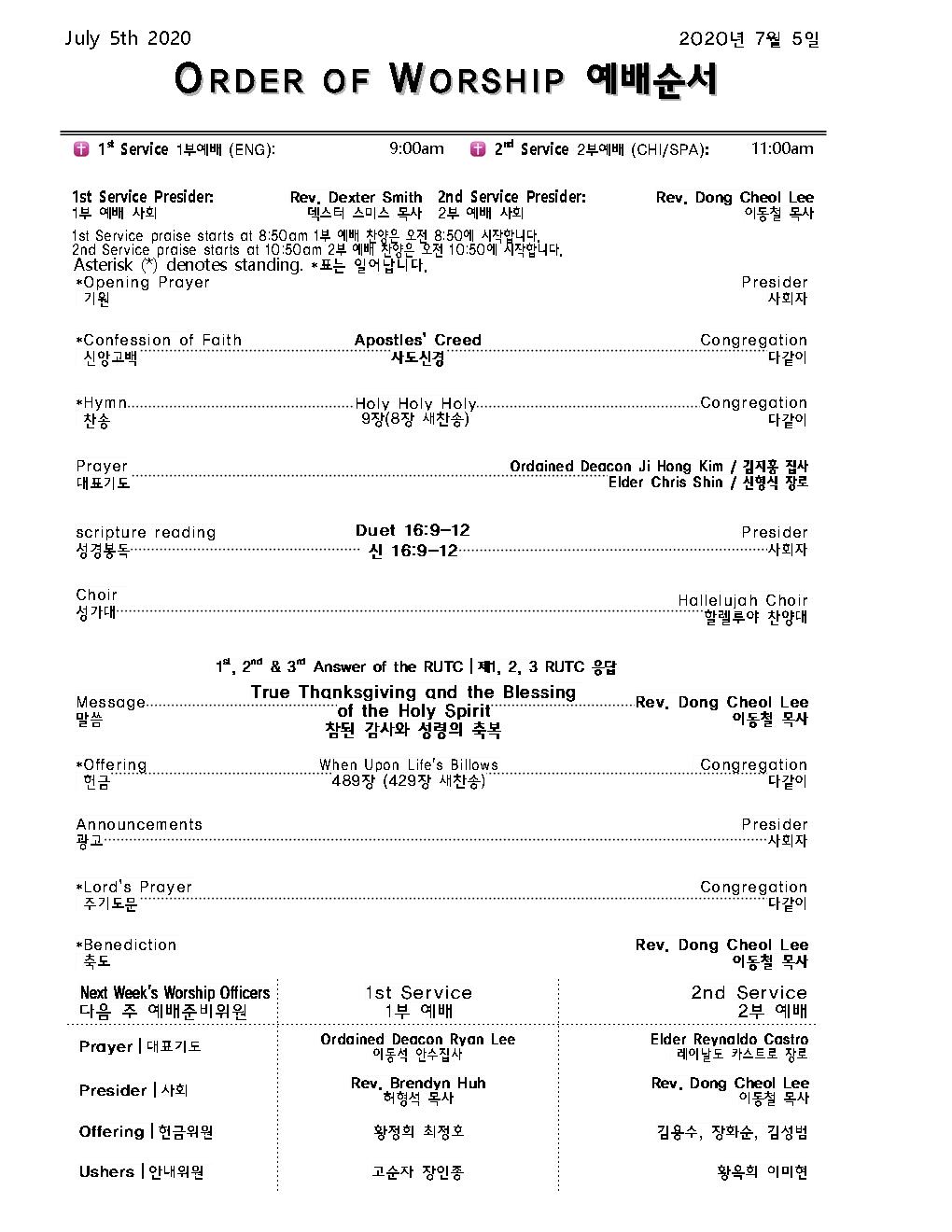 July 04, 2020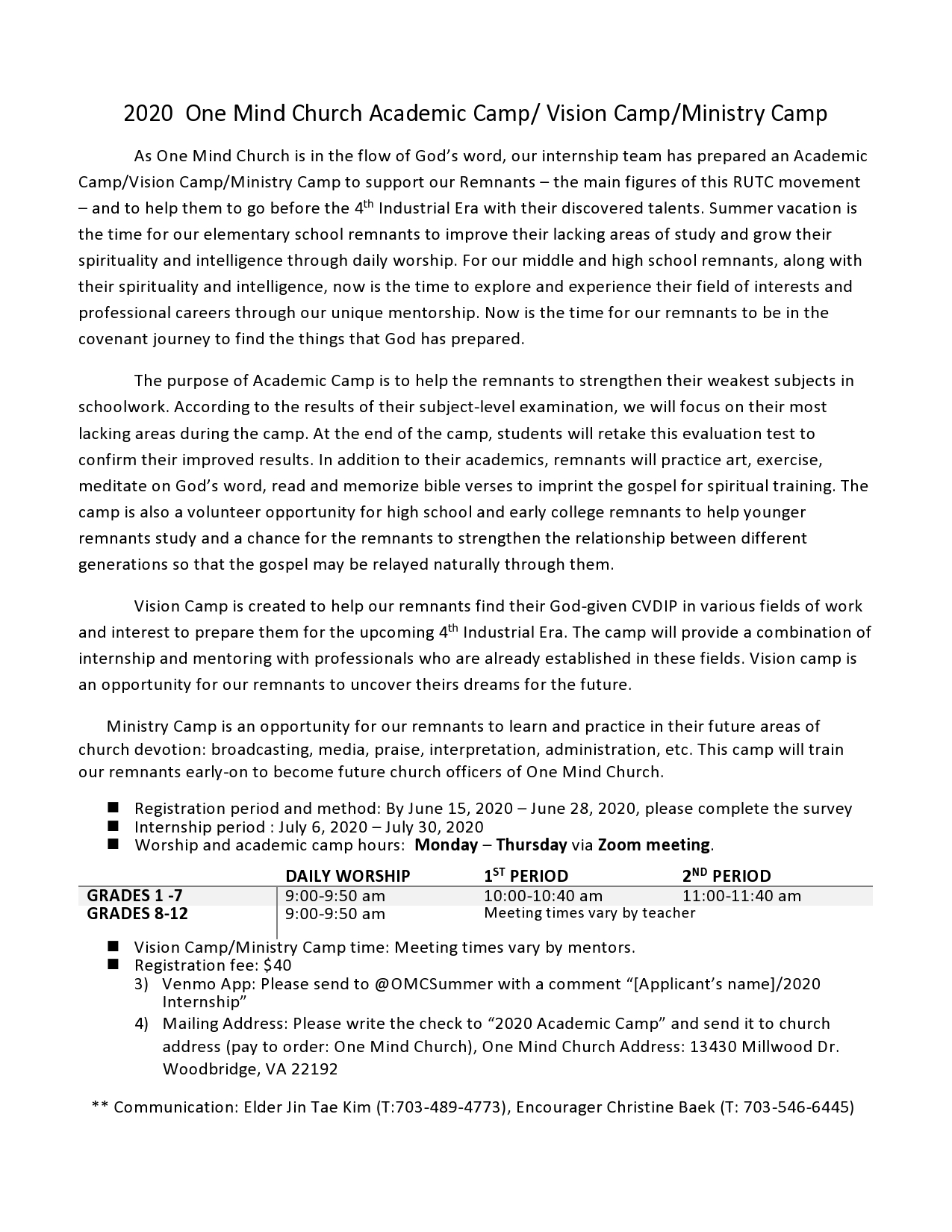 June 28, 2020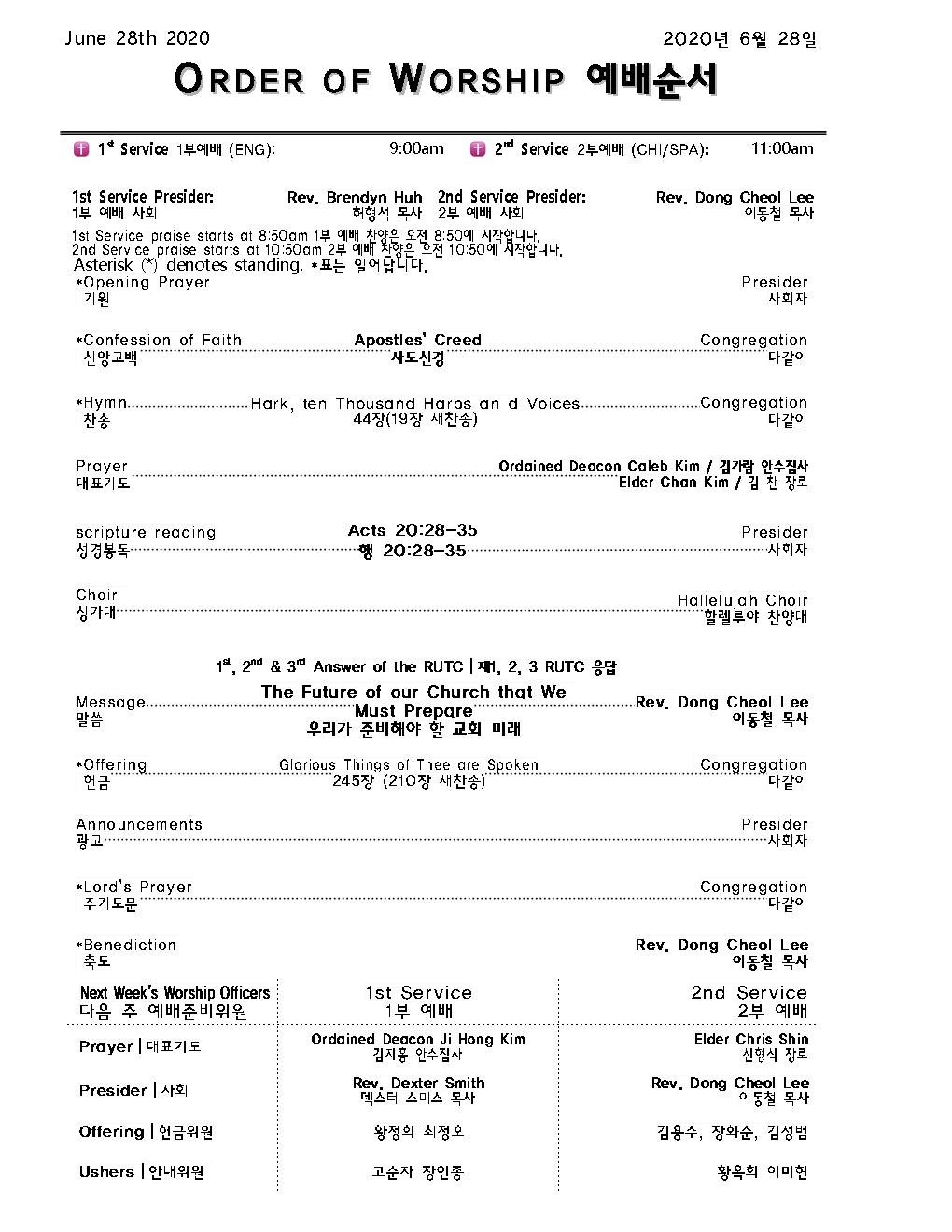 June 27, 2020