---
교회 소식 (Church News) 07/15/2018
Today's Meeting
(1) Regional Teacher's & Elder's Meeting: 1pm, Library
Weekly Meetings
(1) Tuesday Culture Class: 11am, Church
(2) Wednesday Minister & Evangelism Camp: 10am, Library
(3) Wednesday Worship: 8pm, Sanctuary
(4) Friday Night Worship: 8pm
(5) Saturday Culture Class: 10:30am, Church
The church is providing transportation for WRC East Coast Retreat held in New Jersey.
The transportation Registration form is placed at office bulletin board. *Fee: $8
College & Young Adult's retreat will be held next Thursday(19th) – Saturday(21st)
at National Harbour. Please pray for the retreat.
* Theme: Healing and Summit to Save the Church, Remnants, and Field"
* Lecturer: Rev. Dong C. Lee, Rev. Brendyn Huh *Fee: $60
Ordained Deacon's Training will be held this Saturday(21st), 4pm at our Church.
Sunday School Summer Retreat schedules are as below. Please participate and
pray for the remnants.
(1) Kindergarten: August 16-17 (2) Elementary: August 9-11
(3) Youth: August 12-15
Fellowship – This Week: 5th Region (Next Week: 6th Region)
Flower Donation – Encourager Kyoung Ok Baek, Deacon Kevin Lee
오늘 모임
(1) 구역 교사 모임 및 당회: 1pm, 선교 위원회 실
주간 모임
(1) 화요일 실버아카데미 문화교실: 11am, 본교회 (2) 사역자 훈련 및 수요 캠프: 10am, 도서실
(3) 수요 예배: 8pm, 본당 (4) 금요 기도: 8pm, 본당
(5) 토요일 실버아카데미 문화교실: 10:30am, 본교회
뉴저지에서 열리는 WRC 동부 수련회를 참여하는 성도들을 위해 차량을 제공해드립니다. 차량 신청서는 사무실 게시판에
배치되어 있으며 신청은 선착순으로 받습니다. *회비: $8불
대청년부 수련회가 다음 주 목요일(19일) – 토요일(21일), National Harbour에서 진행됩니다. 수련회를 위해 기도해
주시기 바랍니다. *주제: ("교회, 렘넌트, 현장을 살리는 치유와 써밋", 강사: 이동철 목사, 허형석 목사) *회비: 60불
안수 집사 훈련이 금주 토요일(21일) 오후 4시 본교회에서 있습니다.
주일학교 여름 수련회 일정이 다음과 같습니다. 렘넌트들을 위한 많은 관심과 기도 부탁드립니다.
(1) 유치부: 8월16일-17일 (2) 유초등부: 8월 9일-11일
(3) 중고등부: 8월 12일-15일
이번 주 친교 & 봉사: 5구역 다음 주: 6구역 이번 주 강단 꽃꽂이: 백경옥 권사, 이흥우 집사
Recommended Posts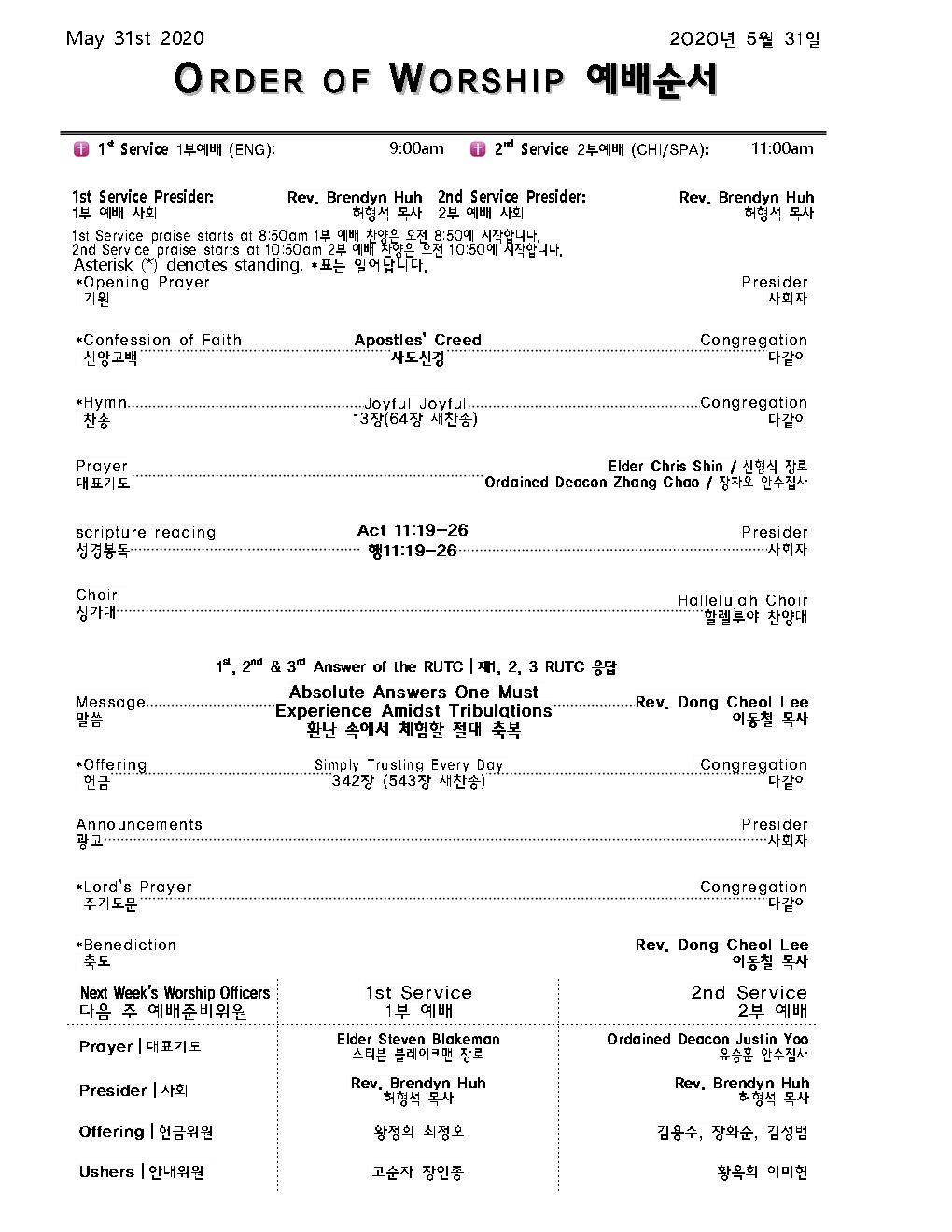 May 30, 2020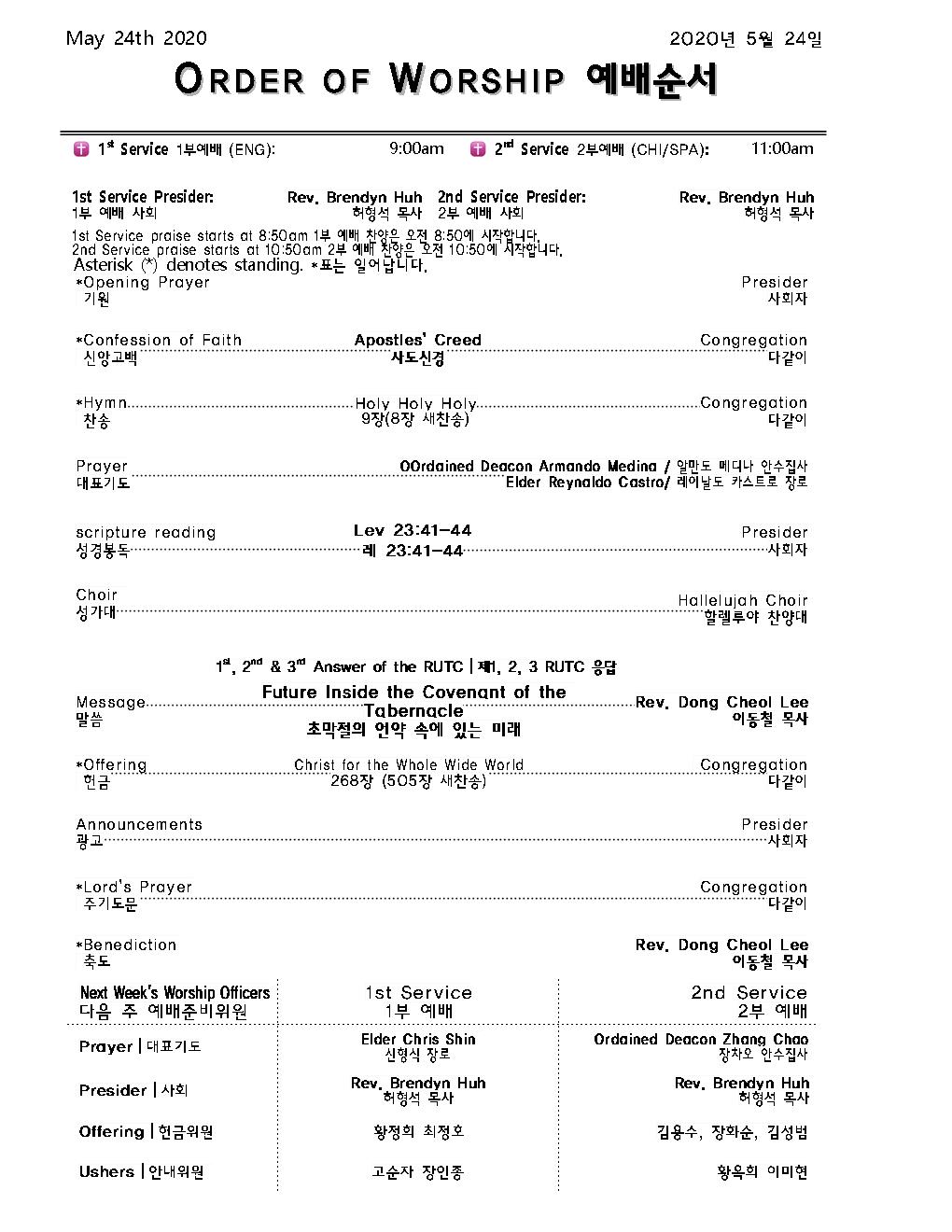 May 24, 2020