---
교회 소식 (Church News) 10/21/2018
오늘 모임
(1) 군선교 모임:12:30pm, 선교위원회실
(2) 여선교 월례회 모임: 12:30pm, 도서실
(3) 피택 안수집사와 권사 임직을 위한 제 3차 훈련: 오후 1시, 도서실
(4) 크리스마스 전야제 준비 모임: 1pm, 성가대실 (모든 교육기관 부장 및 대표들은 참석하시길 바랍니다)
(5) 구역교사 모임 및 당회: 1:30pm, 선교위원회 실
(6) 피택 장로 훈련: 3pm, 도서실
주간 모임
(1) 화요일 실버아카데미 문화교실: 9am, 본교회 (2) 사역자 훈련 및 수요 캠프: 10pm, 도서실
(3) 수요 예배: 8pm, 본당 (4) 금요 기도: 8pm, 본당
(5) 토요 영어권 전도학교: 10am , 도서실 (6) 토요 영어권 결혼 세미나: 3pm – 6pm, 영어권실
유초등부 학생들의 탤런트 쇼가 다음 주일(28일) 오후 1시 본당에서 있습니다. 학부모들과 성도들이 함께 참여하여
격려해주시기 바랍니다.
다음 주일(28일)은 중고등부 지원을 위하여 중고등부 렘넌트들이 점심 서빙을 담당하며 후식을 판매합니다.
스페니쉬권 성도들을 위한 전도 집중훈련이 다음과 같이 진행됩니다. 주변에 알려주시고 등록해주시기 바랍니다.
(1) 일시: 11월 17일(토) – 18일(주일) (2) 강사: 세르지오 전도사 (3) 문의: 고순자 권사
이번 주 친교 & 봉사: 9구역 다음 주: 1구역 & 중고등부, 꽃꼿이 헌신: Kevin Lee & Danny Lee
Today's Meeting
(1) Military Mission Meeting: 12:30pm, Mission Board Room
(2) Women's Department Meeting: 12:30pm, Library
(3) Elected Deacon & Encouragers 3rd training: 1pm at the, library
(4) Christmas Eve preparation meeting: 1pm, Choir Room
(Sunday School Directors and representatives must attend)
(5) Regional Teacher's & Elder's Meeting: 1:30pm, Mission Board Room
(6) Elected Elder's training: 3pm, Library
Weekly Meetings
(1) Tuesday Culture Class: 9am, Church
(2) Wednesday Minister & Evangelism Camp: 10am, Library
(3) Wednesday Worship: 8pm, Sanctuary
(4) Friday Night Worship: 8pm
(5) Saturday English Ministry Evangelism Class: 10am, Library
(6) Saturday English Ministry Marriage Seminar: 3pm – 6pm, English Ministry
Elementary remnants talent show will be held next Sunday(28th), 1pm in the sanctuary.
We ask for parents and church members to participate together.
Youth Group remnants will be serving lunch next and selling snack next Sunday(28th),
for Youth Group Ministry Department fundraising.
Headquarter Intensive Evangelism training for Spanish ministry will be held as below.
Please notify and register.
(1) Date: Nov 17th(Sat) – 18th(Sun) (2) Lecturer: Pastor Sergio
(3) Questionary: Encourager Sun Ornelas
Fellowship – This Week: 9th Region (Next Week: 1st Region & Youth Group)
Flower – Kevin Lee & Danny Lee
Recommended Posts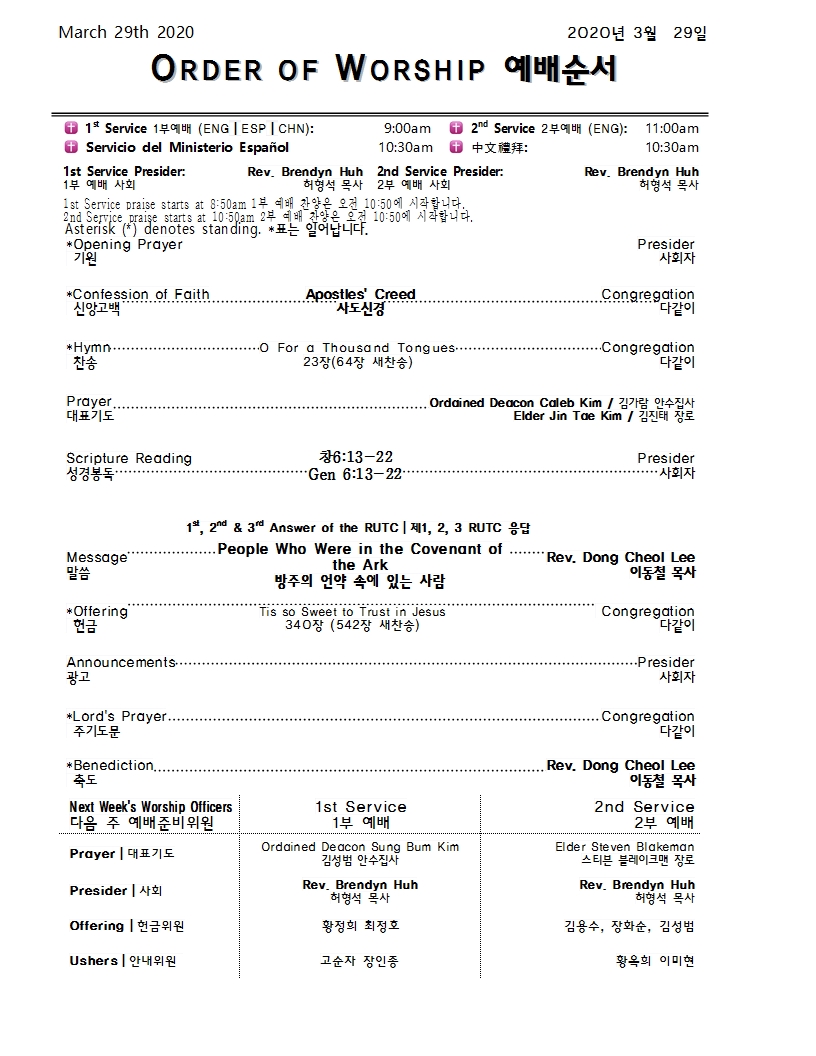 March 28, 2020