---
교회 소식(Church News) 12/16/2018
There will be Christmas Unity Service next Sunday(23rd) on 11am. May this be an opportunity
for you to invite and evangelize your neighbours. Christmas Eve will be held on 24th(Mon) 6pm
at the sanctuary.
Today's Meeting
(1) Christian Eve rehearsal : 1pm, Sanctuary
(2) Elected Ordained Deacon & Encourager's 9th training: 1pm, Library
(We ask elected Elders to participate)
(3) End-Year elder's meeting: 3pm, Mission Board Room
Weekly Meetings
(1) Tuesday Culture Class: 9am, Church
(2) Wednesday Minister & Evangelism Camp: 10am, Library
(3) Wednesday Worship: 8pm, Sanctuary
(4) Friday Night Worship: 8pm
End Year Congregation Meeting will take be held next Sunday(23rd) after the united service.
There will be Christian Eve rehearsal next Sunday(23rd) 3pm, at the sanctuary. All associated
department committees and staffs must attend.
2018 East-Cost Joint Winter Retreat is held as below.
(1) Date: Dec 26th(Wed) – 28th(Fri)
(2) Location: National 4-H Youth Conference Center
*Only on site registration avaliable
Church News: Marriage – Ordained Deacon Hosik Juan and Mrs. Hyunjin Lee have married
Graduation – Sujin Park(Maryland University Nursing) Jane Lee(George Mason Fine Art)
Namhee Kim(George Mason Accounting)
Pearl Jang(James Madison International Relationship)
Fellowship – This Week: 7th Region , Next Week: 8th Region.
Flower – Elder Jong Yul Lee
다음 주일(23일)은 성탄 연합예배(11:00am)로 드립니다. 주변 이웃을 초대하여 전도하는 기회가 되기를 바랍니다.
성탄 전야제는 24일(월) 저녁 6시에 본당에서 있습니다.
오늘 모임
(1) 크리스마스 전야제 준비 리허설: 1pm, 본당
(2) 피택 안수집사와 권사 임직을 위한 제 9차 훈련: 1pm, 도서실(피택 장로들도 함께 참여하기 바랍니다)
(3) 연말 당회: 3pm, 선교위원회 실
주간 모임
(1) 화요일 실버아카데미 문화교실: 9am, 본교회
(2) 사역자 훈련 및 수요 캠프: 10am, 도서실
(3) 수요 예배: 8pm, 본당
(4) 금요 기도: 8pm, 본당
다음 주일(23일) 연합예배 후 연말 공동의회가 본당에서 진행됩니다.
크리스마스 전야제 준비 리허설이 다음 주일(23일) 공동의회 후 본당에서 진행됩니다. 관련된 모든 부서 임원들과
스텝들은 참여하시기 바랍니다.
2018년 미동부 렘넌트 연합 동계 수련회가 아래와 같이 진행됩니다.
(1) 일정: 12월 26일(수) – 28일(금)
(2) 장소: National 4-H Youth Conference Center
* 등록은 당일 등록만 가능합니다.
교우 소식 1) 결혼 축하 – 전호식안수집사와 이현진자 매가 결혼했습니다.
2) 졸업 축하 – 방수진 집사(메릴랜드 대학 간호학), 이제인(조지메이슨 미술), 김남희 집사(조지메이슨 회계학)
장진주(제임스메디슨 국제관계)
이번 주 친교 & 봉사: 7구역 다음 주: 8구역 강단 헌화: 이종률 장로
Recommended Posts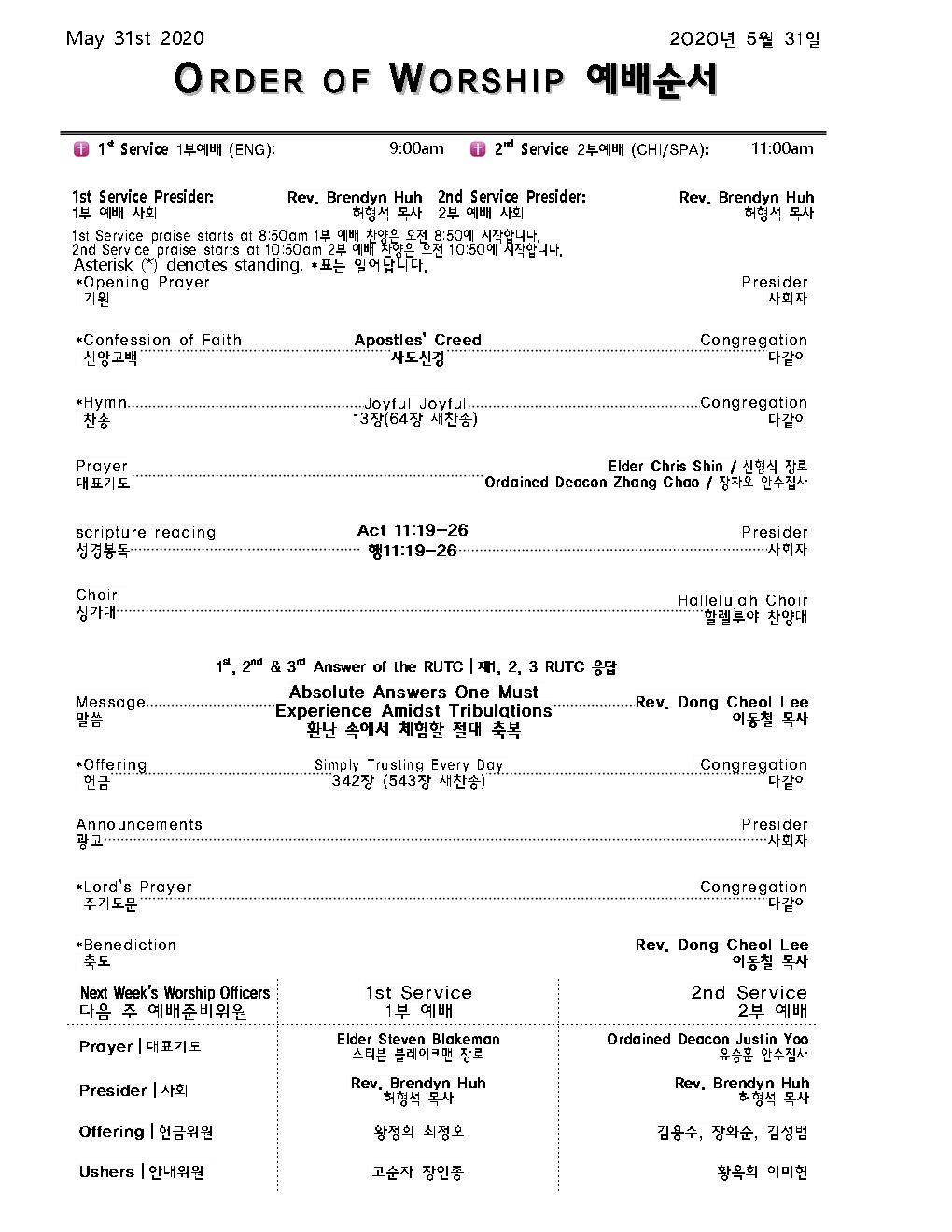 May 30, 2020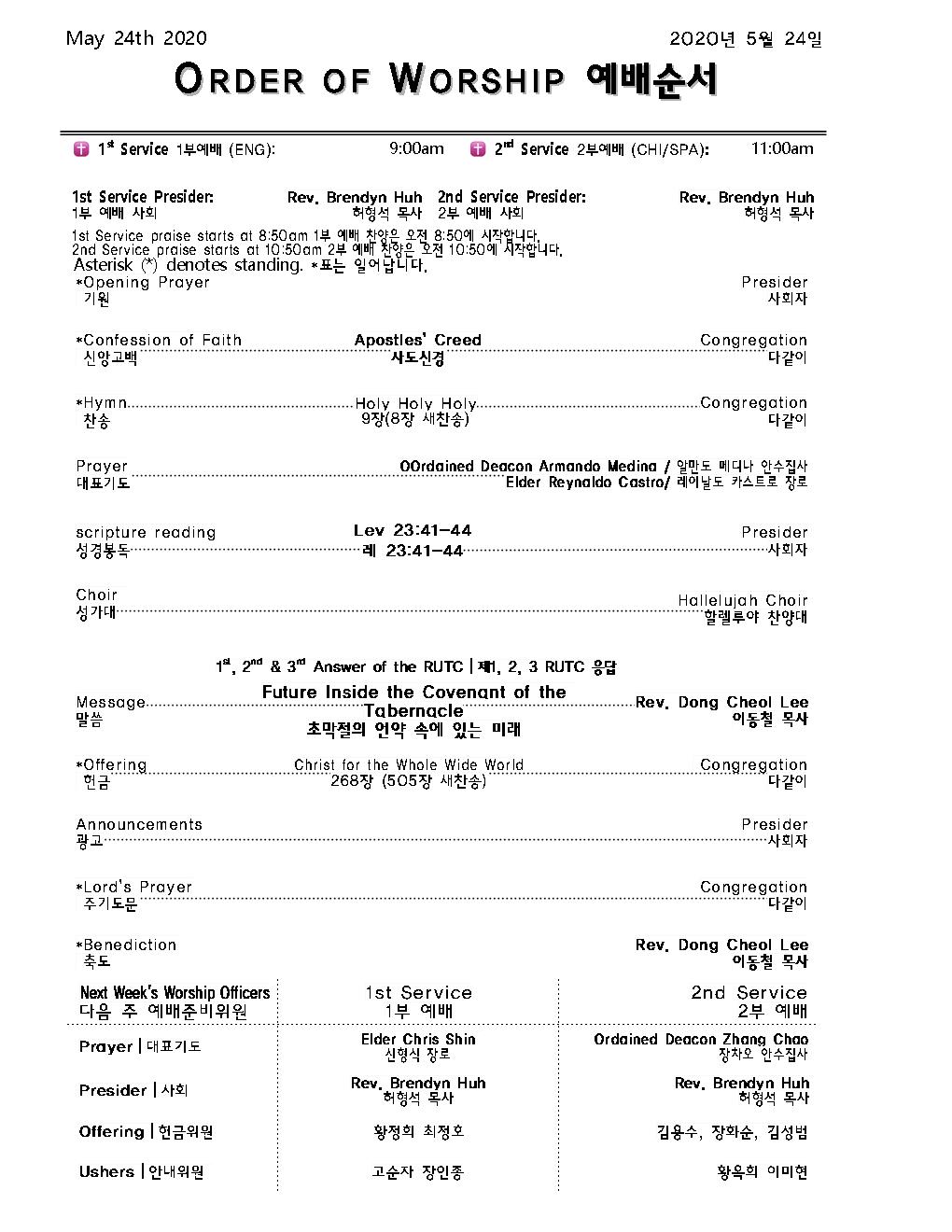 May 24, 2020