---
교회 소식 (Church News) 12/23/2018
오늘은 성탄 축하 연합예배를 드립니다. 그리스도 안에서 은혜와 평화가 넘치는 크리스마스 주간이 되기를 바랍니다.
크리스마스 전야제 공연이 내일(24일) 오후 5시 30분 본당에서 진행됩니다. 월요일 리허설은 오후 1시
본당에서 진행됩니다. 모든 관련된 부서들과, 스텝들 참석하시기 바랍니다.
결산과 예산을 위한 공동의회가 오늘 연합예배 후 본당에서 진행됩니다.
오늘 모임
(1) 크리스마스 전야제 준비 리허설: 공동의회 후, 본당
(2) 피택 안수집사와 권사 임직을 위한 제 10차 훈련: 1pm, 도서실(피택 장로들도 함께 참여하기 바랍니다)
주간 모임
(1) 화요일 실버아카데미 문화교실: 9am, 본교회
(2) 사역자 훈련 및 수요 캠프와 수요 예배는 동계 수련회 관계로 쉽니다.
(3) 금요 기도: 8pm, 본당
2018년 미동부 렘넌트 연합 동계 수련회 등록이 수요일 3시 부터 시작입니다. 개강 예배는 5시 시작입니다.
(1) 일정: 12월 26일(수) – 28일(금)
(2) 장소: National 4-H Youth Conference Center (7100 Connecticut Ave, Chevy Chase, MD 20815)
* 등록은 당일 등록만 가능합니다.
다음 월요일(31일) 오후 10시 30분에 성찬식과 송구영신 예배를 드립니다. 미리 오셔서 한 해를 정리하는
기도의 시간을 가지시고 새해를 준비하시기 바랍니다.
내년 2월 3일(주일)에 23주년 교회 설립을 기념하며 중직자 임직식을 거행하기로 하였습니다.
다음 주일(30일) 2부 예배 후 임직자 전체 준비모임이 본당에서 진행됩니다.
이번 주 친교 & 봉사: 연합 , 다음 주: 8구역 강단 헌화: 신진옥 권사 & 강신애 집사
We have United Christmas Service today. We pray for this Christmas weekend to be a time of
peace and grace in Christ.
Christmas Eve concert will be held tomorrow(Monday) 5:30pm at sanctuary. Monday rehearsal
will be held at 1pm at sanctuary. All participating committees and staffs must attend.
Today's Meeting
(1) Christmas Eve Night preparing meeting: 12:45pm, Choir Room
(2) Elected Ordained Deacon & Encourager's 7th training: 1pm, Sanctuary
(We ask elected Elders to participate)
Weekly Meetings
(1) Tuesday Culture Class: 9am, Church
(2) There will be no Wednesday Minister & Evangelism Camp and Wednesday Night Service due
to East-Coast Winter Retreat
(3) Friday Night Worship: 8pm
Congregational meeting for end year budget audit will be held right after the united service.
2018 East-Coast Joint Winter Retreat registration starts on Wednesday 3pm. Opening service
will start at 5pm.
(1) Date: Dec 26th(Wed) – 28th(Fri)
(2) Location: National 4-H Youth Conference Center(7100 Connecticut Ave, Chevy Chase, MD 20815)
* Only on site registration available
There will be Holy Communion with the End Year Service next Monday(1st) at 10:30pm. Please be
there in advance to have a moment in prayer and preparation for upcoming new year.
There will be celebration of 23rd year of church establishment and lay leader ordination on
February 3rd 2019. Overall executive preparation meeting will be held next Sunday(31st) after 2nd
service at the sanctuary.
Fellowship – This Week: United Region , Next Week: 8th Region.
Flower – Enc. Jin Ok Shin, Deaconess SHin Ae Kang.
Recommended Posts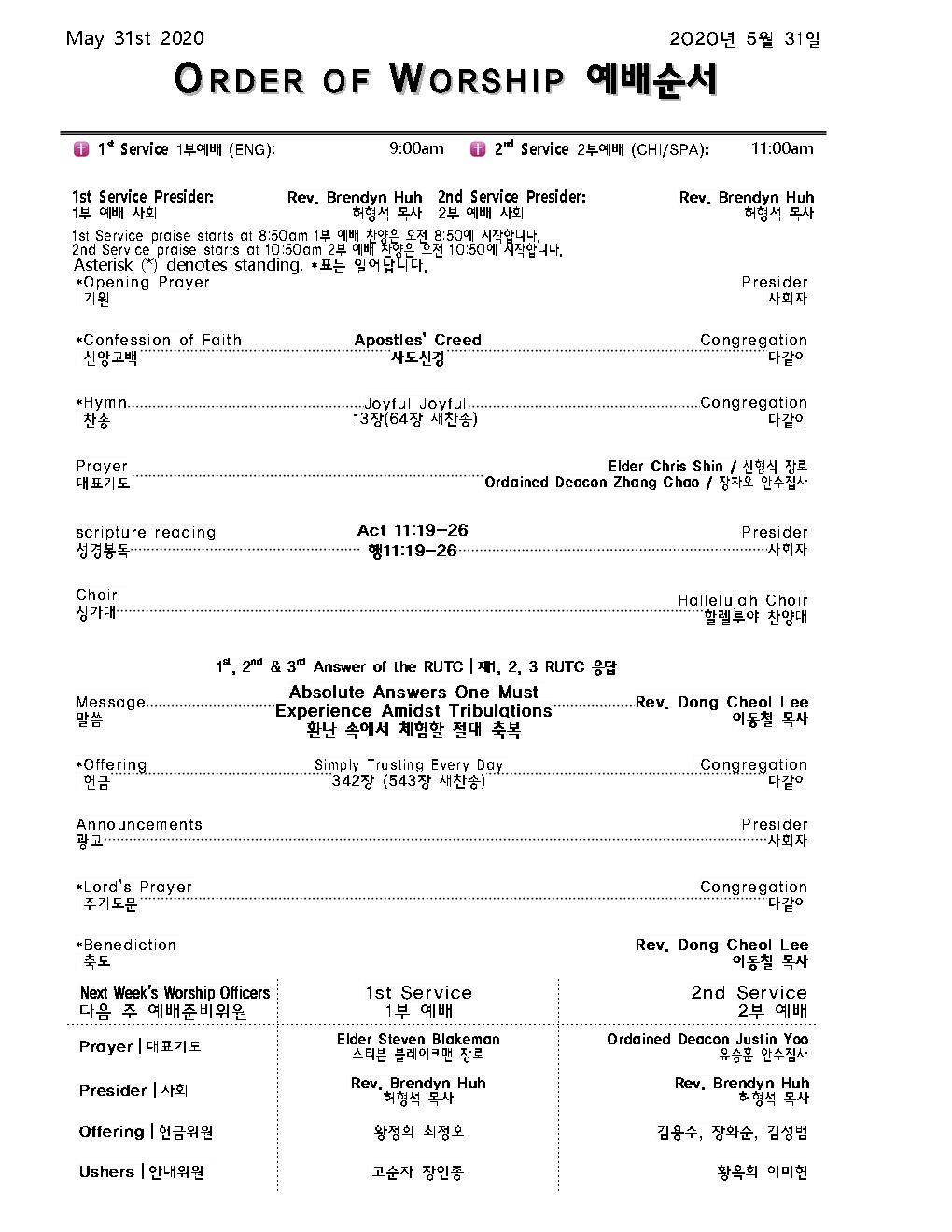 May 30, 2020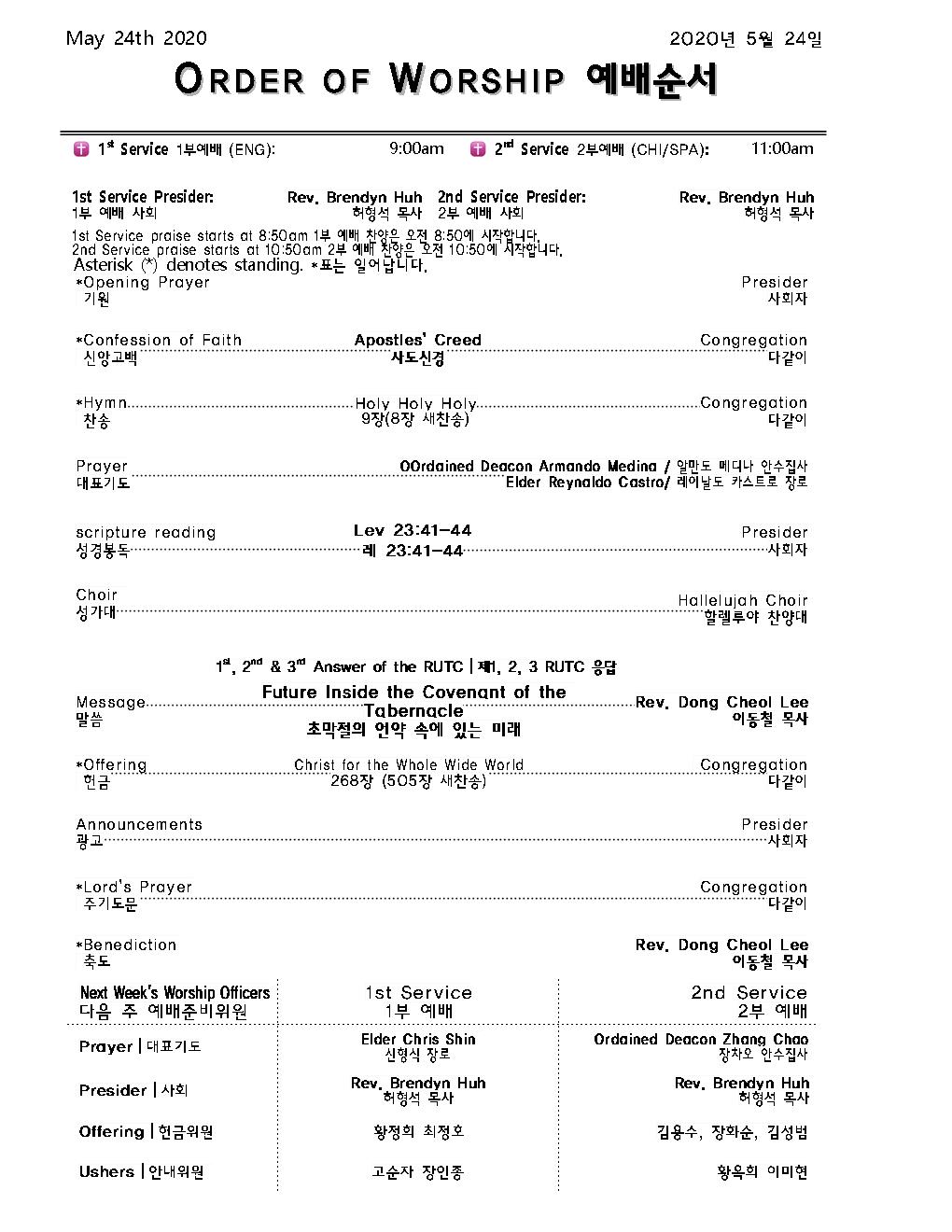 May 24, 2020