---
교회 소식 (Church News) 01/13/2019
오늘 모임
(1) 여선교 특별 월례회: 점심시간, 도서실
(2) 임직식을 위한 피택 중직자 훈련: 1pm, 본당
주간 모임
(1) 화요일 실버아카데미 문화교실: 9am, 본교회
(2) 사역자 훈련 및 수요 캠프: 10pm, 도서실
(3) 수요 예배: 8pm, 본당
(4) 금요 기도: 8pm, 본당
(5) 토요 영어권 양육 & 치유 수업: 10am, 도서실
교회 설립23주년을 맞아 장로, 권사, 집사 임직식이 새해2월 3일(주일) 오후 6시 본당에서 있습니다.
교회의 영적 전환점이 되도록 계속 기도해주시기 바랍니다.
교우 소식
(1) Andrew Nishimoto 장례식이 하나님 은혜 안에서 무사히 마쳤습니다. 장례식에서 위로와 격려를 주신 모든
성도들에게 Nishimoto 가족들이 감사드립니다.
이번 주 친교 & 봉사: 8구역 다음 주: 9구역 강단 헌화: 전우창 장로
Today's Meeting
(2) Women's department special monthly meeting: Lunch, Library
(2) Ordination lay leader training, 1pm: Sanctuary,
Participants(Elder, Encourager, Deacons)
Weekly Meetings
(1) Tuesday Culture Class: 9am, Church
(2) Wednesday Minister & Evangelism Camp: 10am, Library
(3) Wednesday Night Service: 8pm, Sanctuary
(4) Friday Night Worship: 8pm, Sanctuary
(5) Saturday English Ministry Nurture & Healing Class: 10am, Library
There will be celebration of 23rd year of church establishment and lay leader ordination on
February 3rd(Sun) 6pm. May you continue to pray for the ordination to become a spiritual turning
point.
Church News
(1) Funeral Service of Andrew Nishimoto was offered to our Lord by His grace. In behalf of
Nishimoto family, we thank everyone who participated for comforting and encouraging the family.
Fellowship – This Week: 8th Region Next Week: 9th Region.
Flower: Elder WooChang Juan
Recommended Posts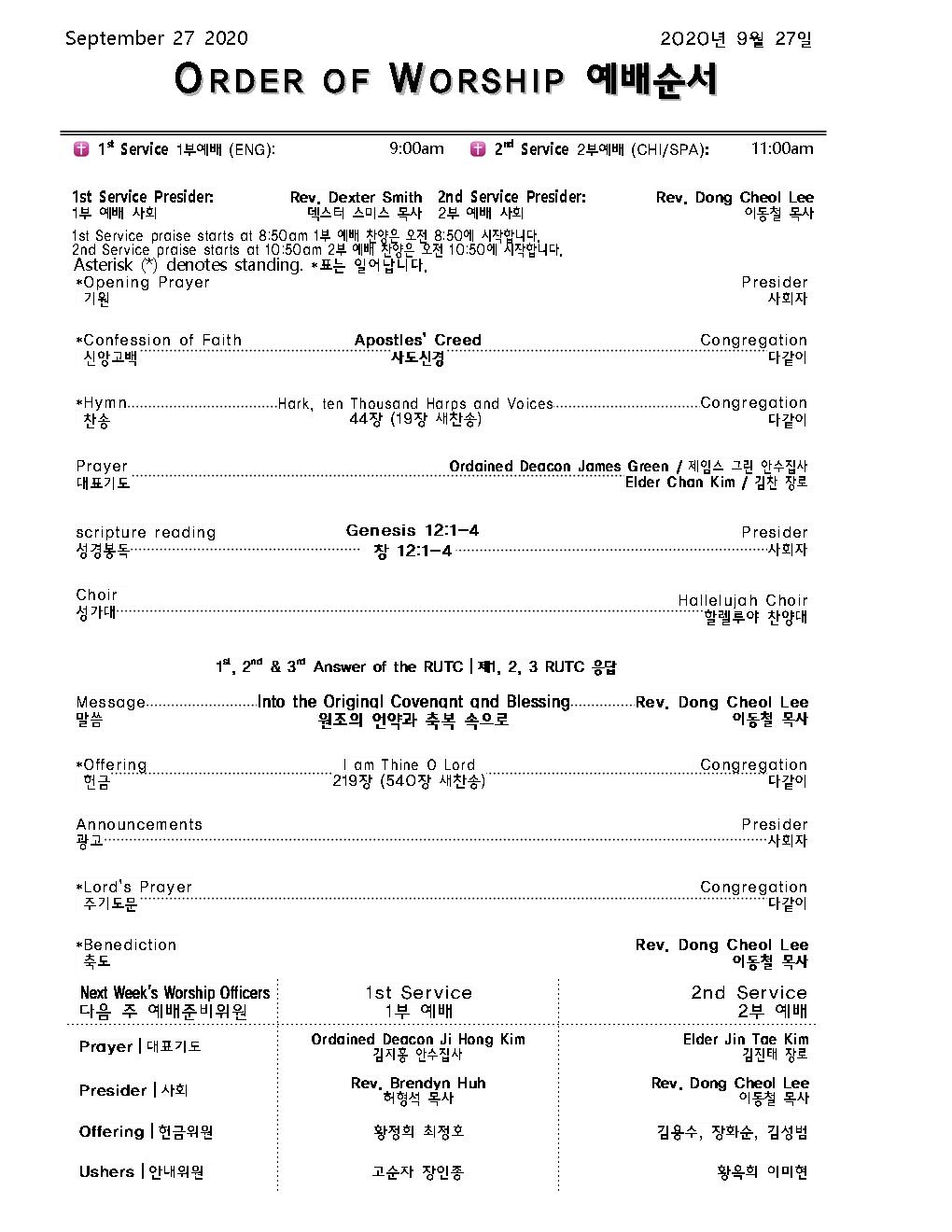 September 26, 2020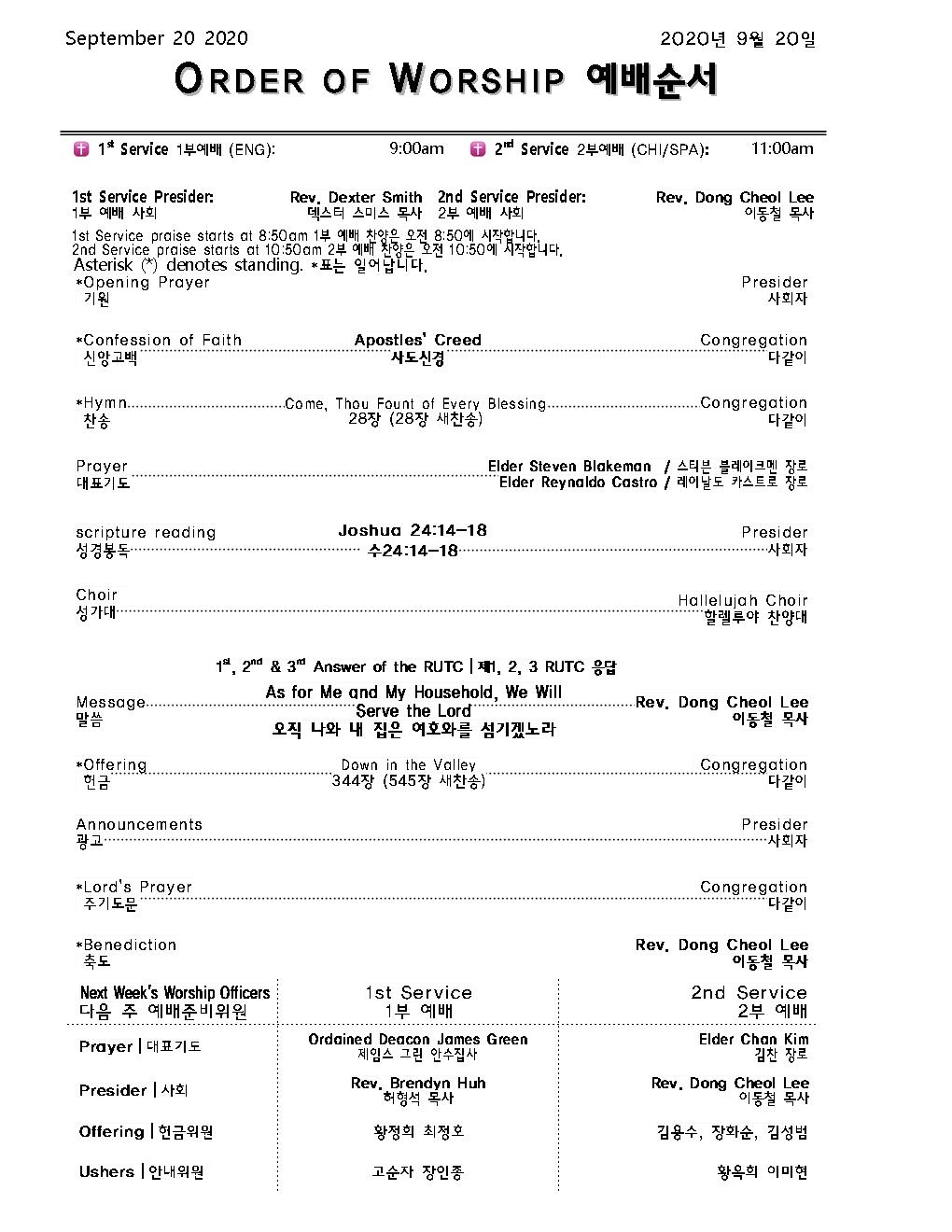 September 19, 2020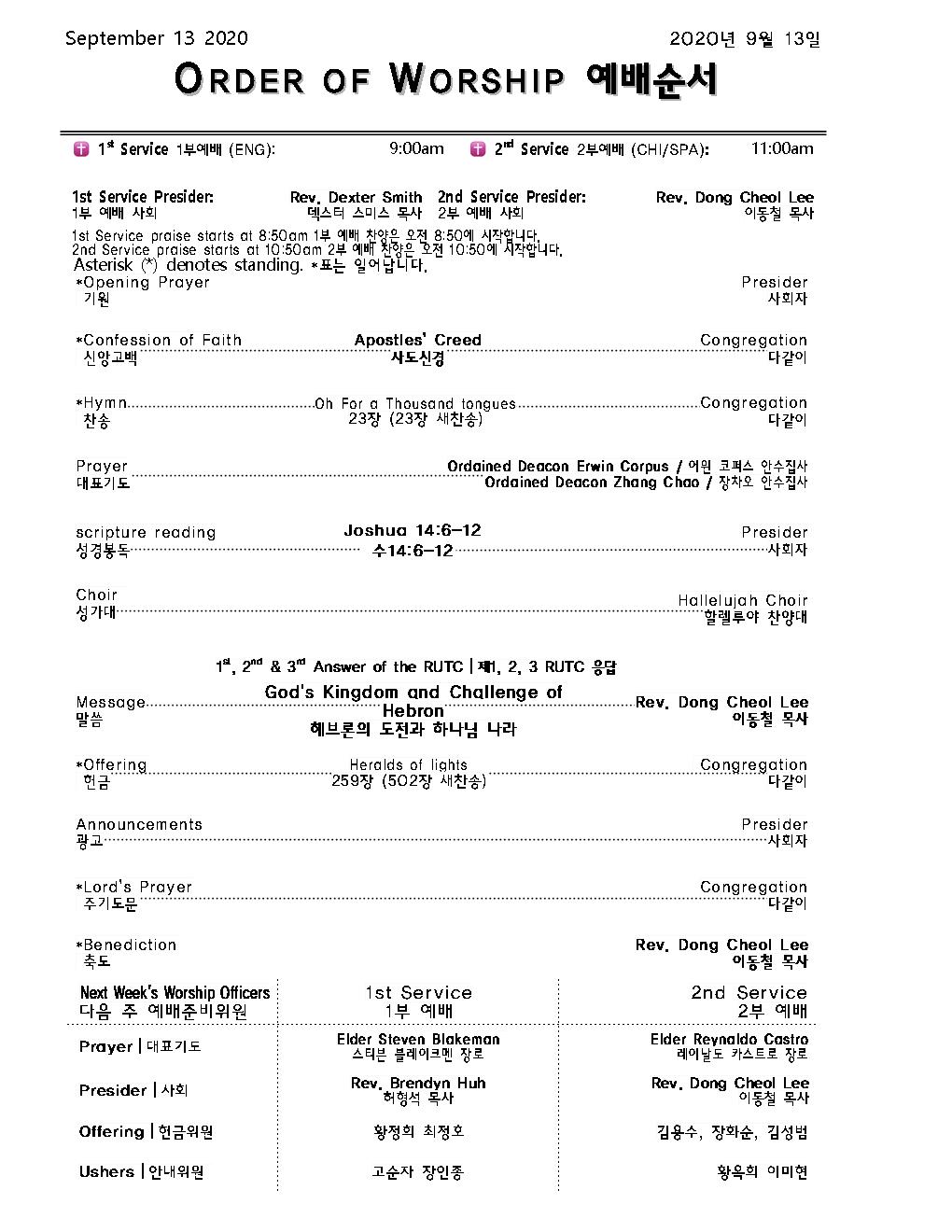 September 12, 2020