---
교회 소식 (Church News) 02/17/19
제 23차 세계선교대회가 아래와 같이 진행됩니다. (주제: 237 나라의 빛이 되라)
(1)선교축제주일: 16일(토) – 17일(일) (2)선교대회: 19일(화)
*본교회에서 제 23차 세계선교대회에 참석하는 담임목사, 선교사, 교역자, 중직자들을 위해
기도해주시기 바랍니다.
오늘 모임: 2019년 여름기간 학업 캠프 첫 준비모임: 12:45pm, 성가대실
주간 모임
(1) 화요일 실버아카데미 문화교실: 9am, 본교회
(2) 수요 예배: 8pm, 본당
(3) 금요 기도: 8pm, 본당
(4) 토요 영어권 양육 & 치유 수업: 10am, 도서실
정기당회가 다음 주일(24일) 오후 1시, 당회실에서 진행됩니다.
워싱턴 지역 렘넌트 데이가 금주 토요일(23일) 오전 10시 본교회에서 진행됩니다.
2019년 세금 공제를 위한 헌금 증명서(Tax Deduction Report)가 필요하신 분들은
재정부에 신청해주시기 바랍니다. 신청서는 도서실 게시판에 준비되어 있습니다.
한글학교 봄 학기가 아래와 같이 진행됩니다.
(1) 학기 기간: 2월 24일 – 5월 26일
(2) 수업 시간: 주일, 1:30pm – 3:15pm
(3) 수업 연령: 5세(8월생 이후) – 6학년, 성인반
(4) 회비: $150(첫째) $100(둘째)
(5) 연락처: 방수진 권사: 571-521-9750
이번 주 친교 & 봉사: 5구역 다음 주: 6구역
The 23rd World Mission Conference will be held as below starting this week.
(1) Mission Sunday Feb 16th(Sat) -17th(Sun) (2) Mission Conference: 19th(Tues)
* May you pray for our Senior pastor, Assistant Pastors, Missionary, and Lay leader as they
attend the mission Conference.
Today Meetings
(1) 2019 Summer Academic Camp first preparation meeting: 12:45pm, Choir Room
Weekly Meetings
(1) Tuesday Culture Class: 9am, Church
(2) Wednesday Night Service: 8pm, Sanctuary
(3) Friday Night Worship: 8pm, Sanctuary
(4) Saturday English Ministry Nurture & Healing Class: 10am, Library
Elder's Meeting will be held next Sunday(24th) 1pm, Elder's Meeting Room
Washington Regional Remnant Day will be held this Saturday 10am at our Church.
2019 Tax Deduction Report registration is available from the financial department. The
registration is placed at the library bulletin.
Korean Class Spring Semester Begins as below
(1) Semester Period: Feb 24th – May 26th
(2) Time: Sunday, 1:30pm – 3:15pm
(3) Age: Age 5th – 6th Grade, Adults
(4) Fee: $150 (First Child), $100(Second Child)
(5) Contact: Encourager Sujin Park (571-521-9750
Fellowship – This Week: 5th Region Next Week: 6th Region.
Recommended Posts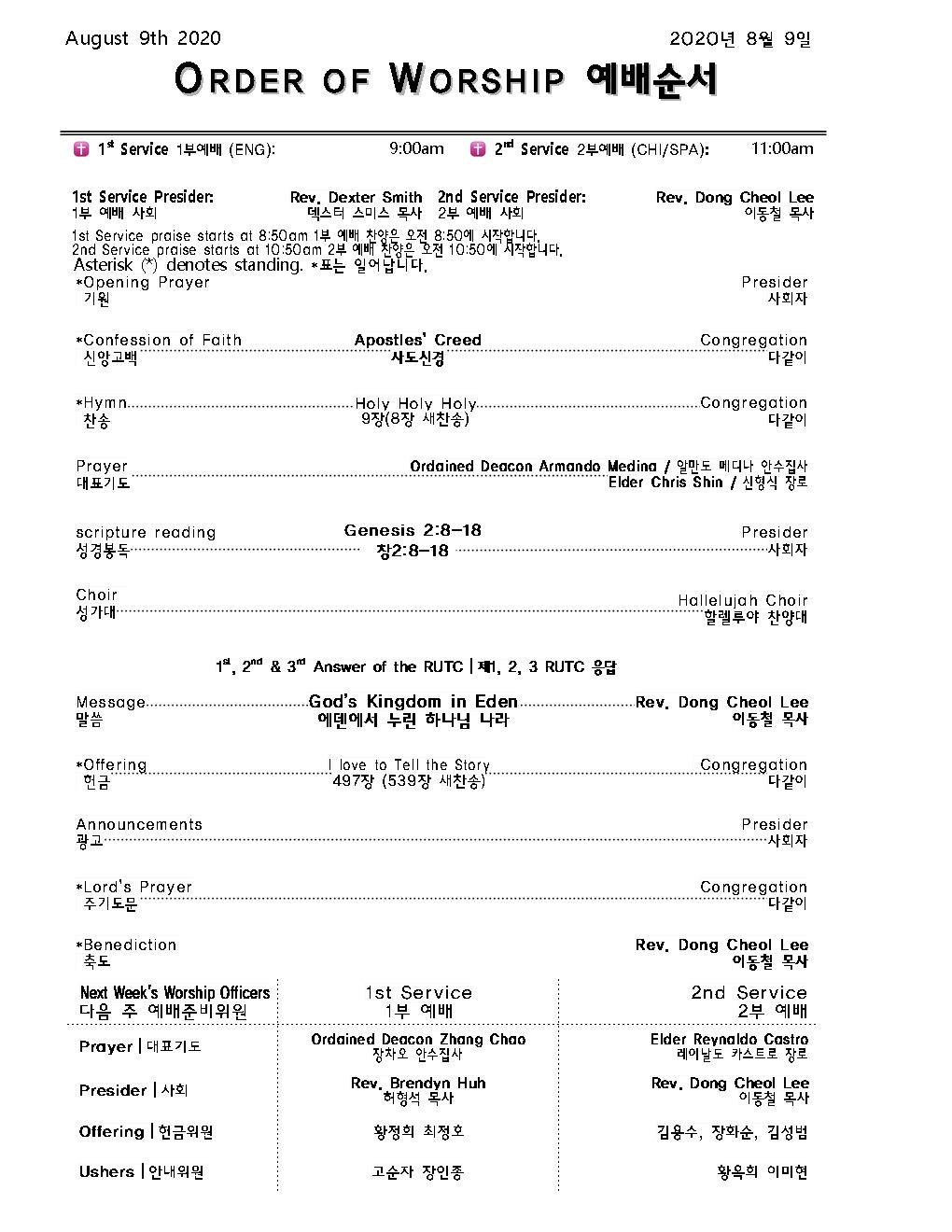 August 08, 2020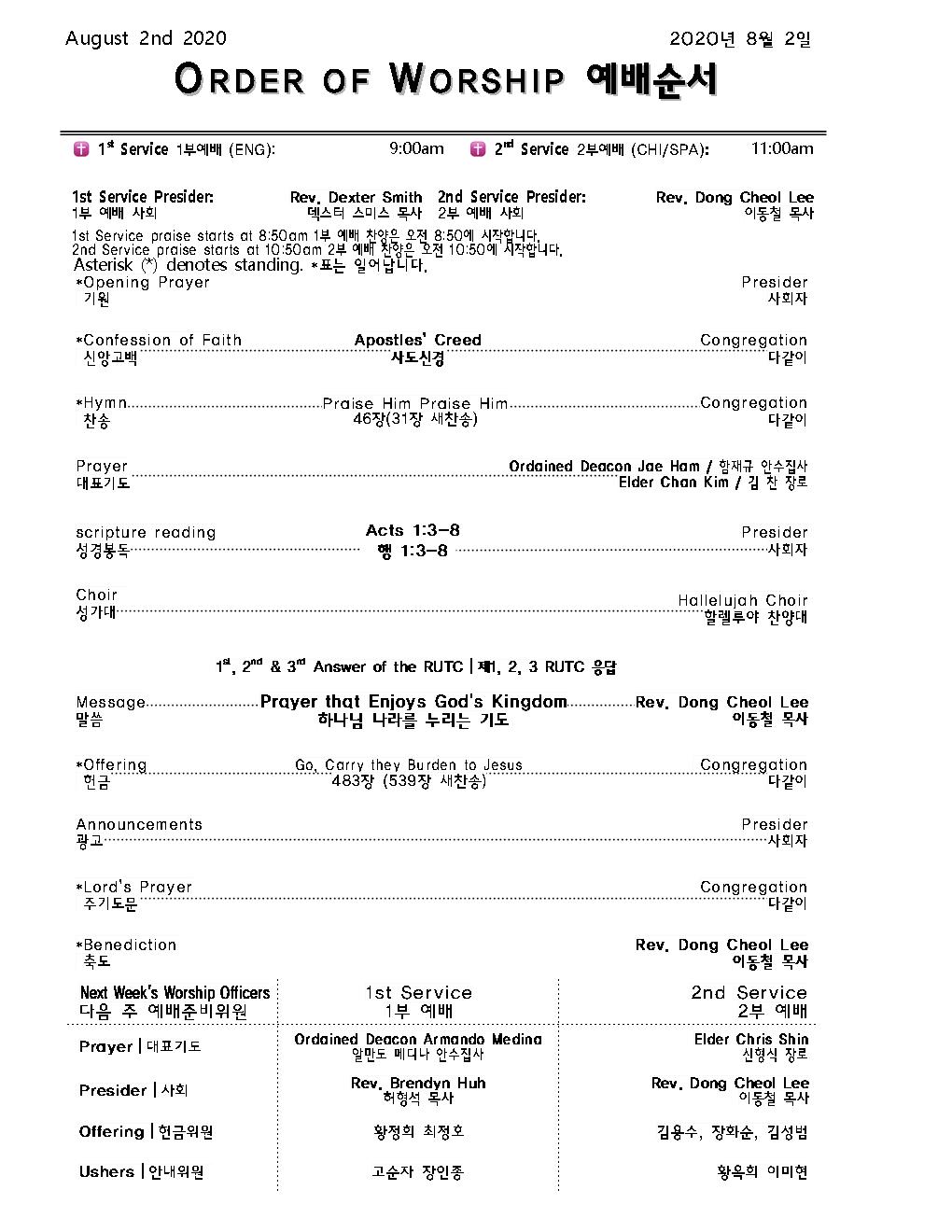 August 01, 2020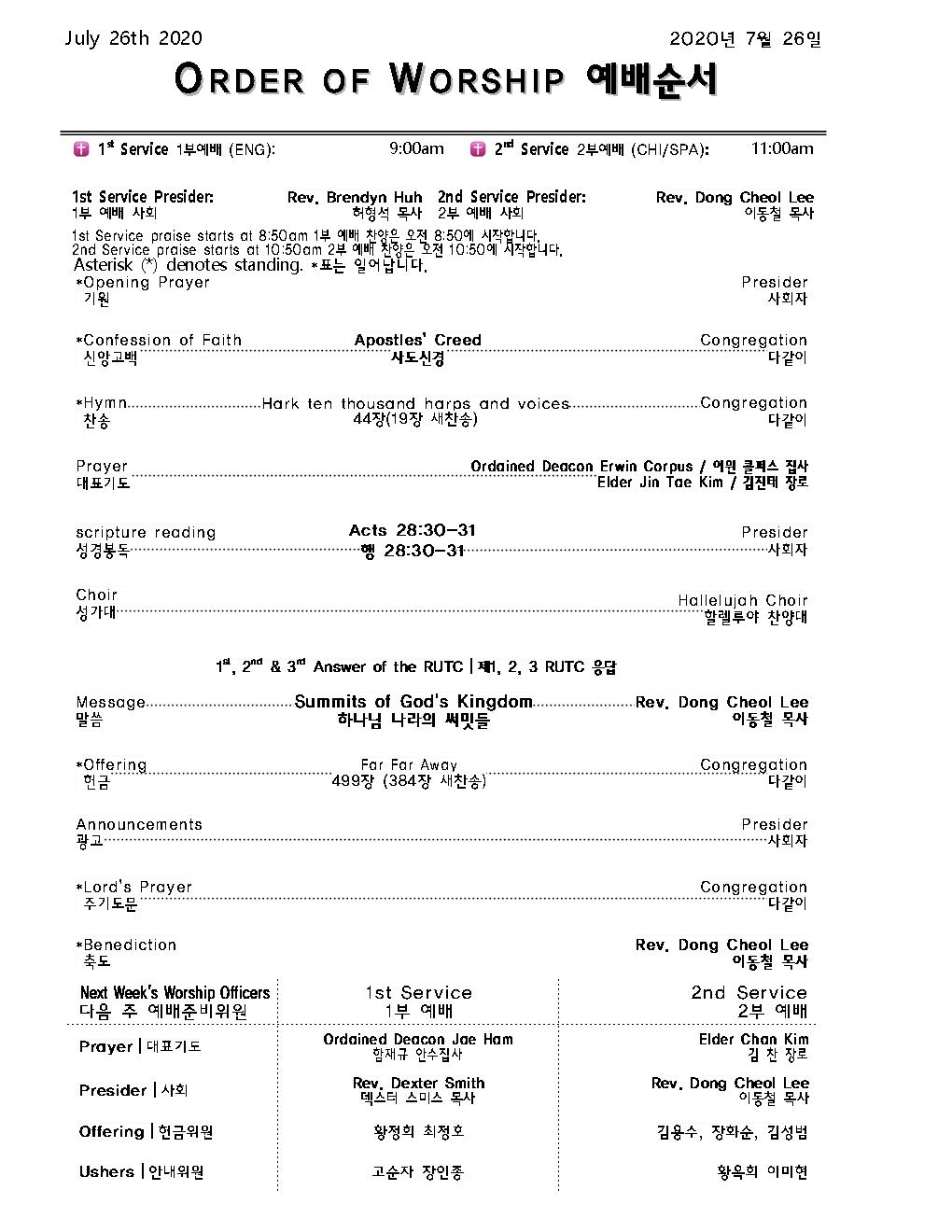 July 25, 2020