---
Church News (교회 소식) 03/03/2019
Next Week Sunday is Day Light Saving day. May there be no confusing with worship time.
(1am to 2am)
Today Meetings
(1) New Comers 1st week nurture class: 12:20pm, Library
Weekly Meetings
(1) Tuesday Culture Class: 9am, Church
(2) Wednesday Cam: 10am, Church
(3) Wednesday Night Service: 8pm, Sanctuary (Prayer: Encourager Young Sook Kwon)
(4) Friday Night Worship: 8pm, Sanctuary
(5) Saturday English Ministry Nurture & Healing Class: 10am, Library
2019 Summer Academic Camp
(1) Today's Preparation Meeting: 12:45pm, Choir Room
(2) For the variety of classes (Kindergarten – Highschool), we are recruiting teachers to teach
the students. Please contact Encourager Sujin Park if you are interested
(571-521-9750, suejimmy7974@gmail.com)
Remnant University graduation and LA Evangelism Conference will be held this weekend.
Please for our church lay leaders graduating from Remnant University.
(1) Master of Divinity: Elder Peter Shin, Pastor Young Brenzinski
(2) Master of Mission: Elder Jong Yul Lee, Encourager In Jong Jang, Encourager Rachel Park
(3) Master of Christian Education: Encourager Okhie Hwang, Encourager Moon Young Choi
Remnant Paul Sa will begin his study at Remnant University at LA. Please pray for Paul as he
challenge himself for future pastoral Ministry.
Fellowship – This Week: 7th Region Next Week: 8th Region Flower: Encourager Mi Ran Kang
다음 주일(10일)은 Daylight Saving Time이 시작되니 예배 착오가 없길 바랍니다. (1am을 2am으로)
오늘 모임
(1) 새가족 첫주 양육훈련: 12:20pm, 도서실
주간 모임
(1) 화요일 실버아카데미 문화교실: 10am, 본교회
(2) 사역자 훈련 및 수요 캠프: 10pm, 도서실
(3) 수요 예배: 8pm, 본당, 대표기도: 권영숙 권사
(4) 금요 기도: 8pm, 본당
(5) 토요 영어권 전도학교: 10am, 도서실
2019년 여름 기간 학업 캠프
(1) 오늘 준비모임: 12:45pm, 성가대실
(2) 캠프의 다양한 수업을(유치부 ~ 고등부) 위해 교사들을 모집합니다. 관심 있으신 분들은 방수진
권사한테 연락해주시기 바랍니다(571-521-9750, suejimmy7974@gmail.com)
주간에 렘넌트 대학교(RU) 졸업식과 LA 전도 집회가 진행됩니다. 본교회에서 졸업하는 목회자와
중직자들을 위해 기도해주시기 바랍니다.
(1) 목회학 석사: 신현웅 장로, 최영순 전도사
(2) 선교학 석사: 이종율 장로, 장인종 권사, 고순자 권사, 박라헬 선교사
(3) 기독교 교육학 석사: 황옥희 권사, 최문영 권사
교우소식: 사언약 렘넌트가 LA에 있는 렘넌트 대학교(RU)에서 학업을 시작합니다.
미래 목회 훈련에 도전하는 렘넌트를 위해 기도해주시기 바랍니다.
이번 주 친교 & 봉사: 7구역 다음 주: 8구역 강단 꽃꽂이: 강미란 권사
Recommended Posts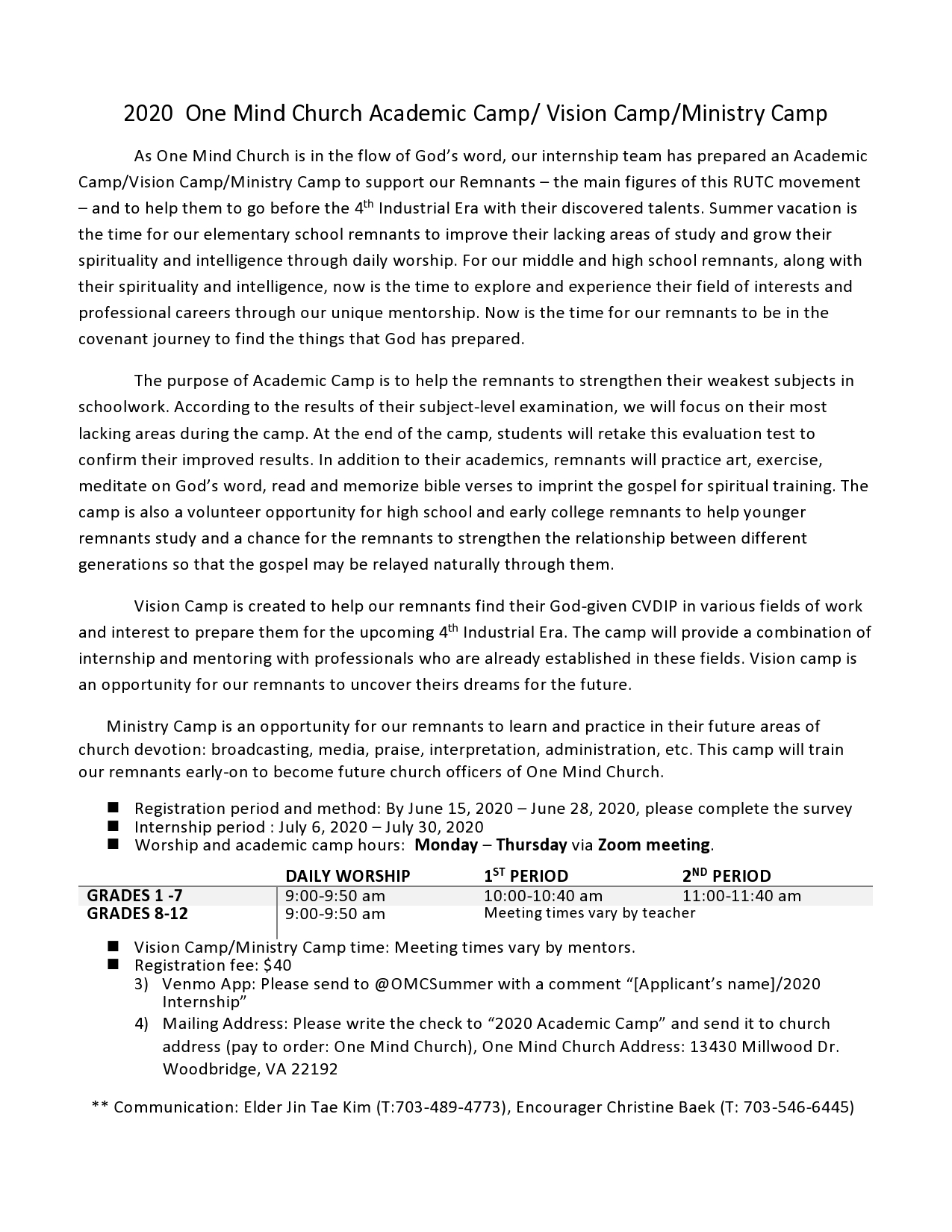 June 28, 2020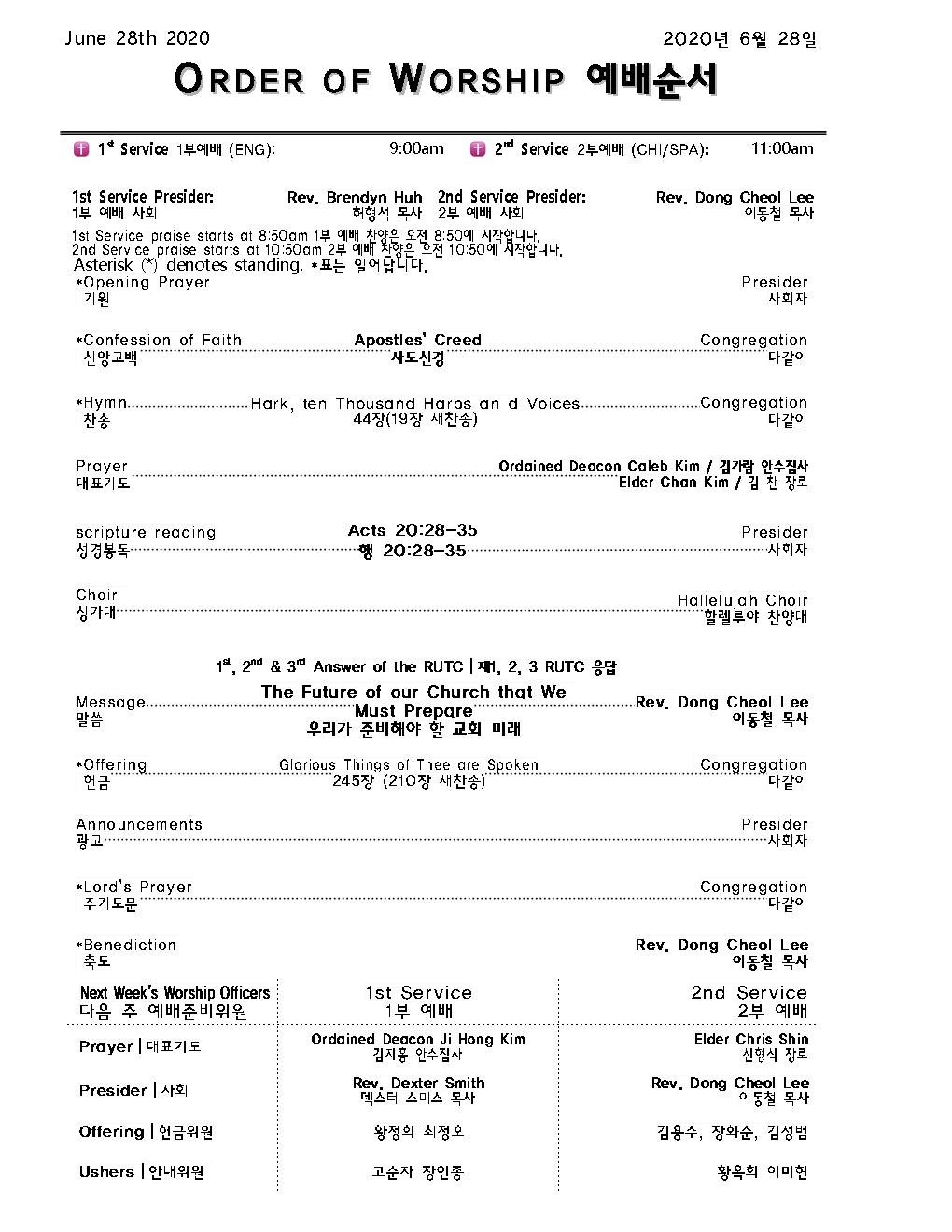 June 27, 2020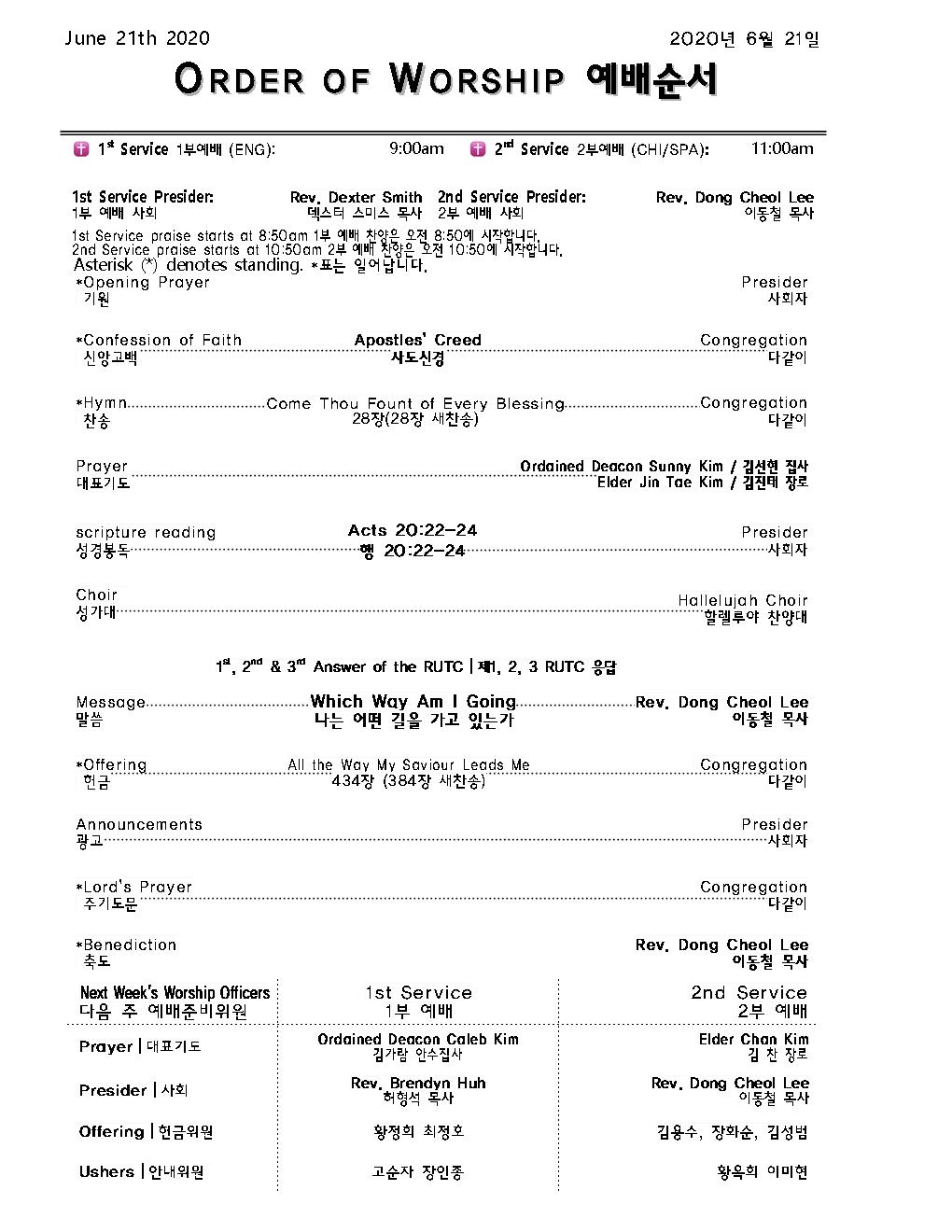 June 20, 2020