---
Church News (교회 소식) 03/10/2019
Today Meetings
(1) New Comers 2nd week nurture class: 12:20pm, Library
(2) Mission Department Meeting: 1:30pm, Mission Board Room
Weekly Meetings
(1) Tuesday Culture Class: 9am, Church
(2) Wednesday Cam: 10am, Church
(3) Wednesday Night Service: 8pm, Sanctuary (Prayer: Encourager Injong Jang)
(4) Friday Night Worship: 8pm, Sanctuary (Lead by Women's Department)
(5) Saturday English Ministry Nurture & Healing Class: 10am, Library
Women's Department retreat will be held this Friday(15th) 8pm to Saturday(16th) 12pm at the
RUTC. Please bring toiletries and blankets
* Questionaries: Encourager Jane Park(703-298-9878), Fees: $30
Ordained Deacon's Retreat will be held next Sunday(17th) 1pm at the sanctuary. There will be
dinner after the retreat.
2019 Summer Academic Camp
(1) For the variety of classes (Kindergarten – Highschool), we are recruiting teachers to teach
the students. Please contact Encourager Sujin Bang if you are interested
(571-521-9750, suejimmy7974@gmail.com)
Fellowship – This Week: 8th Region Next Week: Chinese Ministry
Flower: Elder Song Jo Sa
1. 오늘 모임
(1) 새가족 둘째주 양육훈련: 12:20pm, 도서실
(2) 선교임원회 모임: 1:30pm, 선교 임원회실
주간 모임
(1) 화요일 실버아카데미 문화교실: 10am, 본교회
(2) 사역자 훈련 및 수요 캠프: 10pm, 도서실
(3) 수요 예배: 8pm, 본당, 대표기도: 장인종 권사
(4) 금요 기도: 8pm, 본당(여선교회 주관)
(5) 토요 영어권 전도학교: 10am, 도서실
여선교회 1박 2일 수련회가 금주 금요일(15일) 오후 8시 부터 토요일(16일) 오전 12시까지
RUTC에서 진행됩니다. 준비물: 이불, 세면도구
*문의: 박미향 권사: 703-298-9878, 회비: $30
안수집사 1일 수련회가 다음 주일(17일) 본 교회에 오후 1시 본당에서 시작됩니다. 수련회 후
저녁식사가 있습니다.
2019년 여름 기간 학업 캠프
(1) 캠프의 다양한 수업을(유치부 ~ 고등부) 위해 교사들을 모집합니다. 관심 있으신 분들은 방수진
권사한테 연락해주시기 바랍니다(571-521-9750, suejimmy7974@gmail.com)
이번 주 친교 & 봉사: 8구역 다음 주: 중국어권 강단 꽃꽂이: 사성조 장로
Recommended Posts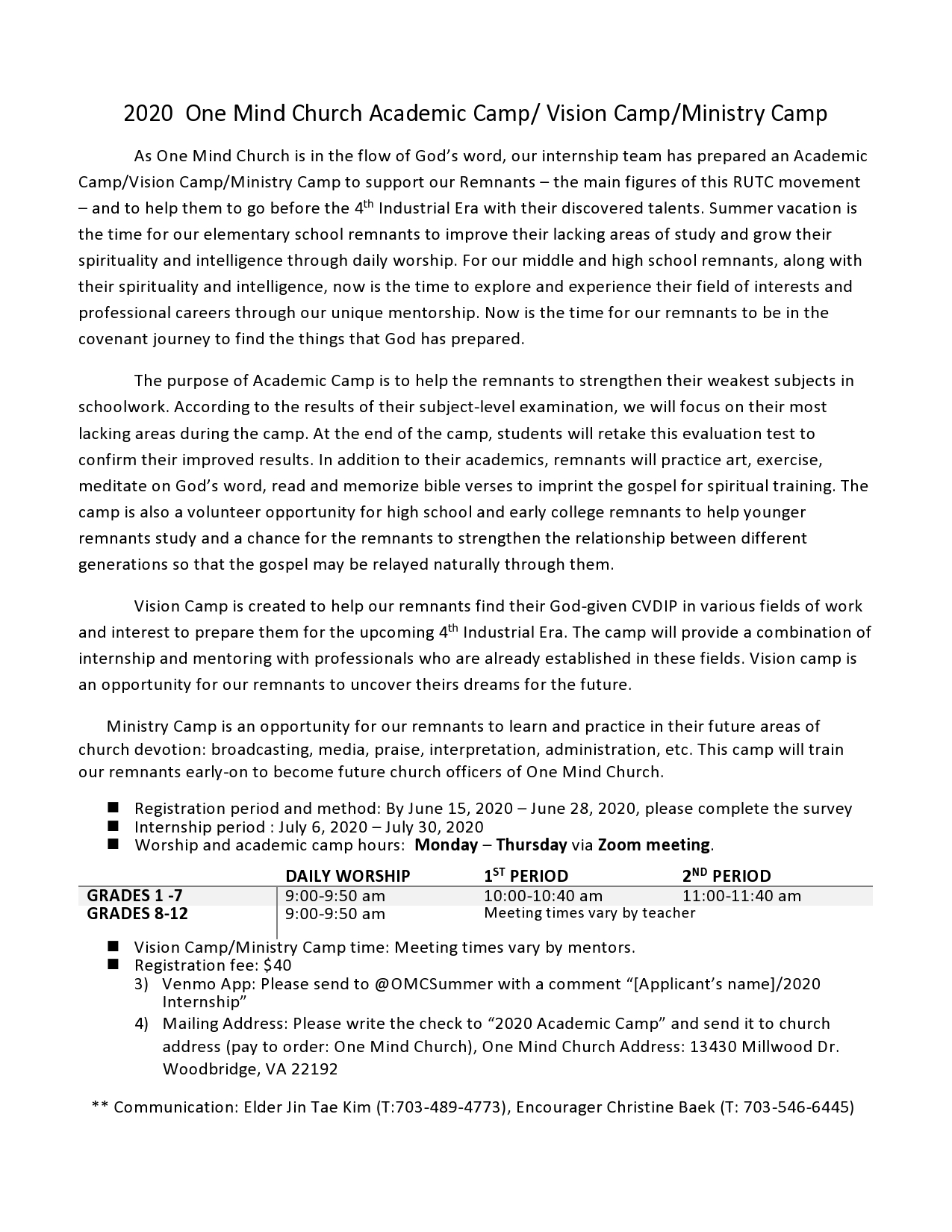 June 28, 2020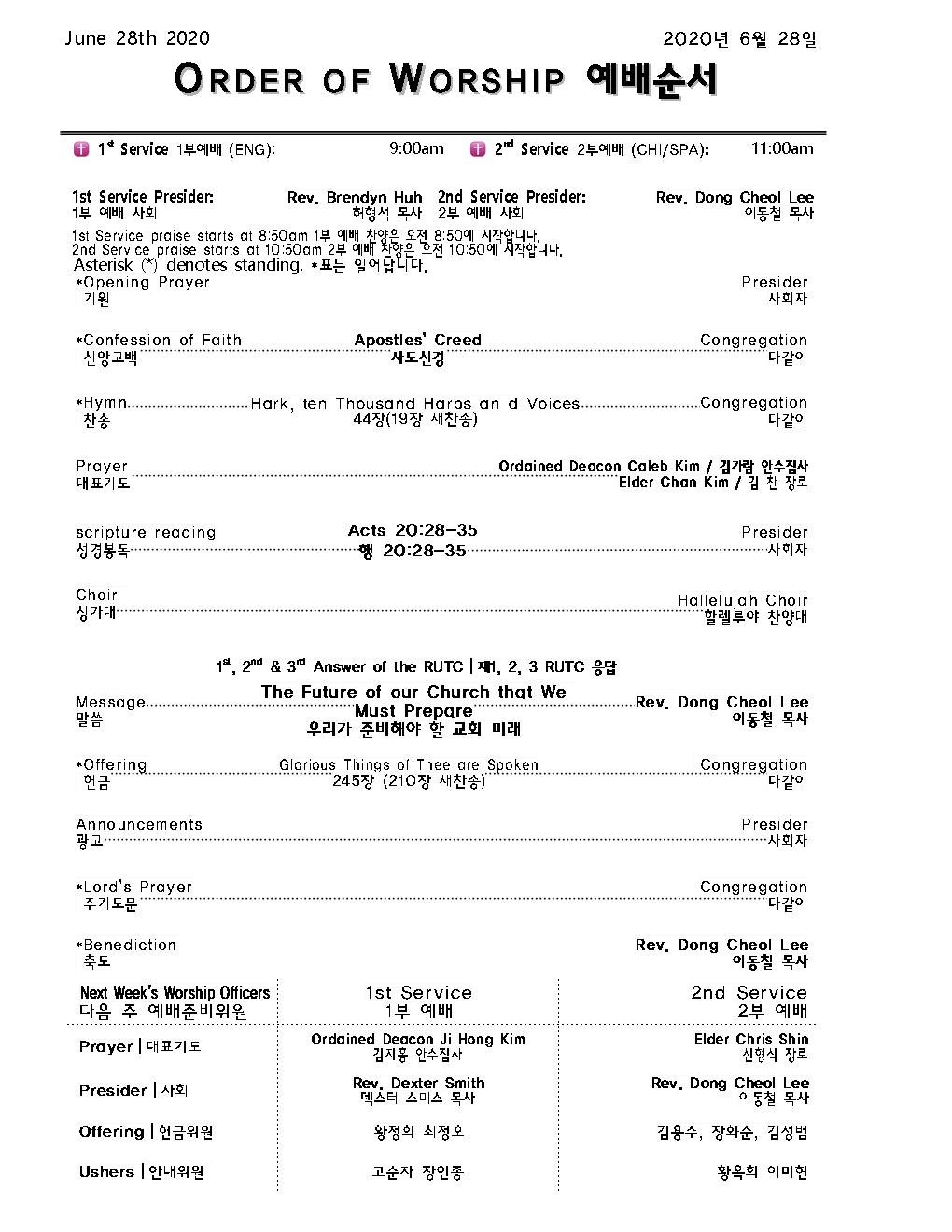 June 27, 2020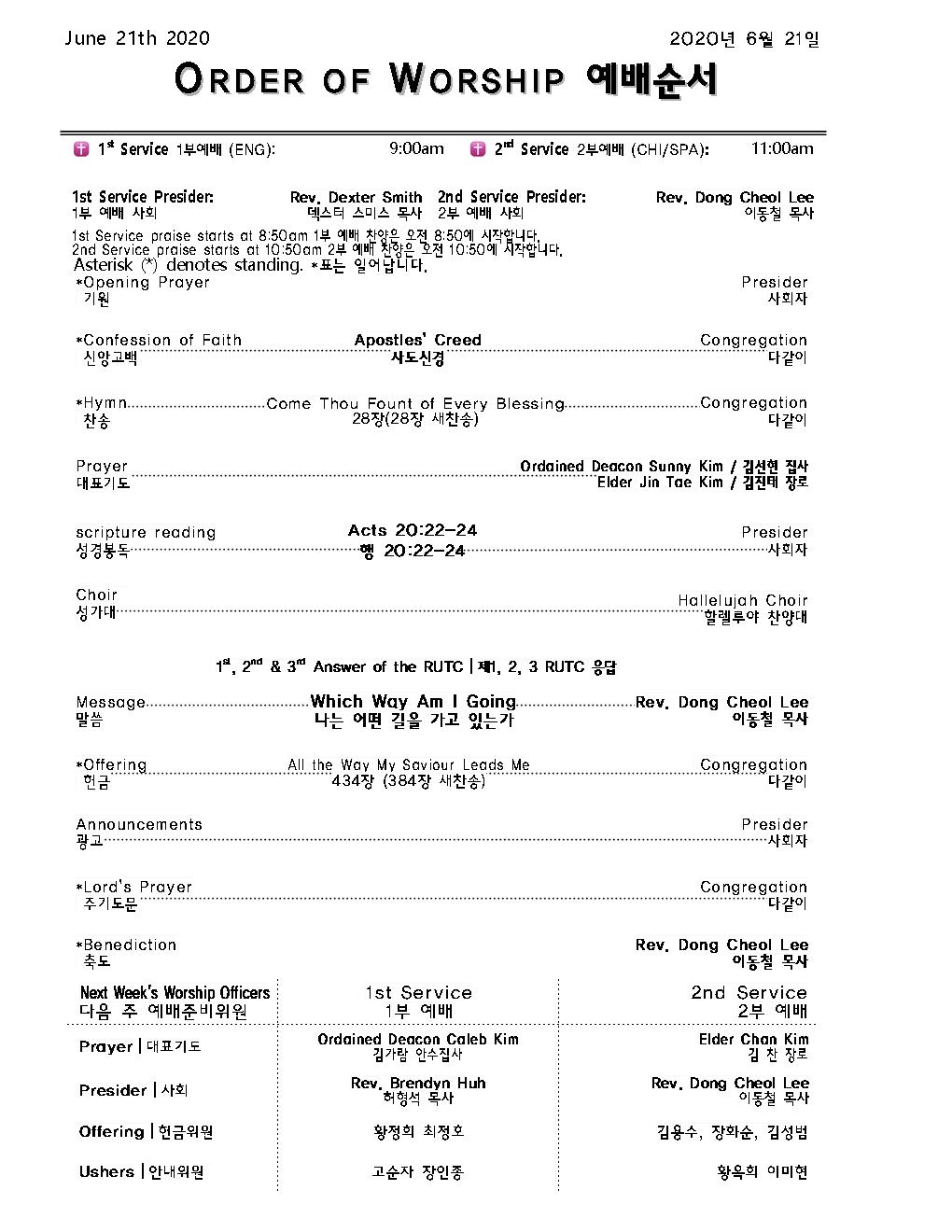 June 20, 2020