---
Church News (교회 소식) 06/23/2019
1. 오늘은 제 10차 콜롬비아 의료 단기 선교팀 파송예배를 드립니다. 전 성도들이 한마음으로 선교의 축복과 사명을
누리며 만민을 위해 깃발을 올리는 시간이 될 줄 믿습니다. 선교를 위한 특별헌금 시간이 있습니다.
2. 금주부터 시작되는 콜롬비아 의료선교 스케줄을 알려드립니다. 26명의 대원들과 스케줄을 놓고 계속 기도해주시기
바랍니다.
(1) 6월 27일(목) – 30일(주일): 브카라망가(Bucaramanga)에서 사역, 베네수엘라 난민 사역
(2) 6월 30일 저녁(주일) – 7월 3일(수): 바랑키아(Barranquilla)에서 사역
(3) 7월 4일(목) – 귀국
2. 오늘 모임
(1) 학업캠프 부모 & 교사 모임: 12:45pm, 본당 (2) 의료 단기선교 마지막 정검: 1pm, 도서실
3. 주간 모임
(1) 수요 예배: 8pm, 본당, 대표기도: 선경캠블 권사 (2) 금요기도: 8pm, 본당(5,6 구역 예배 주관)
(3) 토요 영어권 전도학교: 10am, 도서실
4. 2019년 WRC 동부 지역 집회가 7월 31일(수) – 8월 2일(금), NJ Christian Academy에서 진행됩니다.
신청서는 사무실 게시판에 배치되어 있습니다. 회비와 함께 7월 7일(주일)까지 양준영 렘넌트한테
제출하시기 바랍니다.
5. 주일학교 여름 스케줄
(1) 학업캠프가 7월 1일(월) – 26일(금) 본교회에서 진행됩니다.
(2) 초등부 VBS가 8월 5일(월) – 7일(수) 본교회 RUTC에서 진행됩니다.
(3) 중고등부 여름수련회가 8월 7일(수) – 10일(토) 본교회 RUTC에서 진행됩니다.
6. 본부 집회 및 훈련
(1) 시애틀에서 있을 미국 산업인 대회(9월 2일-4일) 2차 등록이 7일 1일(월)까지 진행됩니다.
*https://remnantministry.com/ 에서 등록 할수 있습니다.
7. 이번 주 친교 & 봉사: 3구역 , 다음 주: 4구역
1. We are having 10th Colombia Medical Mission Commissioning Service today. We hope for
the whole congregation to enjoy the blessing of mission and raise the banner for all
nation together. We have a time special time for mission offering.
2. The Colombia medical mission schedules are as below. Please pray for 26 mission
members and our mission schedules.
(1) June 27th(Thurs) – 30th(Sun): Bucaramanga ministry, Venezuela refugee ministry
(2) June 30th(Sun) – July 3rd(Wed): Barranquilla ministry
(3) July 4th(Thurs) – Return
2. Today Meetings
(1) Academic Camp Parents & Teachers meeting: 12:45pm, Sanctuary
(2) Short Term Mission Trip Preparation meeting: 1pm, Library
3. Weekly Meetings
(1) Wednesday Night Service: 8pm, Sanctuary (Prayer: Sung Kyung Cambell)
(2) Friday Night Worship: 8pm, Sanctuary (Led by 5th & 6th Region)
(3) Saturday English Ministry Nurture & Healing Class: 10am, Library
4. Sunday School Summer Schedule
(1) Summer Academic Camp will be held from July 1st(Mon) – 26th(Fri) at our church.
(2) Youth Group Summer camp will held from August 7th(Wed) – 10th(Sat) at church RUTC.
(3) Kindergarten VBS will be held from August 5th(Mon) – 7th(Wed) at church RUTC.
5. 2019 WRC East Coast Retreat is held from July 31st(Wed) – August 2nd(Fri) at NJ
Christian Academy. The application forms are placed in office bulletin board. Please
submit the form together with the fee to Remnant Junyeong Yang before July 7th(Sun).
6. HQ Conference & Training
(1) Seattle North America Business Mission Conference(Sep 2th-4th) registration 2nd deadline is July 1st.
* You can register at https://remnantministry.com/
7. Fellowship – This Week: 3rd Region Next Week: 4th Region
Recommended Posts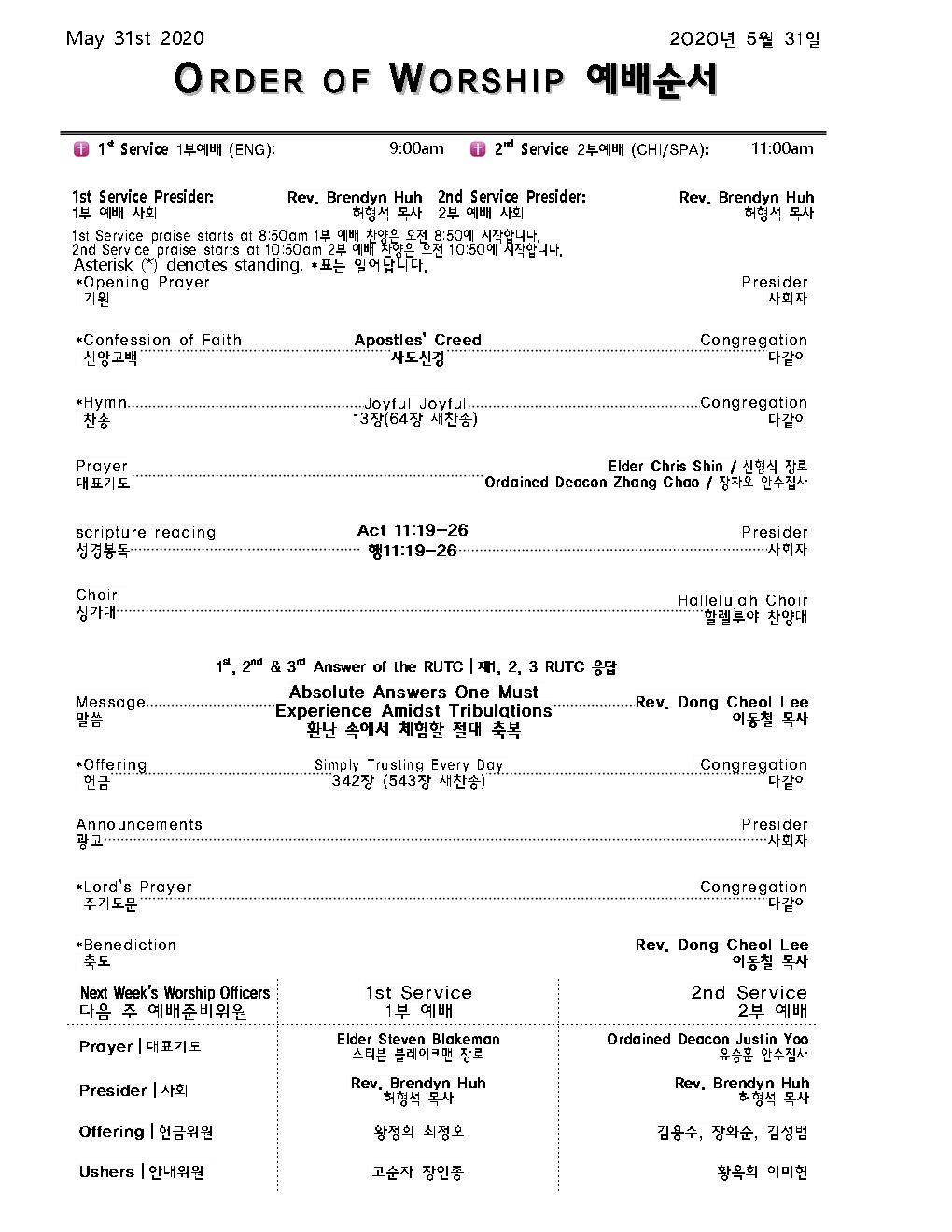 May 30, 2020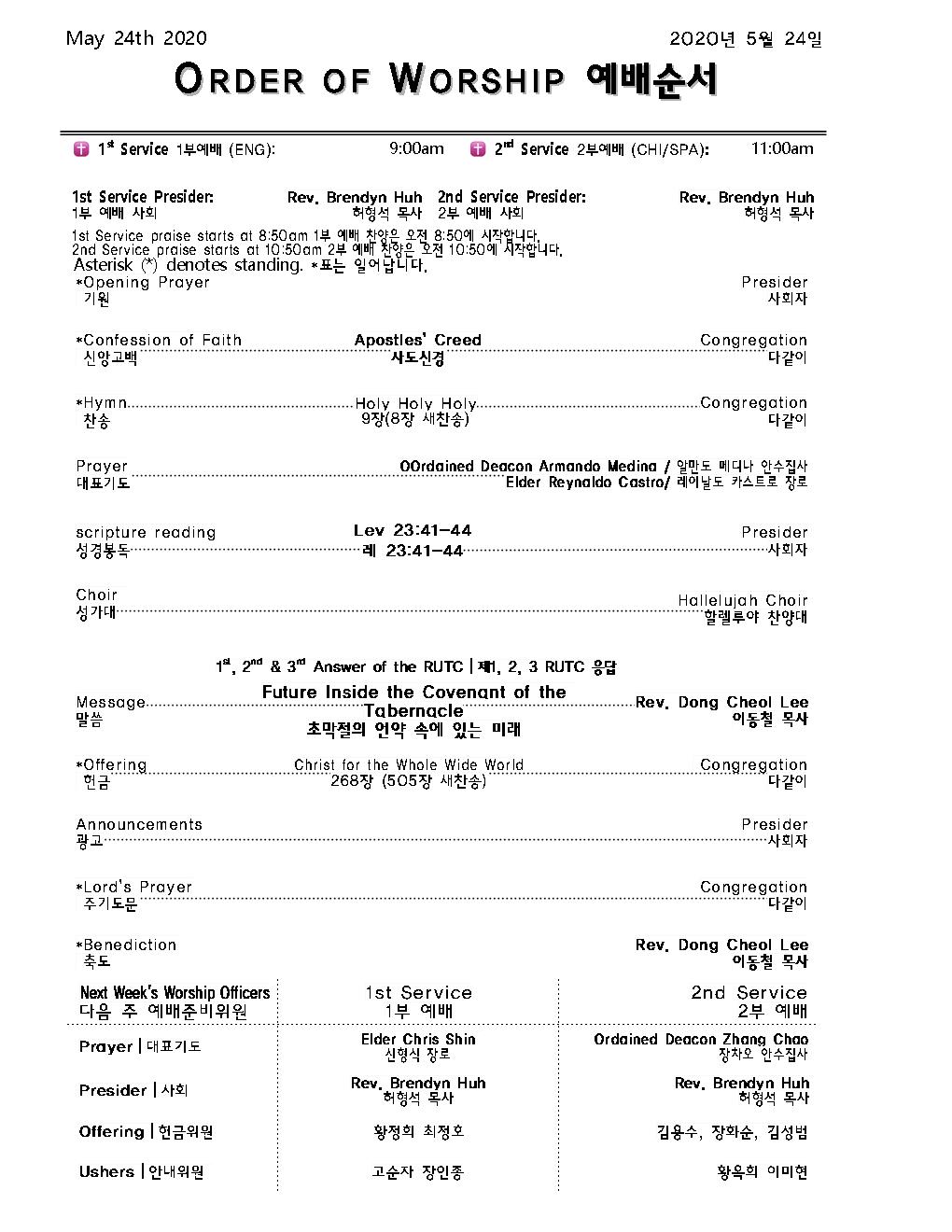 May 24, 2020