---
Church News (교회 소식) 09/29/2019
1. 오늘 모임
(1) 영어권 중직자 모임: 1pm, 도서실
(2) 본교회 중직자 대학원 개강: 2pm, 본당
2. 주간 모임
(1) 수요 예배: 8pm, 본당, 대표기도: 유특재 권사
(2) 금요기도: 8pm, 본당 (2부 할렐루야 찬양대 주관)
(3) 토요 깊은 호흡 운동수업: 9am, 도서실
(4) 토요 영어권 전도학교: 10am, 도서실
3. 주간에 동부 노회가 뉴저지 크리스챤 아카데미에서 있습니다. (9월 30일 -10일 1일)
4. 당회가 다음 주일(6일) 오후3:30 당회실에서 진행됩니다.
5. 새가족 4주 양육반이 10월 6일 오후12시 15분 도서실에서 진행됩니다. 최근에 등록한 새가족들은
꼭 참석하셔서 은혜 받으시기 바랍니다.
6. 본부 집회 및 훈련
(1) 2019년 미주 렘넌트 대회(RCA, 시카코)가 다음과 같은 일정으로 진행됩니다.
*리더 훈련 집회: 11월 26일(화) – 27일(수), 본 집회: 27일(수) – 30일(토)
7. 이번 주 친교 & 봉사: 7구역 , 다음 주: 8구역 꽃꽂이: 김종갑 장로
1. Today's Meeting
(1) English Ministry layleader's meeting: 1pm, Library
(2) Church Layleader Graduate school opening: 2pm, Sanctuary
2. Weekly Meetings
(1) Wednesday Night Service: 8pm, Sanctuary (Prayer: Encourager tuk Je Yoo)
(2) Friday Night Worship: 8pm, Sanctuary(Hallelujah Choir)
(3) Saturday Deep Breathing Exercise class: 9am, Library
(4) Saturday English Ministry Nurture & Healing Class: 10am, Library
3. East Coast Synod will be held at New Jersey Christian Academy this week (Sep 30th – Oct 1st
4. There will be Session's meeting next Sunday(6th), 3:30pm in Session Board Room
5. New Member's 4 weeks nurture class will began in October 6th, 12:15pm at the library.
We ask for recent new comers to participate and receive grace within.
6. HQ Conference & Training
(1) 2019 Remnant Conference in America (RCA, Chicago) is scheduled as below.
*Leader's Conference: Nov 26th(Tues) – 27th(Wed), Main Conference: 27th(Wed) – 30th(Sat)
7. Fellowship – This Week: 7th Region Next Week: 8th Region
Flower: Elder Jong Gap Kim
Recommended Posts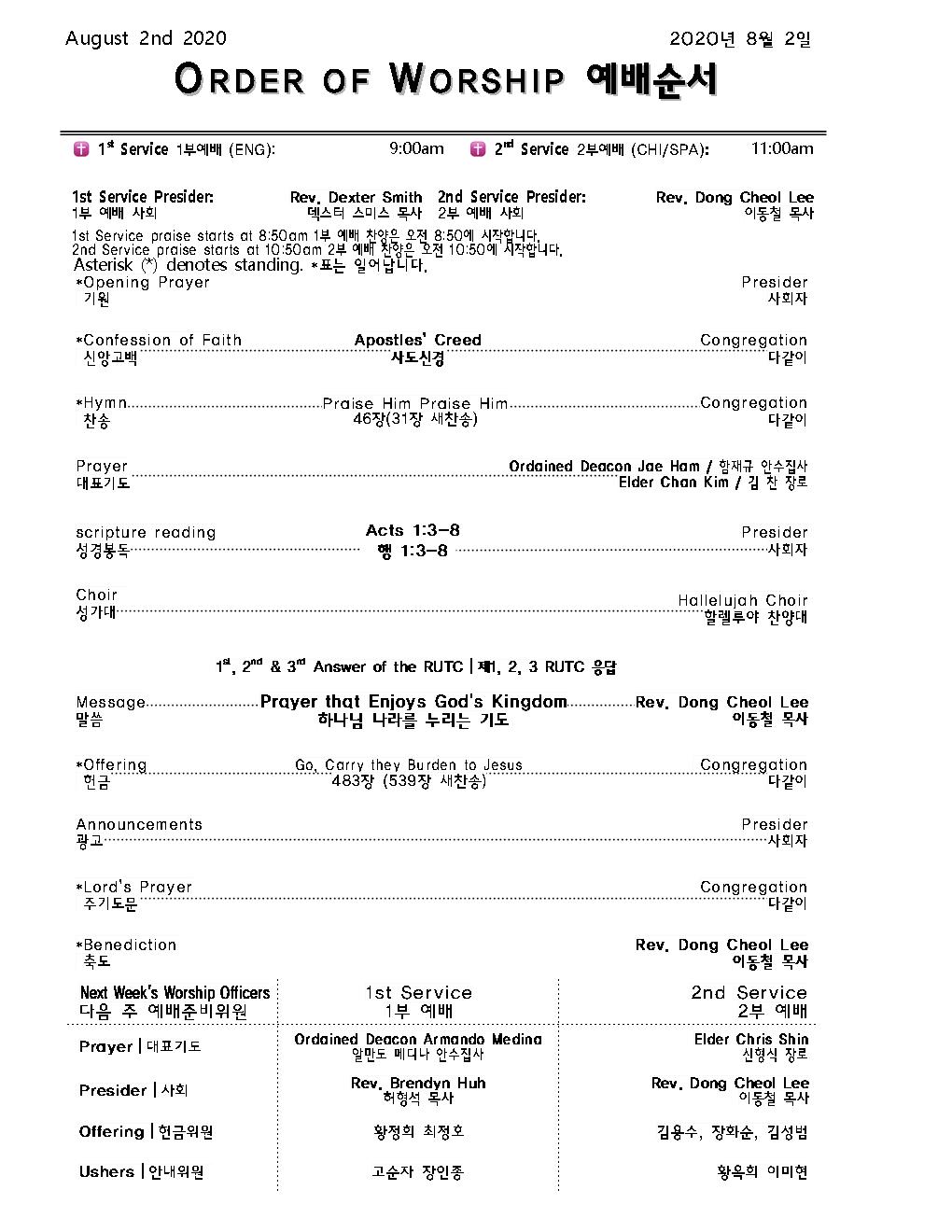 August 01, 2020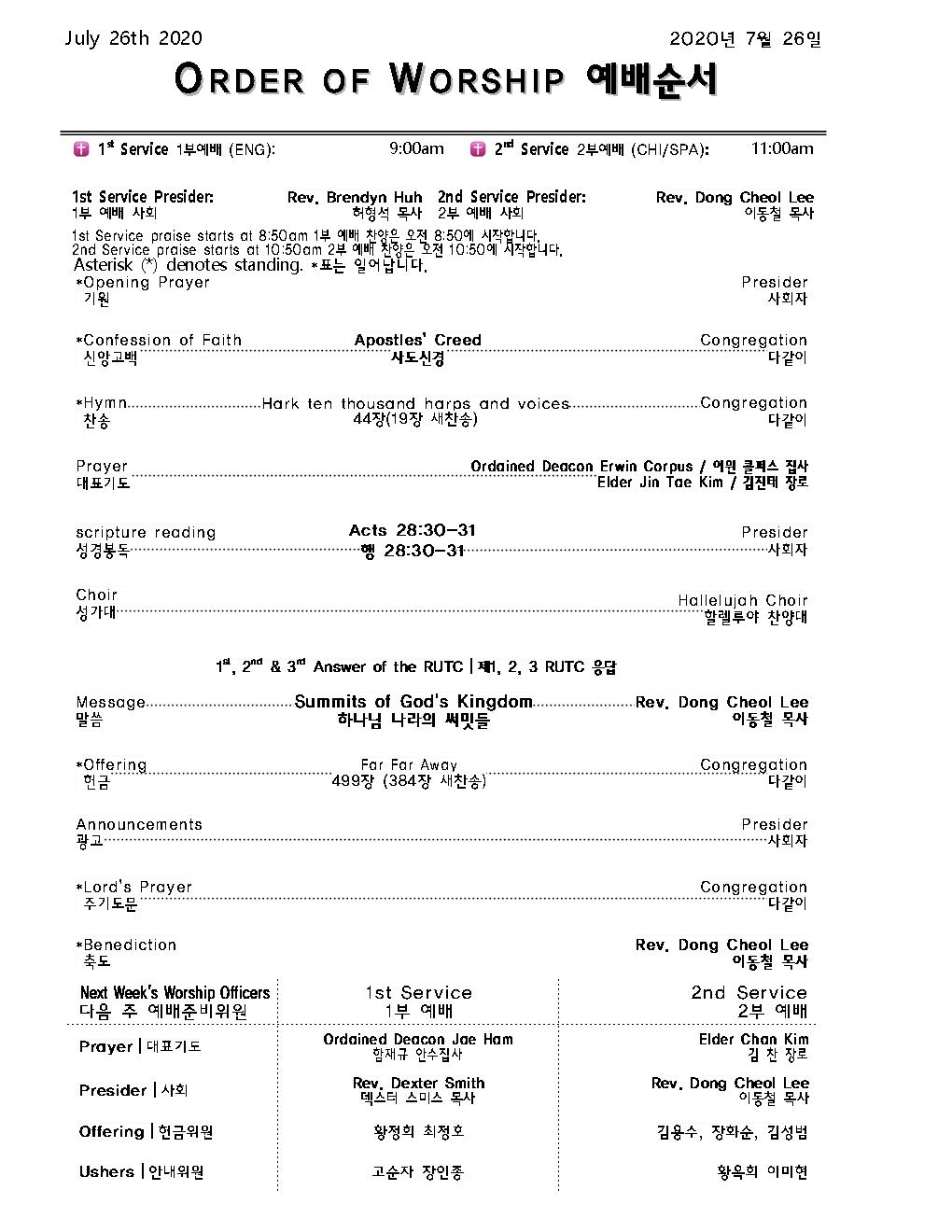 July 25, 2020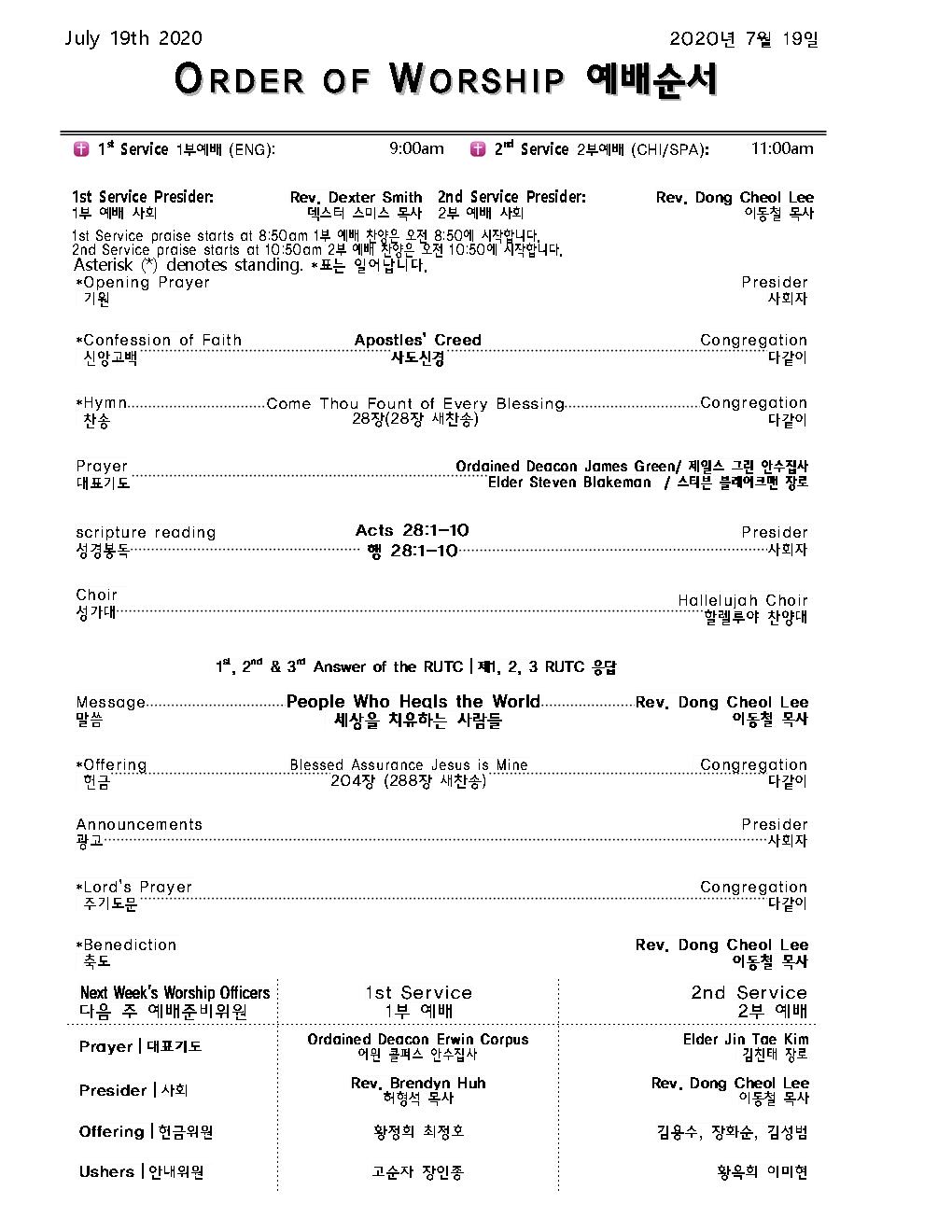 July 18, 2020