---
Church News (교회 소식) 10/06/2019
1. 오늘 모임
(1) 새가족 4주 양육반: 오전 12:15시, 도서실
(2) 영어권 중직자 모임: 오후 1시, 영어권 예배실
(3) 여선교회 워례회: 오후 1:30시, 도서실
(4) 2019년 가을학기 중직자 대학원 2강: 오후 2시, 본당 (등록 마감일은 오늘까지입니다)
(5) 당회: 오후 3:30시, 본당
2. 주간 모임
(1) 수요 예배: 오후 8시, 본당, 대표기도: 정현주 권사
(2) 금요기도: 오후 8시, 본당 (1&2 구역 주관)
*매주 금요기도희를 세계 복음화의 영적 흐름에 함께 하는 의미로 본부의 산업 선교와 핵심 메시지를
실시간으로 시청하며 기도하고 있습니다. 함께 동참하시길 바랍니다.
(3) 토요 호흡 운동: 오전 9시, 도서실
(4) 토요 영어권 전도학교: 오전 10시, 도서실
3. 본교회 렘넌트 오케스트라 전도 캠프가 19일(토) 오후 2시 Brookdale Lake Senior Living
양로원에서 진행됩니다. 많은 관심과 기도로 지원해주시기 바랍니다.
(3940 Prince William Pkwy, Woodbridge, VA 22192)
4. 스패니쉬 주관 선교 바자회가 26일(토) 오전 8시부터 오후 3시 반, 본교회에서 진행됩니다.
5. 본부 집회 및 훈련
(1) 2019년 미주 렘넌트 대회(RCA, 시카코)가 다음과 같은 일정으로 진행됩니다.
*리더 훈련 집회: 11월 26일(화) – 27일(수), 본 집회: 27일(수) – 30일(토)
Last Week Offerings
6. 이번 주 친교 & 봉사: 8구역 , 다음 주: 스페니쉬 구역 꽃꽂이: 이동철 목사
1. Today's Meeting
(1) New Member's 2 weeks nuture class: 12:15pm, Library
(2) English Ministry layleader's meeting: 1pm, English Room
(3) Women's Department meeting: 1:30pm, Library
(4) 2019 Fall Church Layleader Graduate school 2nd Lecture 2pm, Sanctuary
* Registration is due today
(5) Session's(Elder) Meeting: 3:30pm, Library
2. Weekly Meetings
(1) Wednesday Night Service: 8pm, Sanctuary (Prayer: Encourager Hyun Joo Seo)
(2) Friday Night Worship: 8pm, Sanctuary(1st & 2nd Choir)
* We are watching live worship of Business & Core message to be with the flow of world
evangelism. May you also join with us.
(3) Saturday Deep Breathing Exercise class: 9am, Library
(4) Saturday English Ministry Nurture & Healing Class: 10am, Library
3. Remnant Orchestra Evangelism Camp will be held in 19th(Sat), 2pm at Brookdale Lake
Senior Living. May you pray and participate together for the camp.
*(3940 Prince William Pkwy, Woodbridge, VA 22192)
4. Church Bazaar for Spanish Ministry is held on 26th(Sat), 8am – 3pm at our church.
5. HQ Conference & Training
(1) 2019 Remnant Conference in America (RCA, Chicago) is scheduled as below.
*Leader's Conference: Nov 26th(Tues) – 27th(Wed), Main Conference: 27th(Wed) – 30th(Sat)
6. Fellowship – This Week: 8th Region Next Week: Spanish Ministry
Flower: Rev. Dong C. Lee
Recommended Posts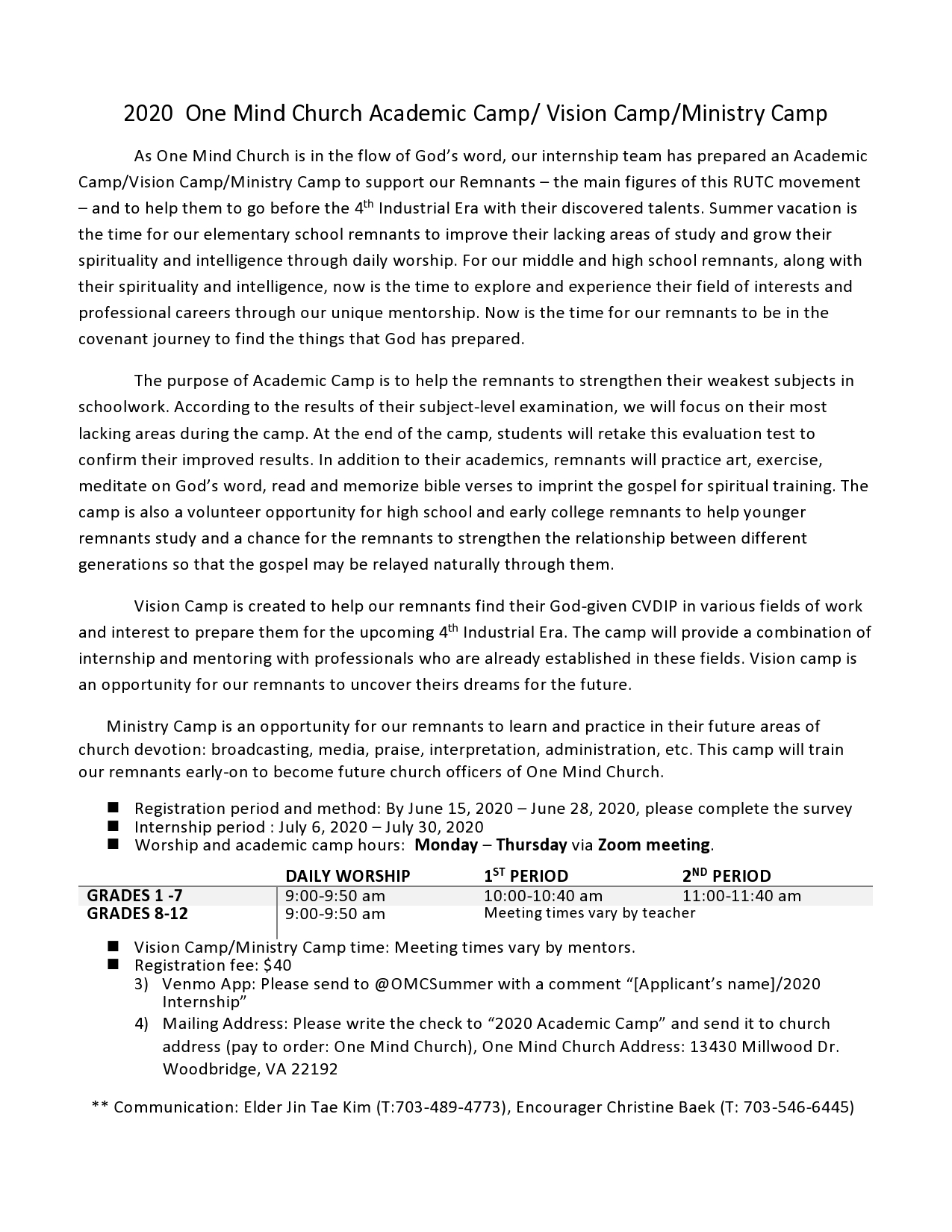 June 28, 2020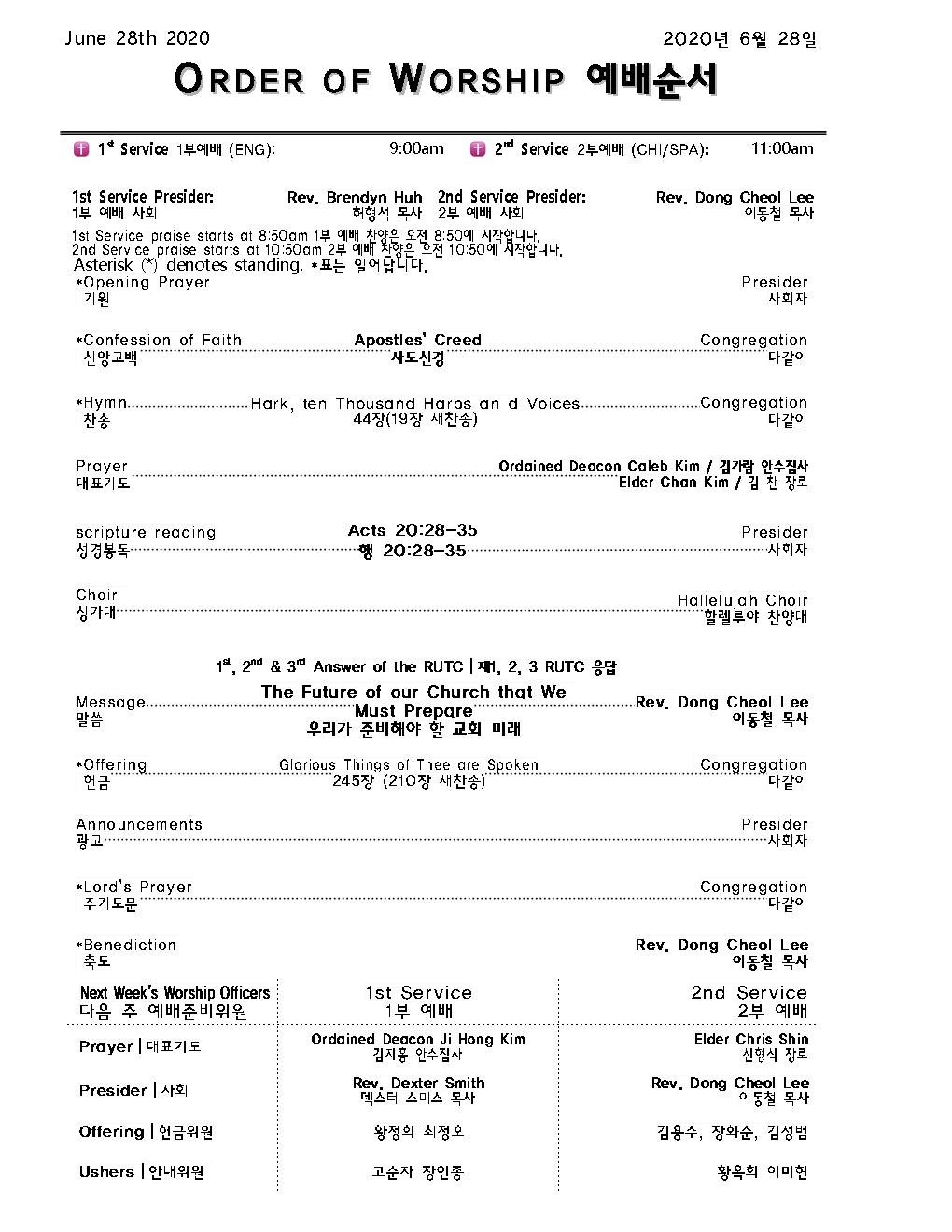 June 27, 2020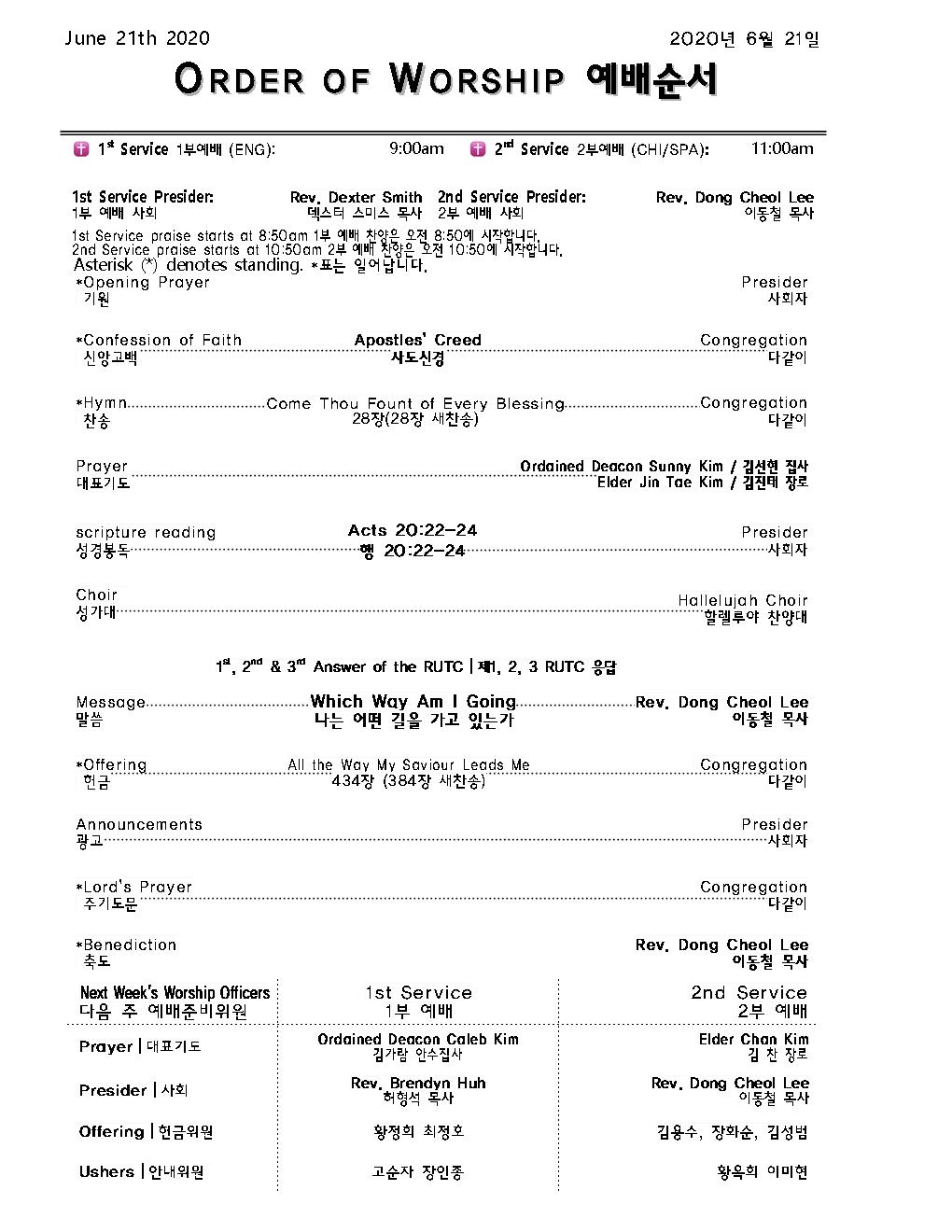 June 20, 2020