---
Church News (교회 소식) 01/26/2020
1. We have commissioning service today 24th World Mission Conference that
will take place in Korea. As you hold upon the covenant of 237, the offering you give today
will be used for supporting our missionaries for them to attend the conference and receive
training.
2. Today's Meeting
(1) Ordained Deacon & Senior Pastor's meeting: 1pm, Library
(2) Medical Mission Team meeting: 5pm, Deacon Sunny Kim's home
3. Weekly Meetings
(1) Service Night Service: 8pm, Sanctuary(Enc. Moon Young Choi)
(2) Friday Night Service: 8pm, Sanctuary
(3) Saturday Spanish & English Minister training: 3pm, New Comer's room
4. 2022 Tax Deduction Report is prepared at the church finance office. The registeration
sheet is place at library bulletin board.
5. The 224th World Mission Convention will be held as below
(Theme: Stand In Front of the 237 Age)
(1) Date: Feb 12th – 14th (Missionary Training), 15th – 16th (Missions Festival Sunday)
18th (Missionary Conference)
(2) Place: Deokpyeong RUTC, Yewon Church
* Please pray for our Senior Pastor, Missionaries, Associate Pastor, and Lay Leaders for
attending the World Missions Convention
6. Fellowship – This Week: 3rd Region Next Week: 4th Region
1. 오늘은 제 24차 셰게선교대회를 위한 선교헌신 연합에볘(11am)를 드립니다. 237 언약을 붙잡고 오늘 드리는
선교헌금은 우리가 지원하는 선교사들이 대회에 참여하며 훈련받을 수 있도록 사용됩니다.
2. 오늘 모임
(1) 안수집사와 담임목사의 모임: 1pm, 도서실
(2) 의료선교팀 모임: 오후 5시, 김선현 안수집사 가정
3. 주간 모임
(1) 수요예배: 오후 8시, 본당(최문영 권사)
(2) 금요기도회: 오후 8시, 본당
(3) 토요일 스패니쉬 & 영어권 사역자 훈련: 오후 3시, 새가족실
4. 2020년 세금 공제를 위한 헌금 증명서(Tax Deduction Report)가 필요하신 분들은 재정부에서
신청해 주시기 바랍니다. 신청서는 도서실 게시판에 준비되어 있습니다.
5. 제 24차 세계선교대회가 금주부터 아래와 같이 진행됩니다. (주제: 237 시대 앞에 서라)
(1) 선교사 합숙: 2월 12일(수) – 14(금), (2) 선교축제주일: 15일(토) – 16일(주일)
(3) 세계선교대회: 18일(임마누엘 교회)
Last Week Offerings
6. 이번 주 친교 & 봉사: 3구역 다음 주: 4구역
Recommended Posts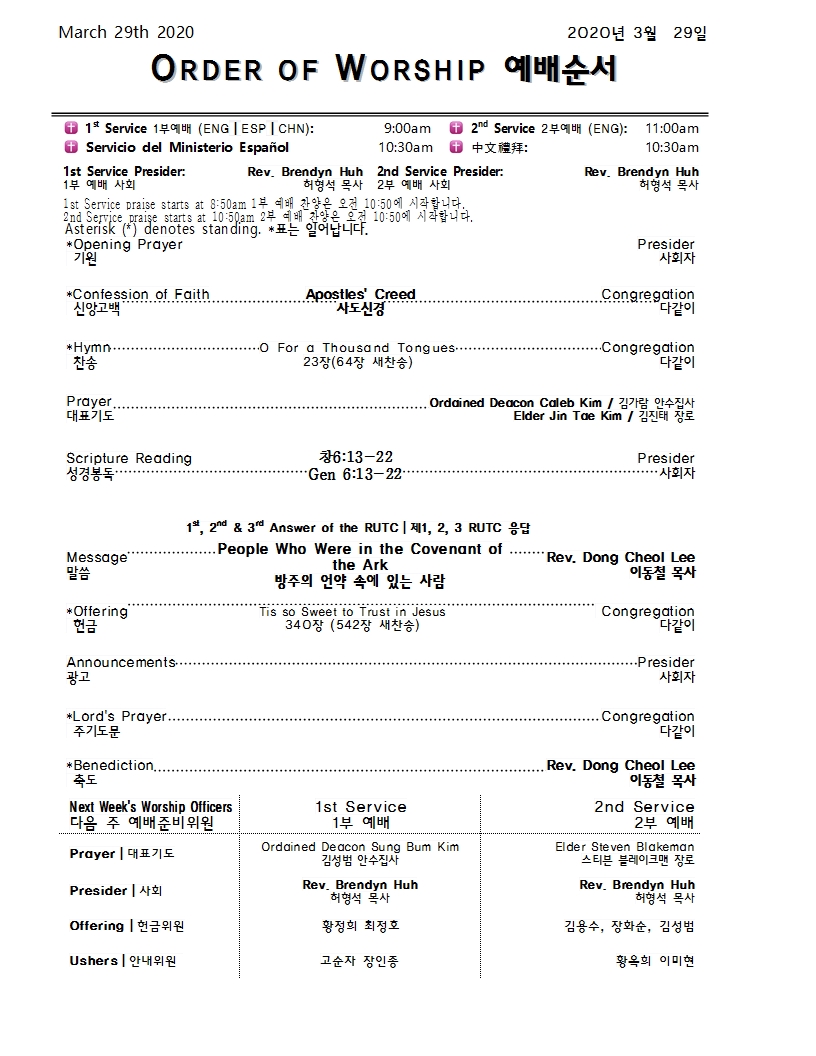 March 28, 2020