---
Church News(교회 소식) 03/1/2020
1. 다음 주일(8일)은 Daylight Saving Time이 시작되니 예배 착오가 없길 바랍니다. (1am을 2am으로)
2. 오늘 제임스 랄 장로와 황정희 권사를 아프리카 말라위 공화국에 평신도 선교사로 파송됩니다. 아프리카에 54개국을
살릴 제자들을 세우는 선교사들이 되도록 기도해주시기 바랍니다.
3. 오늘 모임
(1) 새가족 5주 양육반: 오후 12:10, 도서실
4. 주간 모임
(1) 수요예배: 오후 8시, 본당(이미재 권사)
(2) 금요기도회: 오후 8시, 본당
(3) 토요일 영어권 전도훈련(Dexter 목사): 오후 10시, 도서실
(4) 토요일 영어권 & 스패니쉬권 사역자 훈련(이동철 목사): 오후 3시, 새가족실
5. 렘넌트 대학교(RU) 와싱톤 캠퍼스 봄학기 3월의 일정입니다.
*일정: 조직신학(이원규목사) 3월15일(주일)-18일(수)
*등록 문의: 서현주 권사(267-307-0661)
6. 2020년 미주지역 의료 법조인 수련회가 아래와 같이 진행됩니다.
(1) 일정: 3월 13일(금) – 3월 15일(주일) (2) 장소: 본교회 RUTC
(3) 문의: 김선현 집사(540.760.5008)
7. 2020년 한글학교 봄학기가 아래와 같이 진행됩니다.
(1) 학기 기간: 3월 7일(토) – 5월 16일(토) (2) 일시: 토요일 오전 9:30 – 오전 12:00
(3) 수업 연령: 5세 – 12세 (4) 문의: 백경옥 권사(703-546-6445)
Last Week Offerings
8. 이번 주 친교 & 봉사: 8구역 다음 주: 9구역
1. Next Sunday(8th) is the beginning of daylight saving day. May there be no
miscommunications with service time. (1am to 2am)
2. We have commissioning ceremony today during the first service for commissioning Elder
James Lal and Encourager Christine Lal to Malawi(Africa) as Lay-people Missionary.
May you prayer for them to become missionaries to save 54 nations in the continent of Africa.
3. Today's Meeting
(1) New Comer's Nurturing Class: 12:15pm, Library
4. Weekly Meetings
(1) Service Night Service: 8pm, Sanctuary(Encourager Mi Jae Lee)
(2) Friday Night Service: 8pm, Sanctuary
(3) Saturday English Ministry Evangelism Training(Rev. Dexter Smith): 10am, Library
(4) Saturday Spanish & English Minister training(Rev. Dong C. Lee): 3pm, New Comer's room
5. Remnant University Washington Campus spring semester lecture for March is as below.
(1) Date: Systematic Theology(Rev. Won Q Lee) March 15th(Sun)-18th(Wed)
(2) Question: Encourager Hyun Joo Seo(267.307.0661)
6. Us Medical Lawyer's training will be held as below
(1) Date: March 13th(Fri) – March 15th(Sun) 2. Location: Church RUTC
(3) Inquires: Ordained Deacon Sunny Kim (540.760.0661)
7. 2020 Korea School spring semester will be held as below.
(1) Semester dates: March 7th(Sat) – May 16th(Sat) (2) Time: Saturday 9:30am – 12:00
(3) Participant Age; 5yrs – 12yrs (4) Inquires: Enc. Kyung Ok Baek(703.546.6445)
8. Fellowship – This Week: 8th Region Next Week: 9th Region
Recommended Posts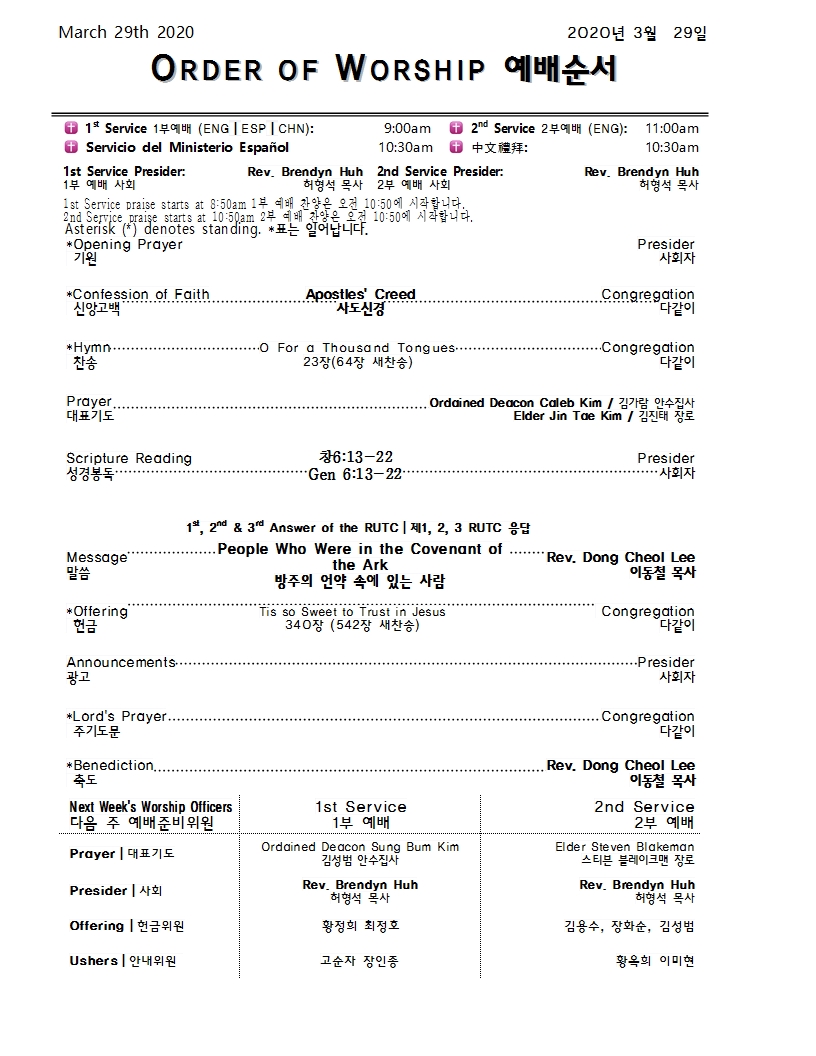 March 28, 2020